Hello! We are in mid June and the giveaway is going strong. But it ends soon so you'd better enter while you still can. Hey, don't say I didn't warn ya 😉
For those who've only now heard: Two winners will get a bundle of 12 ebooks each! Dozens more will receive individual ebooks, as well as paperbacks. One lucky reader will get a set of my romantic comedy The Amulet (ebook) and a novelty bookmark. Last week I presented 6 of the prizes. You can see the post HERE. Today I am delighted to present the remaining 7. That's 6 ebooks and 1 paperback. Feast your eyes, folks!
The body discovered in a remote cove on the Greek island of Liteos turns out to be an entrepreneur who was planning a new future for the island's fishermen. But though the fabulous golden-scaled fish Liteos was famed for have long since vanished, not everyone welcomed the dead man's vision. As the islanders sizzle in the summer heat, Hermes Diaktoros enters a world of lively red herrings, where the ties of blood are strong and the truth is painstakingly obscured.
VISIT AMAZON  US   UK
Celia Langford lost her perfect life in the ultimate betrayal—not only was her late husband a cheat, he left her with a mountain of debt and no self-confidence. She poured her grief into cooking, determined to start anew and heal by the sea. She meets Dax Smith, a local dive shop owner, and pure-bred South Florida native. The wrong city girl once left a bad taste in his mouth, so he's stayed clear of all matters of the heart. Yet, their irresistible attraction toward one another makes anything seem possible.
VISIT AMAZON  US   UK
Eve Watkins is in her early forties and has two teenage kids, a loving husband and a career of her own. Her life seems fairly uneventful. Yet, when her mother passes away Eve discovers things about her own past that come as a shock and compel her to visit a small village in mainland Greece. There, the developments cause her life to deconstruct before her very eyes.
Ought she to have let sleeping dogs lie? Yet she knows she has to find out. She has to know who she really is. Whatever the cost.
VISIT AMAZON  US   UK
Miranda, a strong-minded yet lovable woman, splurges her inheritance on the old Miranda Bay Sanatorium in the sub-tropical Bay of Islands, New Zealand, simply because it bears her name.
She knows little about running a business and, as if that's not enough,
Hamilton, her lascivious financial advisor, seizes the opportunity to undermine her. Things don't go as well as she'd hoped and, a
t the brink of despair, Miranda experiences deepening depression and manic behavior.
Terror ensues, and a roller coaster of emotions in the face of financial ruin.
VISIT AMAZON  US   UK
Will Scottish leisure tycoon help Chloe save her family's crumbling theatre?
Can she resist his notorious charms?
And just how much exposure will satisfy the paparazzi's lust for headlines?
Chloe is about to find out…
VISIT AMAZON  US   UK
One heartbroken winter, Jennifer decides to act on her dream of moving to a tiny Greek island – because life is too short not to reach out for what makes us happy.
Funny, romantic and full of surprising twists, Falling in Honey is a story about relationships, tzatziki, adventures, swimming, Greek dancing, starfish… and a bumpy but beautiful journey into Mediterranean sunshine.
VISIT AMAZON  US   UK
*OUR PAPERBACK PRIZE!*
Betrayed and jilted, Jennifer Dewitt finds solace in a new job and new city. Men and marriage are not on her radar. Adrien Merrill's divorce leaves him bitter and jaded. In Cajun custom, pride rules. Yet Adrien aches for a woman to fill his days with laughter, his nights with passion, and his house with children. He sets his sights on Jennifer and runs right into stubborn, mouthy and independent. He soon discovers the line between pride and love is as whisper thin as a fine silk thread.
VISIT AMAZON  US   UK
Sign up for my newsletter today to receive the exclusive list for the giveaway! My subscribers get to receive very sparse emails from me but enjoy awesome benefits! And it's all FREE!

SPREAD THE WORD WITH A TWEET:
Summer #giveaway! #Win #ebooks & paperbacks #bookworm
Click To Tweet

Did you enjoy this post? Type your email in the 'follow this blog' window on the right sidebar and get to see all our future posts!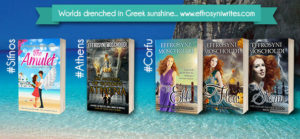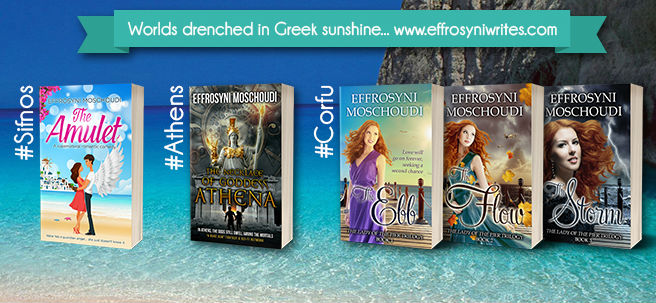 Planning to visit Greece? Check out our FREE guide to Corfu! For delicious Greek recipes, go here. For our news, free books & exclusive giveaways join our newsletter! Sample Effrosyni's work for FREE here! Are you an author? Check out our FREE promo tips & resources here.