Hello peeps! Last Monday of the year, and after featuring the highly successful Martin Crosbie on my blog last week, I thought I'd end this year's interviews with another high-flyer. Award-winning romance author Mandy Baggot and her festive novel "One Wish in Manhattan" seemed perfect for the occasion so I was over the moon when she took me up on the offer. Mandy writes delightful chick-lit and has been published with Sapphire Star, a Harper Collins imprint, as well as Harper Impulse. Among Mandy's books on Amazon, I found an intriguing anthology that was FREE to download and I thought I'd post it here  for your perusal. A bunch of authors wrote for this anthology with the same premise – two characters and a rescued cat – and have developed the stories, each author in their own way, deciding which list each character goes on: Naughty or Nice? I hope you'll agree with me it sounds like fun! Check it out below along with two of Mandy's most popular novels:
Check it's FREE before downloading!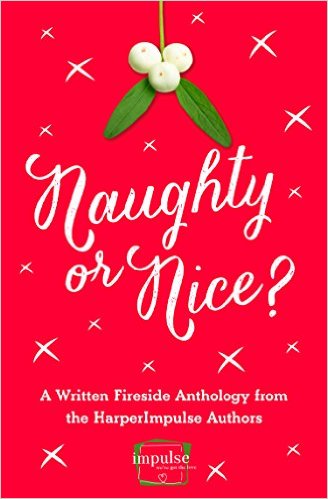 Enjoy this free festive treat from the HarperImpulse authors this Christmas!
Inspired by roaring campfires and the cold nights of the Pacific Northwest, a group of HarperImpulse authors came together to write their own round robin style romances. In this special festive Written Fireside, the authors ran a competition to give a reader the chance to start each story in the anthology with their own opening paragraph. Georgia Beyers was the winner and now you can find out how each author followed that paragraph with their incredible storytelling. So settle down, grab a mince pie and join us for a Christmas by the fire…
VISIT AMAZON  US   UK   (Check it's FREE before downloading!)
The temperature is dropping, snow is on its way and Hayley Walker is heading for New York with one wish … to start over.
With her daughter Angel, Hayley is ready for adventure. But there's more to New York than twinkly lights and breathtaking skyscrapers. Angel has her own Christmas wish – to find her real dad. While Hayley tries to fulfill her daughter's wish, she crosses paths with billionaire Oliver Drummond. Restless and bored with fast living, there's something intriguing about him that has Hayley hooked. Can Hayley dare to think her own dreams might come true – could A New York Christmas turn into a New York Forever?
Travel to the Big Apple this Christmas and join Hayley and Oliver as they realise life isn't just about filling the minutes … it's about making every moment count.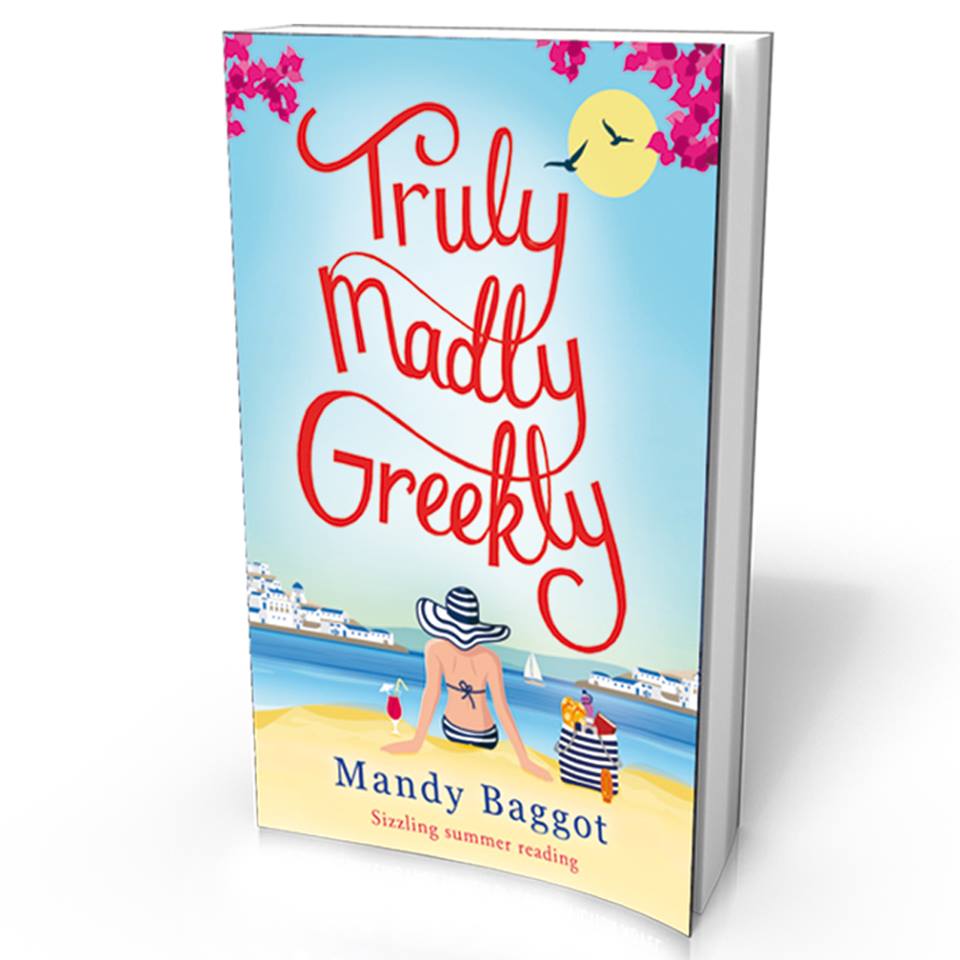 Sun, sea and a sexy stranger – a whole lot of fun just got a lot more complicated.
Capable, confident and career-driven, Ellen had her dream job and a marriage proposal from boyfriend Ross. Life was good, her future set. Until it wasn't and everything fell apart… Whisked off to the beautiful island of Corfu to plan her sister Lacey's big, fat, Greek wedding, Ellen is hoping some time out will help clear her head and heal her heart. But letting go of her past is not going to be easy.  With Lacey in full on Bridezilla mode, Ellen is soon distracted from her own problems. And when the all-inclusive treats on offer at hotel Blue Vue include one gorgeous, brooding Adonis – Yan – Ellen finds him difficult to resist. But Ellen isn't looking for love or lust, or anything involving too much ouzo…or is she?
Hello Mandy and welcome to my blog!
Thank you, Fros. I'm delighted to be here.
What was the first thing you ever wrote and how old were you then?
I started writing from a very early age and used to make up stories based on television shows I watched as a child. American dramas like T J Hooker, Matt Houston, The Fall Guy, all got a romantic twist when I was about nine or ten! After that I used to write an ongoing story for my friends at school involving them and pop stars and professional football players of the time.
Any hobbies or interests that you enjoy in your spare time?
I love live music so when I'm not writing I like to go and see as many gigs as I can. Country and rock/pop are my preferred genres. Every year Mr Big (my husband) and I go to the Country 2 Country Festival at the O2 in London for 3 days of bands and all things cowboy. And in 2016, for my 40th birthday we're heading for a week in the home of country music, Nashville. I can't wait!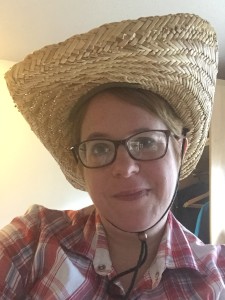 Wow, sounds amazing! What are you working on at the moment? Tell us a little about your current project(s).
I'm working on my next summer novel for 2016. It's set in Corfu again but is very different from my novel, Truly, Madly Greekly. Whereas Truly, Madly Greekly had the all-inclusive hotel and was all about the package holiday experience, this novel is very much about putting down roots and begins with a run-down restaurant… that's all I can say!
You said the magic word – Corfu – so I'm hooked already, LOL. What genres do you read mostly, and what are you reading now?
I like to read contemporary romance, romantic comedy and balance that up with crime thrillers. I love fellow Bookouture author, Angela Marsons' Kim Stone series! At the moment I'm reading a Debbie Macomber Christmas double whammy!
Choose a male and a female character from your book and tell us which actor and actress you'd cast to play them in a film adaptation.
 One Wish in Manhattan has single mum, Hayley Walker, heading to New York with her nine-year-old daughter, Angel. I think I'd like Demi Lovato to play Hayley. And this story also has a gorgeous billionaire businessman who I think Chris Pine could play!
Being an author involves a lot of sitting around. What do you do for exercise?
It is a lot of sitting around! I exercise at home either with Zumba on the Wii or a workout DVD. I've just got back into the dance and boxercise one!
I tend to use my living room as a home gym too – LOL. Describe your workstation. Are there any favorite objects you have there for inspiration?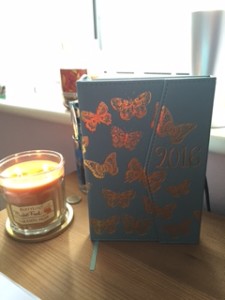 I am a candle fanatic. I have a Partylite party every month or so to fill up on wax! At the moment, as it's Christmas time, I have a large Caramel Pear jar candle on my desk! For 2016 I've also bought a diary covered in butterflies. Butterflies are very significant in One Wish in Manhattan so it's a reminder of that.
If you could have one superpower what would it be?
I think to be able to cure cancer would be nice. It seems to get into so many people's lives. My family has been touched by it and so many of my friends. Forget x-ray vision or Hulk strength, I want much more than that!
What are the things in your life that you're most grateful for?
My husband and my children and the life we have together. Being able to do the best job in the world. I'm very lucky and I never want to forget that.
That's a lovely answer, Mandy. Thank you so much for this interview, I really appreciate your time!
Thank you for the invitation, Fros!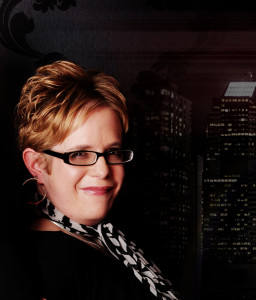 Mandy Baggot is an award-winning romantic fiction author, writing hot heroes and emotional reads. She is represented by Kate Nash of The Kate Nash Literary Agency. In 2012 she won the Innovation in Romantic Fiction award at the UK's Festival of Romance and has since scooped Top Ten Reads/Book of the Year places from a number of UK book bloggers. Traditionally published by US publisher Sapphire Star, Harper Collins' digital first romance imprint, Harper Impulse, and most recently, digital fiction specialists, Bookouture, a great story is never far from her fingertips! A contributor to writing blogs and short story anthologies, Mandy is also a regular speaker at literary festivals, events and women's networking groups.
Mandy loves mashed potato, white wine, country music, World's Strongest Man, travel and handbags. She has appeared on ITV1's Who Dares Sings and auditioned for The X-Factor.
Mandy is a member of the Romantic Novelists' Association and the Society of Authors and lives near Salisbury, Wiltshire, UK with her husband, two daughters and cats, Kravitz and Springsteen.
Visit Mandy's Amazon page  US   UK
Visit Mandy's website
Twitter: http://twitter.com/mandybaggot
Facebook: http://www.facebook.com/mandybaggotauthor
Goodreads: http://www.goodreads.com/author/show/2968625.Mandy_Baggot
Have you enjoyed this post? Follow the blog (see right sidebar) and miss no more posts! Sign up to Effrosyni's newsletter to keep up to date with her news and special offers (very sparse emails). Interested to read more? Head over to Effrosyni's Blog, where you'll find her earlier interviews, book reviews, author tips, travel articles and even Greek recipes!