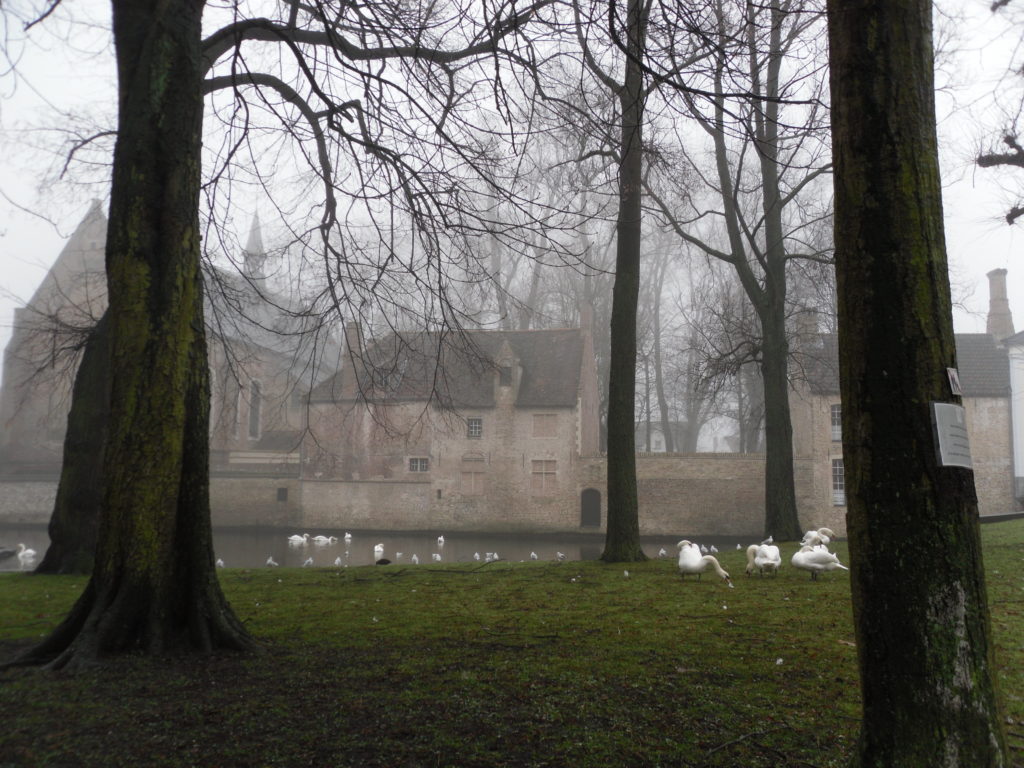 Today, I am thrilled to share my travel experience in the magical town of Bruges (Brugge) in Belgium a few years back, plus, I'm going to sprinkle some extra Hollywood fairy dust on it. If you have watched the movie

In Bruges,

then you are well acquainted with the hilarious camaraderie between Ken and Ray, two paid hitmen who arrive in this medieval town to await further instructions from their boss.  Bruges welcomes them shrouded in mist like a fairytale land of absolute magic. Yet, Colin Farrell who plays Ray, keeps moaning about everything from the moment he arrives. His constant winging is a brilliant act of comic relief to an otherwise thrilling tale of murder and violence. What makes his grumpiness so entertaining is the ridiculous idea that Bruges could ever be the cause of discontent.
Just an hour's train ride away from central Brussels, Bruges greets you modestly as you exit the station, as if it were a place like any other. And then, you get to the market square (Markt) and as you raise your eyes to the misty top of the Belfort tower, you start to think that this place is perhaps not like the rest, after all.
Then you begin to look around properly, your eyes resting with admiration at the quaint buildings that line the square on the other side from the tower. Before you know it, you're captured by the beauty of the scene, and you begin to smile as the timeless sound of horses' hooves on cobblestones reaches your ears and carriages of a bygone era pass you by.
This is when it hits you and your eyes truly open. Everyone seems to wander around with a cheerful expression on their faces. Couples of all ages walk hand-in-hand and you decide to follow one of them, picking the one that seems to walk more confidently, guessing that they know where they're going. Soon enough, you feel pleased with your choice because at the back of the Belfort tower where they're headed, this is where the real magic awaits!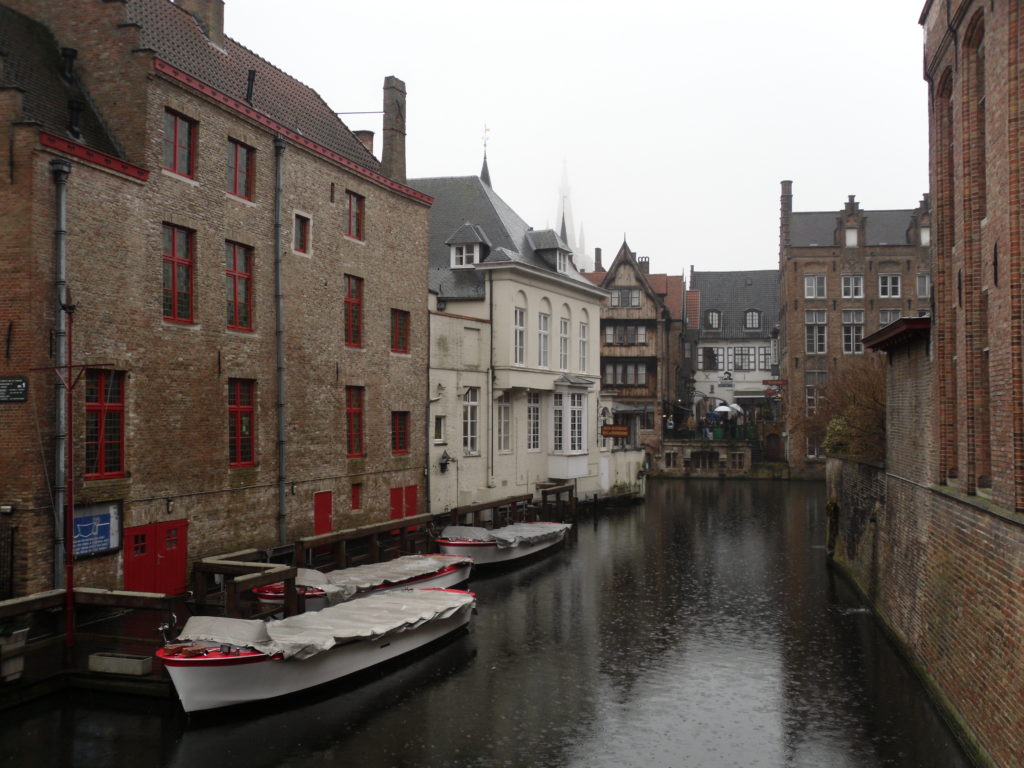 Every lane in that direction will sooner or later lead you to the most enchanting streets and canals. Houses are built on the very edge, walls are covered with moss or draped with ivy and every stone bridge is an invitation to cross to the other side. Andy, my husband, and I chuckled away as we visited this part as so many of these lanes and canals feature in the aforementioned movie!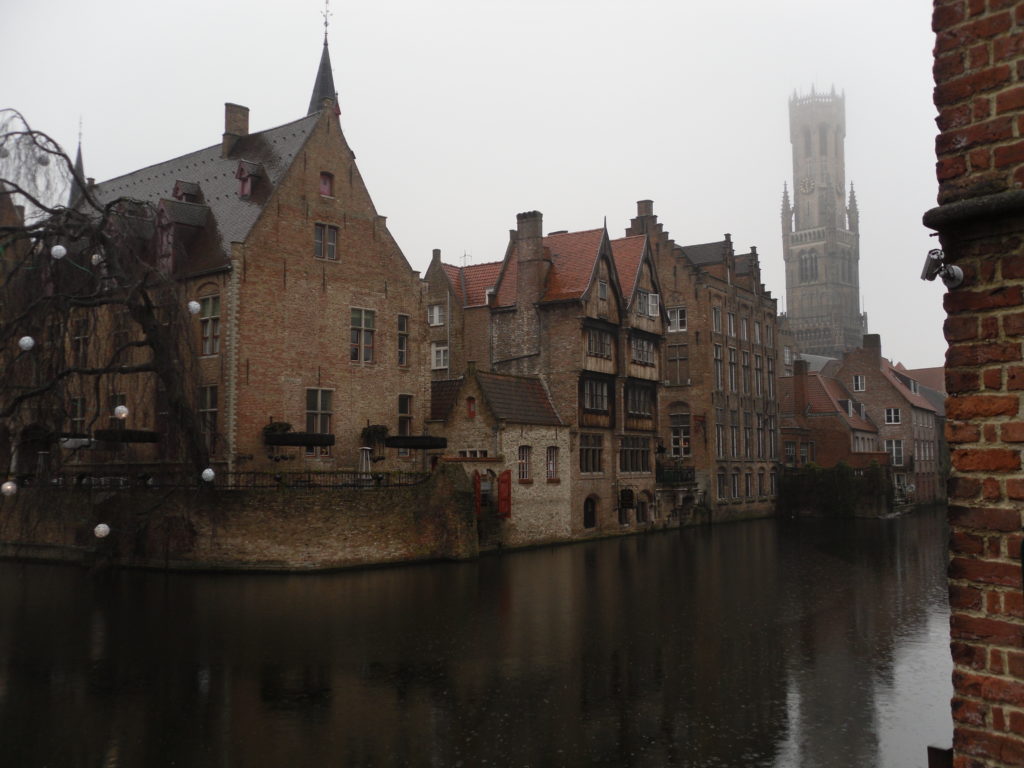 In the early morning, the Belfort tower is often shrouded by mist while the rooftops below it glisten… The water is perfectly still and, as the first rays of sunshine emerge through the clouds, it begins to sparkle, the beauty of the scene taking your breath away.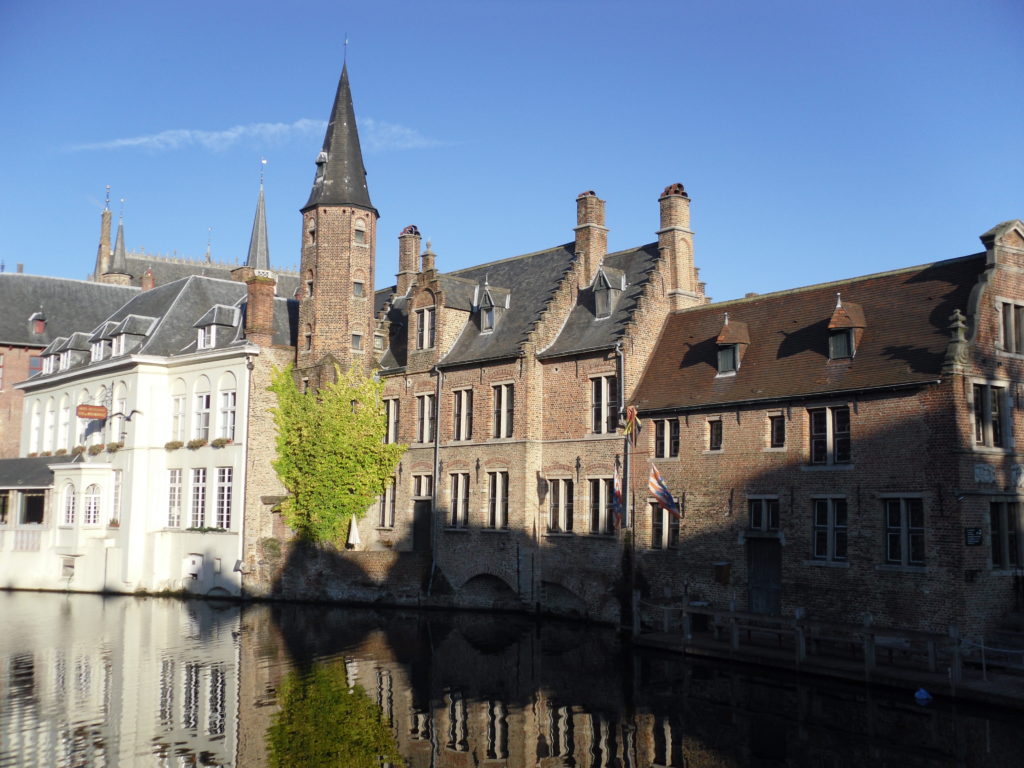 It is no surprise that around Bruges, one can come across the most cheerful of tourists. Here, it is impossible not to find joy in one thing or another, such as the stunning vistas, the superb architecture, the lush greenery, or the many wonderful eateries, bars, and shops on offer.

The photos in this post were all taken during my last visit to Bruges years ago just after Christmas Day. I chose this time of year as I'd heard about the stalls and the ice rink that bring extra bustle and cheer to The Markt during the holiday season. I was well compensated for this choice!

If you are fit enough to handle it, a visit to the Belfort (belfry) tower is a must. Beware: not for the faint-hearted or the claustrophobic.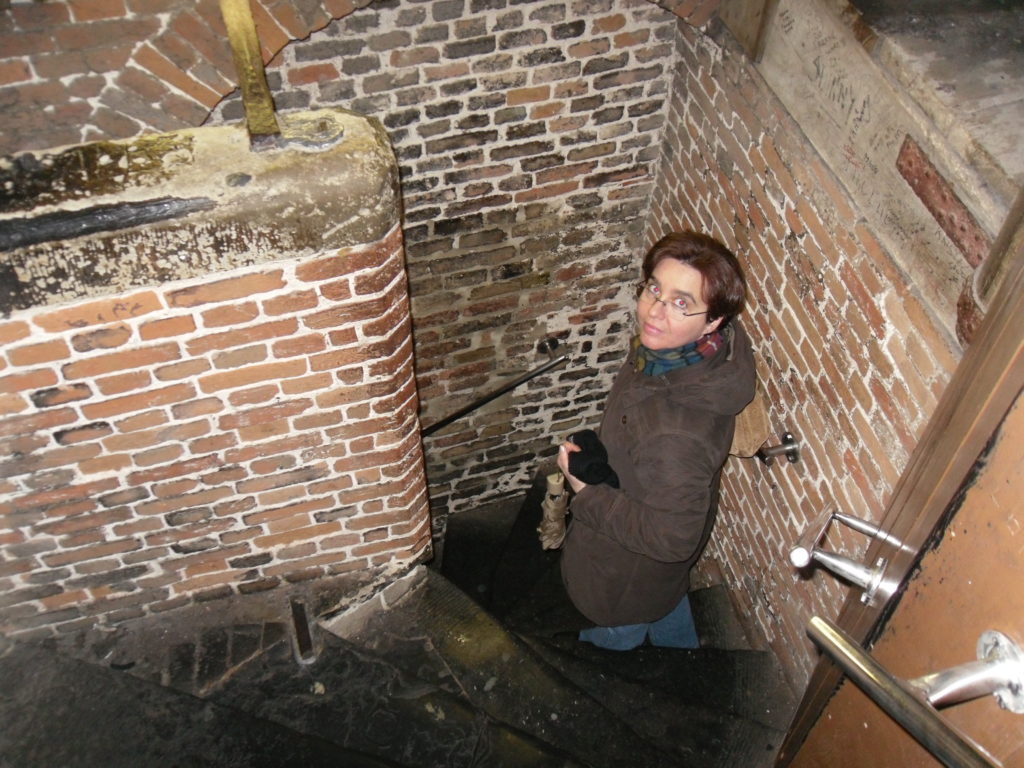 The indoor spiral staircase seems to go up forever at no less than 366 steps. There are rooms at intermediate levels where visitors can stop to catch their breath before carrying on with their ascent. The view from the very top is spectacular and is definitely worth the trouble.
I personally never miss out on an opportunity to visit churches in historical towns and my findings in Bruges were most thrilling. First and foremost, there is The Basilica of The Holy Blood (Heilig Bloedbasiliek), a church that houses a precious holy relic: a phial that is said to contain drops of Christ's blood. If you have watched the movie "In Bruges", I bet you're smirking right now! One of the most comical scenes in the movie involves Ray (Colin Farrell) begrudging Ken (Brendan Gleeson) for making him visit this church. The truth once again, is totally different. No one will fail to appreciate the beauty of this precious place of worship that was restored in Neo-Gothic style in the late 19th century. Before leaving the site, make sure to visit its hidden gem: St Basil's chapel that is located underneath the Basilica. Although remarkably less ornate, it has a unique atmosphere and you'll be rewarded for your time.
The Church of Our Lady (Onze-Lieve-Vrouwekerk) is also a must see. Its towering spire is a key landmark of the Bruges skyline. Although the exterior was built in an austere Gothic style, the interior is classically Gothic with touches of Baroque. This church is amazing in many ways but the most fascinating thing about it is that, surprisingly enough, it houses a unique treasure of Renaissance Italy: "Madonna and Child" (1504-1505) by the legendary Michelangelo.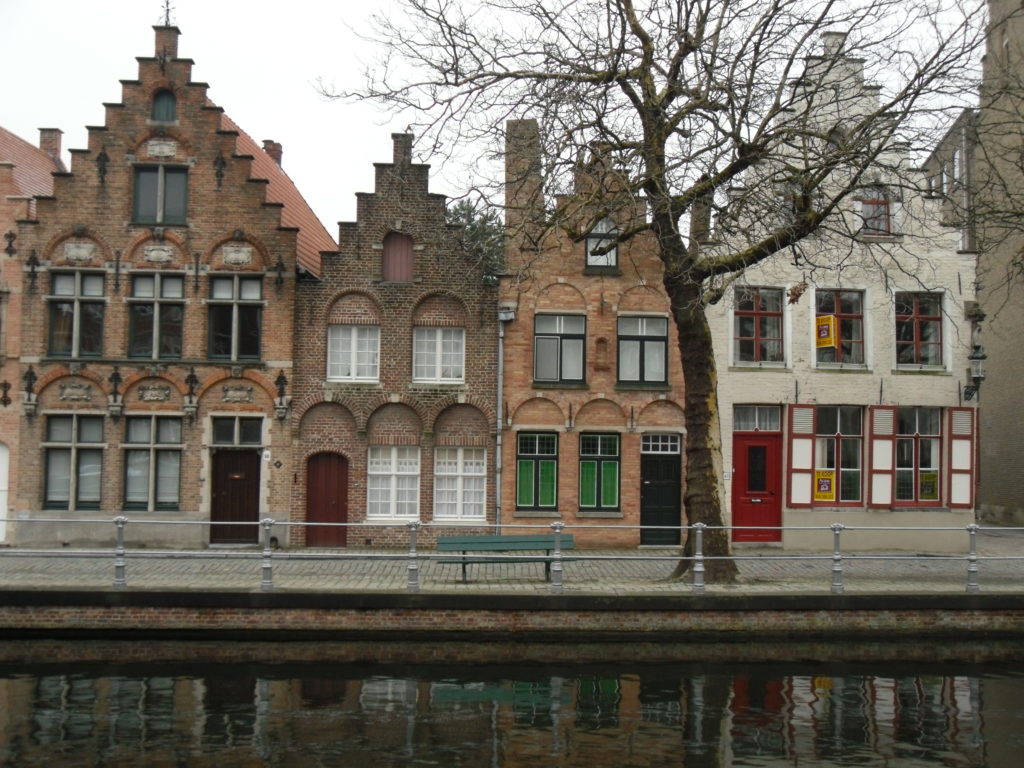 Walking around Bruges is a real treat for the amateur photographer as you can see in the above pictures.
 
Yet, by far, my favorite part of Bruges is Minnewater, a tree-lined lake near Minnewaterpark. Truly, it's like entering a fairytale land. The beauty of this place continues to haunt me today. Horse carriages stop there for a short sustenance break. This is a great chance to photograph beautiful horses and the forever smiling carriage drivers, as well as the multitude of swans and ducks on the canal.
Catch two birds with one stone while you're there and visit the Begijnhof as well with its eerie ancient walls and tree-lined expanses of greenery. This beautiful enclave almost feels haunted shrouded in the morning mist. Back in the 13th century, it used to house women (béguines) who were left single or widowed by the Crusades.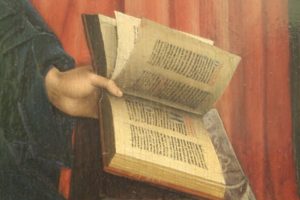 Are you an art lover?
There are two major museums in the area – The Groeninge and the Memling – both of late medieval art by various artists such as Jan Van Eyck and Hans Memling. There are several museums in Bruges and the truly insatiable for the arts can obtain a list at the tourist office located at The Burg (another central square close to The Markt).
Bruges is a town of many delights and the local food and drink could not be an exception. There's fresh seafood, traditional Belgian stews and delicious beers of many different types such as Trappist, Kriek or Lambic beer. I rather stuck happily with "Brugse Zot" which is brewed locally. The jester on its logo seems to welcome you on the menu at every bar and restaurant in town.
Staying in Bruges makes dinner time an absolute luxury. Among the local dishes I enjoyed Waterzoi (creamy fish in broth), Vlaamze Stoverij (beef stew cooked in Belgian beer), Moules Marinière e frites (steamed mussels in wine with celery and French fries) and the indispensable Chicons au Gratin (chicory leaves wrapped in ham and baked with a cheese sauce).
I highly recommend the following two restaurants: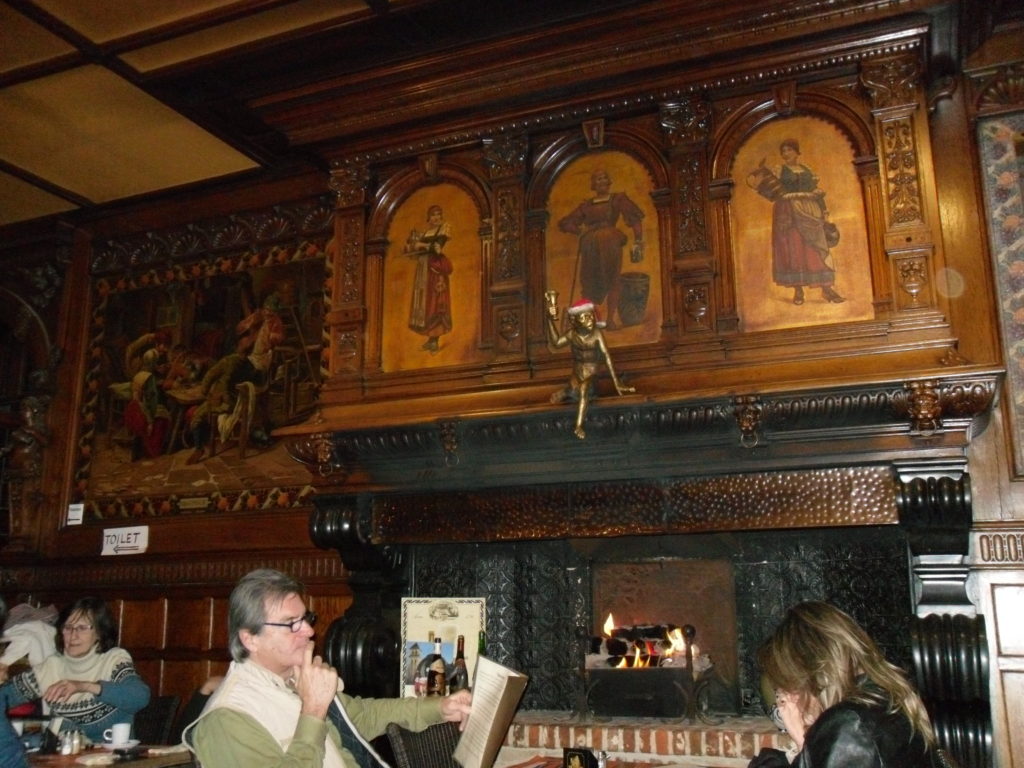 I visited Singe D' Or (Golden Monkey) in T. Zand Square for my New Year's Eve dinner. It was reasonably priced, the ambiance was wonderful, and the seafood was fantastic!
Gran Kaffee De Passage in Dweersstraat 26 was difficult to find in the dark, but it was well worth the hassle, and you'll do well to visit it at night too! The candlelit interior and the décor are enchanting, while the food and drink are as fantastic as can be.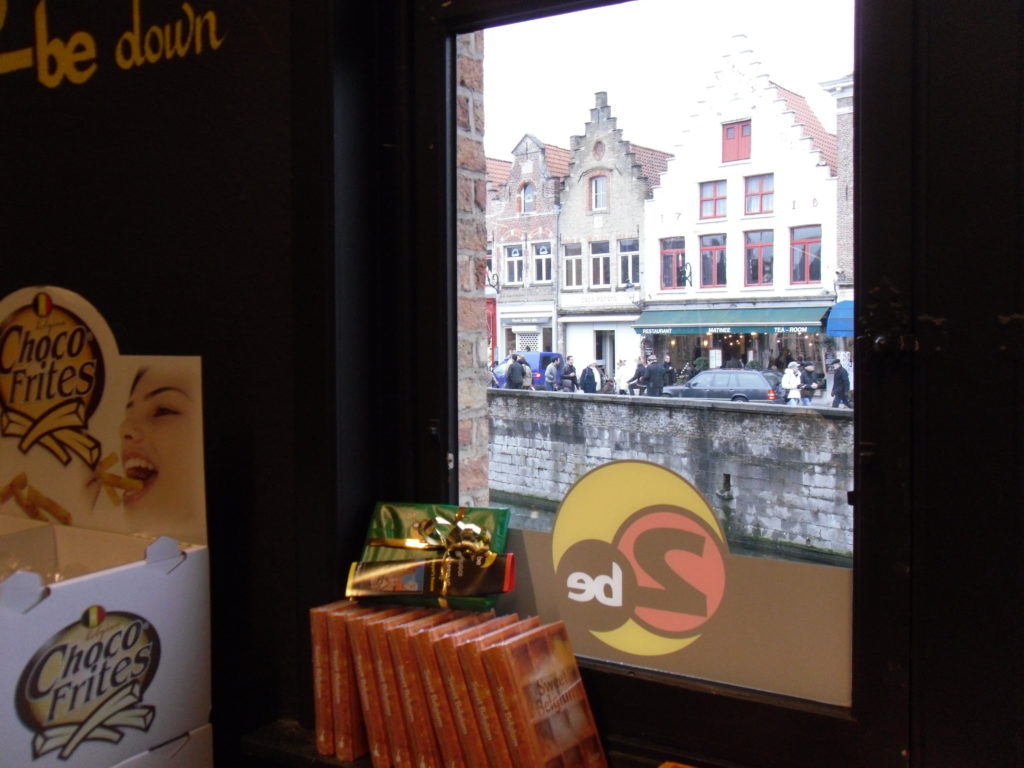 If you have a sweet tooth, you'll find it hard to resist temptation in Bruges! Delicious Belgian chocolates and a wide selection of waffles are available everywhere you look.
Since I mentioned my favorite eateries in Bruges, I might as well also recommend the fabulous hotel we stayed at!
Hotel Ter Brughe is situated on a quiet canal and is a five minute walk from The Markt – the quaint market square of the town, and the Belfort tower. Our room had a view to the canal and stands out in my memory for its quaintness – I must say, I loved everything about this hotel. The service was impeccable and it was beautiful everywhere you looked – including the stunning dark beams on the ceilings. 

Thinking about Bruges, one word comes predominantly to mind: Perfect. To be frank, there's only one thing wrong with this town; the longer you stay there, the more your heart breaks when it's time to leave it behind. It is truly difficult to adjust to this familiar, modern world afterwards. Still, as you slowly return to the rhythms and routines of your daily life, it is comforting to know that Bruges awaits you still. The fairy tale will begin again someday, the moment you return.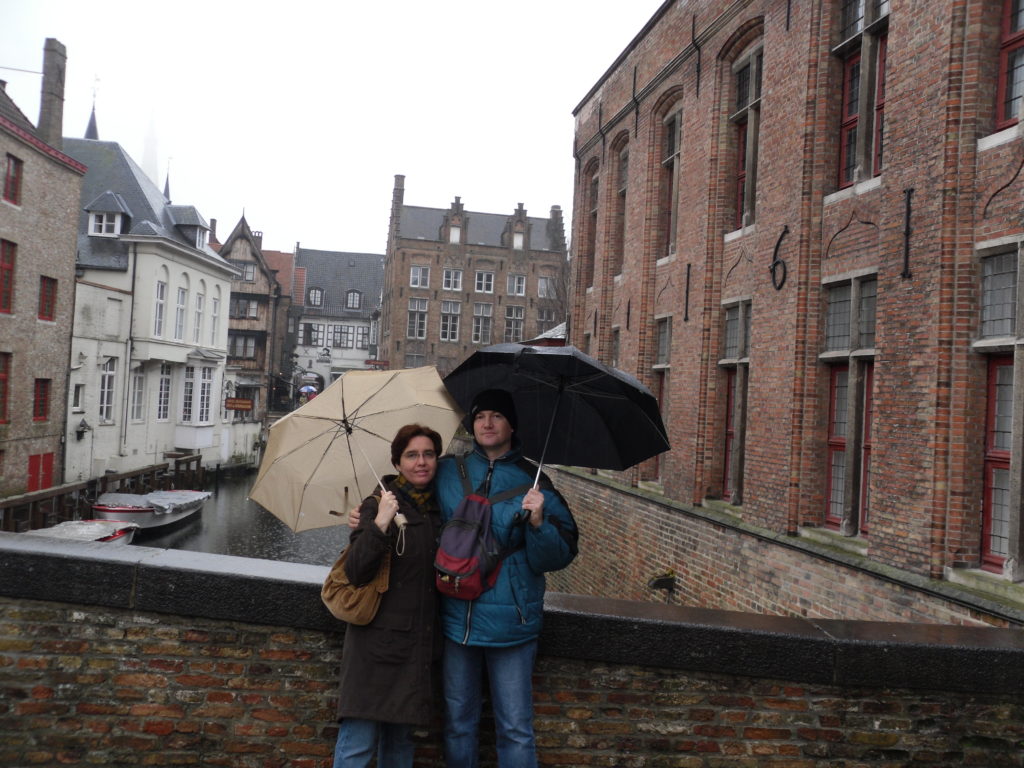 Have you been to Bruges? Did you travel there at a different time of year, for a specific annual event maybe? Have I missed any places of interest? Have you watched the film 'In Bruges?' Comment below and let us know, I'd love to hear your input 🙂
SPREAD THE WORD WITH A TWEET:
#Bruges The stuff of fairytales! #Belgium #Brugge
Click To Tweet

Did you enjoy this post? Type your email in the 'follow this blog' window on the right sidebar and get to see all our future posts!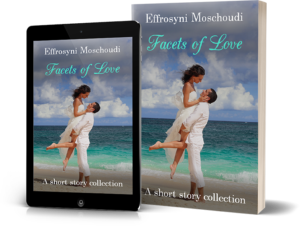 To grab "Facets of Love" for FREE, go here! Planning to visit Greece? Check out our FREE guide to Corfu! For delicious Greek recipes, go here. Are you an author? Check out our FREE promo tips & resources here.