Good morning peeps! Today I'm excited to announce a major promotion in my paranormal/historical trilogy, The Lady of the Pier. As you can see from the image, two of the books are FREE and the other is 99c, but only for a limited time!
The series has received some glowing comments from readers, but don't just take my word for it: I invite you to visit Amazon and read some of the reviews. My readers say The Storm is their favorite – and its average rating of 5 stars on Amazon reflects that! This is a rare opportunity to emerge yourself in the dramatic world of WWII and the sweet nostalgia of the 80s in one series! Transporting yourself to the heavenly paradise of Corfu will delight you, but in the world of Brighton, England a mysterious haunting awaits to shift your mood. The Lady of the Pier will be sending chills up and down your spine as she slowly discloses her secrets…

This August, The Lady of the Pier comes to haunt us all! Make sure to not miss out…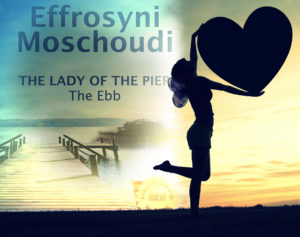 Start from The Ebb and recapture the sweetness of first love! You can also enjoy it as a standalone read. It's a lighthearted book, unlike the rest of the series where the haunting intensifies and a compelling drama begins to unfold. The Ebb is FREE today and only for a couple of days!
Please note: The Flow is discounted only in the USA and the UK, but the other two books are FREE worldwide.
Read The Lady of the Pier trilogy for only 99c! #ASMSG #booklovers #Bookworm
Click To Tweet

Do you love Greece? Check out our guide to Corfu! For delicious Greek recipes, go here.

Sign up

to the

newsletter

for Effrosyni's news and special offers (sparse emails)

NEW:

To read Effrosyni's books for FREE (yes, free!), sign up to her team of loyal readers here. It's free to join!
NEW!

Are you an author? Check out my FREE author promo tips & resources here!