WELCOME, FELLOW GREEK LOVER! DO YOU LOVE BOOKS SET IN GREECE? IT'S TIME TO RELAX, HAVE A DRINK, GRAB A BITE AND GET READY TO HEAR ALL ABOUT YOUR NEXT FAVORITE GREEK BOOKS! 
BUT FIRST… A FEW WORDS ABOUT THE AUTHOR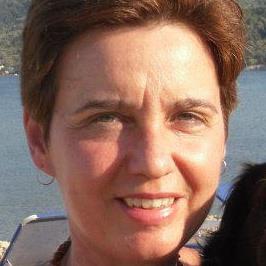 Effrosyni Moschoudi was born and raised in Athens, Greece. As a child, she loved to sit alone in her garden scribbling rhymes about flowers, butterflies and ants. Today, she writes novels for people who love all things Greek. Her historical romance, The Ebb, is an ABNA Q-Finalist. Her novels are Amazon bestsellers, having hit #1 several times, and are available in kindle and paperback format. The paperbacks can be ordered on Amazon or at any bookstore or library.

Effrosyni lives in a quaint seaside town near Athens with her husband Andy and a naughty cat called Felix, but her mind forever drifts to her beloved island of Corfu.
Felix loves to use her pot plants as lounge chairs, and to nap under the sun in ridiculous poses.
Scroll down to see Effrosyni's novels and to read all about the inspiration behind them.

Are you a Robert Pattinson fan?

Yay! Extending a special welcome to you! Effrosyni is a huge fan of Rob, who inspires her to write her vulnerable, romantic heroes. Her incessant talking about him in her interviews have won her a couple of mentions in Robert's fan sites. Scroll down to find out more!

Effrosyni's debut novel, The Necklace of Goddess Athena is an inspiring fantasy of Greek myths mixed in with sweet romance and a touch of family drama. In 2014, it made the shortlist for the "50 Best Self-Published Books Worth Reading" from Indie Author Land. In 2016, Readers' Favorite declared it 'A Stunning Masterpiece'. For more info and a FREE excerpt, go here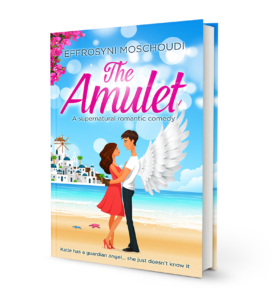 Effrosyni's romantic comedy, The Amulet, is a delightful beach read set on the Greek island of Sifnos. Full of tantalizing descriptions of Greek food, it's impossible to read it and not feel ravenous! This book made it to Amazon's #1 within a week of its launch. Give it a try today and find out what the buzz is all about! For more info and a FREE excerpt, go here
To write her award-winning novel, The Ebb, Effrosyni was inspired by her love for Corfu where she spent several summers with her grandparents in the 1980s. Although The Ebb is the first book in a trilogy, it can also be enjoyed as a standalone read. Full of innocence and nostalgia, this book will transport you to a Greek paradise with its vivid descriptions from the first pages! For more info and a FREE excerpt, go here

Are you fond of the Greek island of Corfu or planning a holiday there? Make sure to read the guide to Moraitika and Messonghi on this website. These are the real Corfiot villages described in the trilogy as Vassilaki and Messi. Also, this post brims over with old photos and memories from 1980s Corfu.

Other than Corfu, The Ebb is also set in Brighton, England. Effrosyni has always been fascinated by the legendary West Pier in Brighton. How much do you know about it and its haunting past? Check out this post for a host of photos from The Brighton seafront – both old and new.
In her blog on this site, Effrosyni mainly posts author interviews & book reviews. In her secondary blog, Effrosyni's Blog, she shares Greek recipes, some original ones of her grandmother's.
Browse through all the recipes here. The Giouvarlakia, being one of Gran Antigoni's best, is unmissable!
Take your time to explore this site! Here you'll find FREE downloadable excerpts of Effrosyni's books, book trailers and more. Also, make sure to download the FREE book, Poetry from the Lady of the Pier. It contains a romance short story and poetry from the trilogy, as well as an exclusive excerpt from The Ebb not available as a free preview anywhere else online.
To read Effrosyni's future books for FREE (Yes, that's right!) join her

newsletter

today!


What others say about Effrosyni's writing:
"Effrosyni layers her words on the page like music."
~Jackie Weger, author of The House on Persimmon Road

"Ms. Moschoudi is proving to be a skilled storyteller who takes her readers on a wonderful ride."


~David M. Wind, author of Queen of Knights
"I was glued to the pages by the author's vivid descriptions and her beautiful, almost poetic way of writing."

~Angel Sefer, author of The Greek Isles series
Sign up to Effrosyni's exclusive

newsletter

to be notified first about her new books and special offers

(very sparse emails).
Are you a kindle lover?

Head over to the blog on this site to discover a host of terrific writers, many of which have set their books in enchanting Greek locations.
Image copyright by Laura of #RPWW (Robert Pattinson Worldwide fansite)
Fans of Robert Pattinson, you want to read this! 
#RobertPattinson #Robsessed #RPatz #RPWW
Did you know? Being a huge fan of Rob, Effrosyni would cast him in a movie of her trilogy, The Lady of the Pier, in the double role of Danny and Christian. Two Robs in one movie? Woo-hoo, right?
In one of her interviews in 2015, she was asked why she loves Robert so much. Her answer created quite a ripple on Twitter among her followers for a few days, seeing that so many agreed with her:
"I admire him because there is a vulnerability in his voice and manner that makes him unique. Also, his angry face is astounding; it gives me goosebumps. The scene where he throws Christine Scott Thomas out of his house in Bel Amie is out of this world. What is an actor if he can't move you, right? Also, he inspires all the vulnerable romantic heroes in my books. If they ever make it into movies, Rob has to be cast, it's only fair, LOL"
Whenever Effrosyni tweets about Rob, Twitter engagement skyrockets on her account, @FrostieMoss. Here's an example that has won over 5,000 impressions:
Effrosyni has won three mentions on these Robert Pattinson fansites: RobertPattinsonWorldwide & RobsessedPattinson



Click on the image to read the feature or go here
Click on the image to read the feature or go here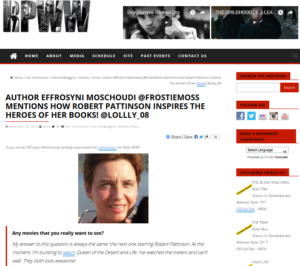 Click on the image to read the feature or go here
A SELECTION OF EFFROSYNI'S INTERVIEWS




CONNECT WITH EFFROSYNI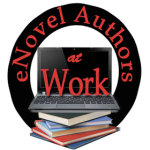 Keep up with Effrosyni and a whole bunch of award-winning authors at

http://enovelauthors.com
(If you're an author, check out the blog at eNovel Authors at Work to find awesome promo tips by the founder, Jackie Weger!)