THE INSIDER's GUIDE TO MORAITIKA, CORFU!
Looking for a Greek holiday of sea, sun, relaxation and fun? You can't do better than Moraitika. Here you will find everything you need to know: where to stay, where to eat, what to see and lots more! Make sure to scroll all the way down.
A FREE, award-winning novel set in Moraitika awaits you there. My gift to you for visiting my guide today!

Welcome to Moraitika, Corfu – my favorite corner of the world! This is the place where I spent many summers of my early life with family and friends. Nowadays, I return every summer to revisit old fond memories, but mostly to enjoy the serenity of the setting, and to swim in Corfu's crystal, sparkling waters. I love Moraitika so much, that I had to write a book or two about it! Forget your worries for a while. Sit back, relax and check out this short (yet comprehensive!) guide. I hope the pictures delight you and give you a good idea as to why I call this place a paradise on earth.
First off, the basics!
Moraitika is situated on the southeast coast of the island. The old quarter is on higher ground, perching on a lush mountain covered with olive groves. Walking through the quaint paths is a pleasure in itself, but you can also admire a spectacular sea view from up here. The sunset vistas are enchanting enough, but the sunrise is truly unforgettable. Rise early one morning, find a vantage point and marvel at this sort of spectacle:
(Click on any image to enlarge)
Here, you can quench your thirst at the Pigi (a fresh spring) under the shade of a huge plane tree (platanos). The path that leads to it begins from Tassos Grill if you know your way around the village on the hill. Ask any local where the Pigi or the Platanos is and they'll point you to the right direction as there are several paths you can take from this restaurant.
Well worth a visit is the village church with its beautiful bell tower. Across from the church, you will find the antiquated, original church of the village and the only grave left standing from the cemetery that was once there. The grave belongs to my great-grandfather, Stefanos Vassilakis, who was the village priest and teacher at the turn of the 20th century. I gave Moraitika the name 'Vassilaki' in the book to honor his memory.
(Click on any image to enlarge)
To leave the old quarter, take one of the four available downhill paths that will take you to the main road on level ground. This is the bustling part of the village, where you will find a wide selection of shops, bars and eateries.
At this bus stop booth, take the path to the beach. This will lead you right at the sports pier (see below picture) that inspired my romance, The Ebb (set in 1980s' Moraitika).
At the beach, you have a choice to head towards the left, where you will wind up at a quiet spot without umbrellas and deckchairs (preferred by the locals) or turn right at the pier to arrive at a more cosmopolitan, lively setting.
There is a cluster of hotels in that direction, my favorite stretch being the spot outside the guesthouse Nea Zoi (run by my aunt Leni and uncle Costas) with the exquisite bar/restaurant Caldera next to it.
Caldera is the true inspiration behind the bar/restaurant Karavi in my romance, The Ebb. Try this place especially after nightfall and you will be enchanted! Highly recommended for romantic souls. Furthermore, Mrs Loula's homemade cooking is one of the best kept secrets in this village. Make sure to discover it! Try the souvlaki or the pastitsada… (scroll down to see more photos and contact info for Caldera Lounge Bar).
Since I started my recommendations from the food, I might as well continue!
Two of my favorite tavernas are on the hill at Moraitika. All my restaurant recommendations refer to traditional family tavernas so the food in all of them is genuine, wholesome Greek food:
Bella Vista is an old favorite from the 80s when my grandparents would treat me to dinner there at sunset. Make sure to bring your best camera when you visit! (scroll down for more photos and contacts of Bella Vista)
Tassos Grill is easy to find if you go uphill from Delfinia Hotel. Make sure to go early in the evening – dine on the terrace and marvel at the spectacular sea view. I recommend the moussaka and the fresh fish (scroll down for more photos and contacts of Tassos Grill)
Last, but not least, I highly recommend this taverna that's a little further away, just over the bridge of Messonghi river:
Zak's taverna is a whimsical establishment that's visibly sighing with relief on a warm evening amidst its lush garden of colorful blooms. Zak's wife, Loula, spends every morning preparing mouth-watering homemade delights that will continue to haunt you forever once you've left the island… I recommend that you order a series of starters instead of a main course so you can sample more! Make sure one of them is the potato skins! Zak's is highly popular and only opens in the evenings after 18:00. Make sure to prebook especially if visiting after 19:30 or so – you've been warned! (scroll down to see more photos and details for Zak's).
Okay, so being a Greek, I started from the food – no surprise there, as any of you who are familiar with Greek culture will know 😉 Now, on to where to stay. I've already mentioned my aunt and uncle's guesthouse, Nea Zoi, which is ideal for people looking for tranquility. It's right on the sandy beach. If you prefer to shy away from the sun, just sit under the shade with a drink and let time melt away (scroll down to see more photos and contact info for Nea Zoi).
A little further inland from Nea Zoi you will find Villa Corfiota, which is run by the same family, namely by my cousin Yannis Vlachos. This villa that's half-hidden in its lush gardens is another quiet setting for a relaxing vacation (scroll down to see more photos and contact info for Villa Corfiota).
Another excellent choice for your accommodation are the Aquarius Studios on Moraitika's main road, in the location of the old village school. Its communal yard is the old schoolyard that's been converted into a whimsical street that reminds me of the Cyclades. Check this out:
(scroll down to see more photos and contact info for Aquarius Studios).
Near the main road (along the path starting from the bus stop booth I mentioned earlier) you will find Romantica.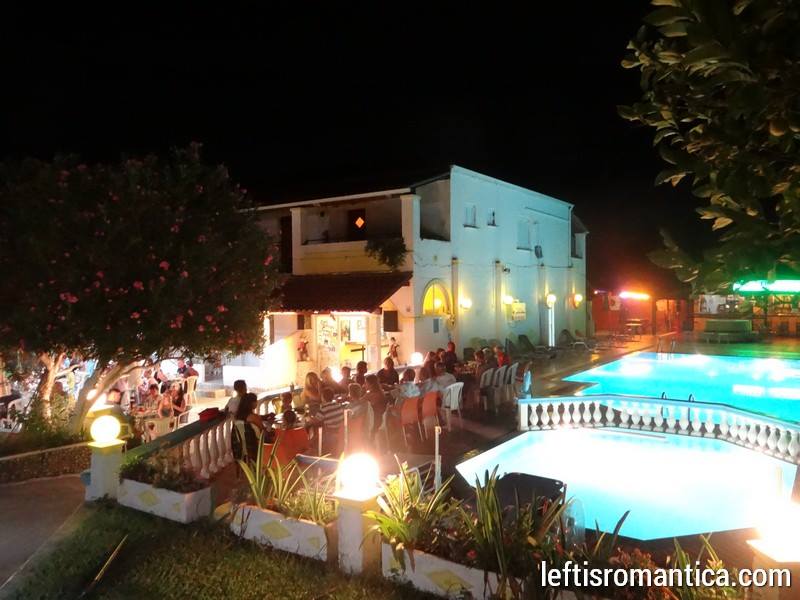 This is a place that the young at heart will appreciate more because, well, Leftis is not your average guy! Back in the 80s, Leftis ran the Romantica restaurant on the same spot and, from back then, it was legendary. Tourists of all ages mixed with the locals every night dancing the syrtaki to a frenzy of bouzouki chords. At some point, Leftis would bring out a donkey from the back, calling out to lady tourists to ride it around the dance floor and he'd do all sorts of crazy routines too, raising mad bouts of laughter. Nowadays, Leftis no longer brings out a donkey, but he does a wicked Greek Night BBQ on Fridays where, among many other things, he invites his guests to let him break plates on their heads.
One year, my husband's English family came to stay in Romantica and we had the best Greek Night together. I guess you can tell from the pictures I share here! Leftis will see to your every need and will make your stay unforgettable. This hotel has a pool bar that is open to the public and so is the Greek Night BBQ. So, when in Moraitika, whether you stay there or not, make sure to sample the Romantica entertainment experience! Make a note: Fridays at 21:00 – but you need to prebook! (Scroll down for more pictures and contacts for Romantica)

While in Moraitika, you may be happy to lounge on the same beach all day, but should you decide to rent a car or a bike as to explore the nearby beaches and villages, you will be glad you did. Stunning sandy beaches on the west side of Corfu are only a short ride away in the direction of Lefkimmi and Cavos. In a few minutes, you could be in Chalikounas or Issos – both are situated near Lake Korission (one on either side). Chalikounas is the first beach on the way and to get there, you'll drive right by the lake. Issos is further away on the road to Lefkimmi. For both beaches, you may have to ask for directions from a local, as sign posting is not too clear. I assure you, they're both worth the trouble and the drive is delightful.
I recommend lunch at Messonghi during one of your daytime explorations. Messonghi is built at the river mouth of Messonghi river. It is the neighboring village of Moraitika that I describe in my book, The Ebb. Just pick any of the quaint seafront tavernas for your meal there. One of my favorites is Bacchus Taverna. It is situated near the pier.
Website: http://www.bacchus.gr/

Facebook page: https://www.facebook.com/pages/Bacchus-Taverna/413596508687596
Further down the road from Messonghi you'll find Boukari. Plenty of excellent tavernas to enjoy there too.
Those who have read The Ebb, will recognize the mountain on the right in this picture as my heroine's favorite 'pyramid-shaped mountain'. In real life, the locals call it 'Martaouna' and the village on it is called Spileo. It's well worth a visit, if only for the wonderful views of the bay and I recommend you enjoy it from the restaurant 75 Steps. It's open all day but only serves meals in the evening. Check out these amazing views of Moraitika and Messonghi taken from 75 Steps! (pictures by Viv Dare and Paul Tuck)
(Click any image to enlarge)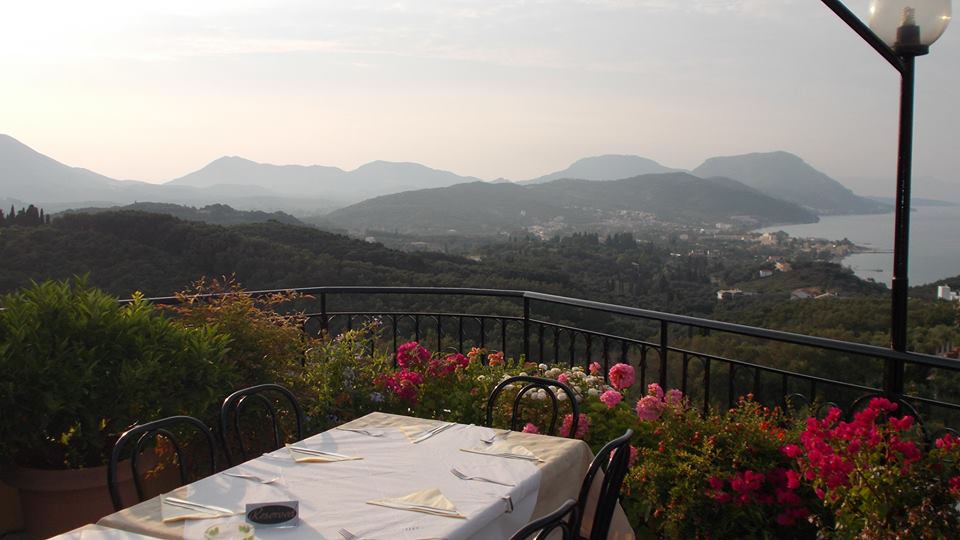 As for the mountain on the left on the previous picture, it is called Chlomos and you'll find two villages on it: Agios Dimitrios (you can see it under the two masts) and Chlomos which is on the other side of the mountain.  If you're feeling adventurous, why not conquer this mountain? Explore Agios Dimitrios and marvel at the coastal view from its churchyard. Here's how the bay looks from up there. Not bad, huh?
After your visit at Agios Dimitrios, follow the sign to Lefkimmi to visit the village of Chlomos on the other side of the mountain. At Chlomos, take the narrow lane to your left to arrive at this magnificent vista:
From this spot, carry on ahead down the mountain. The road will take you to Boukari, or you can return to Moraitika from there via Messonghi. It's a lovely, picturesque ride through shaded streets and ancient olive groves.
Eager to explore further? Drive further south and visit even more breathtaking beaches of fine sand and crystal clear waters. There is a multitude to chose from. I recommend Agios Georgios (St George), Agia Varvara (Santa Barbara) and Marathias. A word of warning: stay away from Kavos unless you're specifically looking for a loud place and some wild partying, in which case of course, you'll be happy you went there!
For the most serious sightseeing on the island, you must visit the renowned Achilles Palace, the enchanting Kanoni with the nearby Mon Repos (a holiday mansion of the Greek royal family back in the day – now a fine museum) and Pontikonisi (Mouse Island) and, of course, the stunning old quarter of Corfu town with its picturesque lanes, churches and the Old Venetian Fortress.
What's to say about all these legendary places of interest? I wouldn't know where to begin. I can only recommend them all highly. Corfu Town is well worth a visit, if only for its enchanting main square, a jewel of world heritage listed with Unesco!
As for a bit of exploring beyond Corfu, below you will find details of the best travel agent in Moraitika where you will marvel at the choices you have! Personally, I recommend these two boat trips that I have done and which I am forever daydreaming about. Check out these pictures:
RECOMMENDED BOAT TRIP TO : PAXOS & ANTIPAXOS
RECOMMENDED BOAT TRIP TO SIVOTA & BLUE LAGOON (SEA CAVES)
Regarding boat trips, I never pass on the chance to do one, and I've had unforgettable boat trips elsewhere; in Milos, Skiathos, Zakynthos and Lefkada, for example. Yet, on Corfu, you get an incredible amount of choice because of many places of interest on Corfu itself, the nearby small islands, and the stunning beaches and sites of the Greek mainland. Other than the agency that I am recommending at the bottom of this page, you can also book a boat trip or two to nearby destinations directly with your captain! All you have to do is visit Messonghi's little marina at the river mouth and choose to book ahead one of many boat trips on offer. I recommend Captain Homer – there's a booking office for this captain near the river mouth where you can choose among many different tours on offer. Scroll down for contact details.
Messonghi's marina is a magical place at sunset. Check out these photos and see what I mean:
To get there from Moraitika, after the iron bridge over the river, take the cemented path to the left. The sign will say 'to Messonghi river'.
In the day, the same marina takes on a fresh, cheerful feel. This is an idyllic place to start an exciting daily boat trip, don't you think?
Make sure to check out the many excursions available by Captain Homer:
https://www.facebook.com/captainhomersexcursions/
https://www.facebook.com/Captain-Homer-Boat-Trips-395804210518009/
Well, this is it as far as general information goes!
Below, you will find all my recommendations in full detail and many other new resources. You may want to bookmark this page and return to it again before you visit the island. This is a work in progress!
If you have any questions, please leave a comment below or use the contact form on this site. Thank you for giving me the chance to introduce you to my beloved Moraitika and its people! Remember to scroll all the way down to get my Moraitika book for FREE!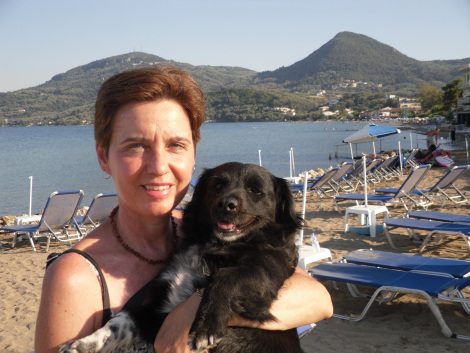 SCROLL DOWN FOR MY RECOMMENDATIONS IN DETAIL AND MORE!
WHERE TO STAY
GUESTHOUSE: NEA ZOI  (Owners: Costas and Leni Vlachos)



Right on the surf, this family-run guesthouse is perfect for families and sun-worshipers… at the end of a long day on the sand, relax in the shade with a drink and watch the world go by. All rooms are air-conditioned and are equipped with a fridge and a kettle. Some rooms have a kitchenette as well.
Where to find it: On the beach, next to Caldera Lounge bar and Margarita hotel
To book, contact Spyridoula at:  info@gstouristcentre.gr  (or phone: +30 26610 76282)
(Click on any image to enlarge)
VILLA CORFIOTA  (owner: Yannis Vlachos)
This family-run property comprises of 18 studios surrounded by a lush garden of beautiful flowers and fruit trees.
Where to find it: Just off the beach (50 meters) near Nea Zoi, Caldera Lounge Bar and Margarita Hotel.
To book, email:  t_vlachou@hotmail.com  (or phone: +30 26610 75350)
Visit the Facebook page
(Click on any image to enlarge)
AQUARIUS STUDIOS  (owner: Giorgos & Spyridoula Vlachos)
This family-run guesthouse is located on Moraitika's main road where the village school once was. As you see below, the old schoolyard now resembles a picturesque Cycladic lane.
Where to find it: Situated on the main road, across from Alkyonis Hotel. The studios are above the Moraitika Tourist Center (see below, owned by the same family).
To book, contact Spyridoula Vlachos at:
Email: info@gstouristcentre.gr
Phone: +30 26610 76282
Website: http://www.gstouristcentre.gr/index.php/en/
ROMANTICA
Pictures by LeftisRomantica & CorfuHolidayGuide
Where to find it: 100 meters off the main road (at the round bus stop booth)
Whether you book to stay there or not, make sure to prebook and sample the Greek night BBQ! Fridays at 21:00.
Visit the website here for many photos and all contact details.
You will find Romantica mentioned as 'Leftis Romantica' on Facebook. The page has over 1,000 fans and there's also a brand new unofficial group about it. Connect with fellow Romantica worshipers and get inspired for your next visit:
https://www.facebook.com/LeftisRomantica/?fref=ts
https://www.facebook.com/groups/816058481864800/
WHERE TO EAT
CALDERA LOUNGE BAR (and restaurant)
Owners: Christos and Fay Vlachos, cook extraordinaire: Mrs Loula Vlachos
(Click on any image to enlarge)
Where to find it: On the beach, next to Margarita Hotel
Contact: +30 26610 75269
Visit the Facebook page
BELLA VISTA
(Pictures by Bella Vista)
Location: On the hill – at the old quarter of Moraitika. Follow the signs or ask the locals.
Facebook page: https://www.facebook.com/search/981637045192354
TASSOS GRILL
Location: On the hill – at the old quarter of Moraitika. The easiest way to find it is to take the uphill path from the main road at Delfinia Hotel.
Facebook page: https://www.facebook.com/tassosgrill/
ZAK's TAVERNA
Where to find it: From Moraitika, cross the bridge over Messonghi river and walk straight ahead. You will find Zak's on your left hand just after the turn off to Messonghi river).
Facebook page: https://www.facebook.com/Zaks-Taverna-856001957823364/
Note: Open only in the evening. Prebook at 26610 76036 especially if you're visiting after 19:30 or so!
ORGANIZED SIGHTSEEING – BOAT TRIPS – EXCURSIONS
Just ask my cousin Spyridoula at Moraitika! Here you can get excursions to many places on the mainland across the Ionian Sea, and also to the islands of Paxos and Antipaxos. I strongly recommend the boat trip to Paxos as well as the one to Sivota and the Blue Lagoon (sea caves)!
Where to find it: Moraitika Tourist Center is on the main road near Charlie's Bar and across from Alkyonis Hotel.
Email: info@gstouristcentre.gr
Phone: +30 26610 76282
Website: http://www.gstouristcentre.gr/index.php/en/
GROCERIES
The co-op supermarket has it all! This is the most cost-effective and adequately stocked supermarket in Moraitika. Just ask for Alekos, a guy with a heart of gold you'll love to greet every morning. If you happen to mention football, be kind to Olympiakos! We're talking passion here. Alekos and his brother Yorgos haven't put up the team's flag on the roof for nothing!
Where to find it: A few feet from the round bus stop booth (on the opposite side of the road).
GIFTS – SOUVENIRS – BEACH STUFF
Visit Aquarius gift shop! My cousin Yannis and his family offer a wide selection of gifts from the most traditional to the utterly hilarious. You'll find something for everyone here, even for your most awkward aunt!
Where to find it: On the main road, next to Moraitika Tourist Center and across from Alkyonis Hotel.
BOOKSHOP & POST OFFICE
Need to print your boarding pass in Moraitika? For stamps, gifts, fax, internet cards and lots more, visit the local bookshop, Vivliou Chora, that is also the village post office.
Note: Are you staying in Corfu and looking for my paperbacks? Lots of people have asked me this, so please note you can order them in this bookstore (or any other in Corfu). Just allow a couple of weeks for delivery to be safe.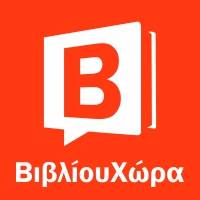 Where to find it: A little further from Alkyonis Hotel and before you get to the petrol station.
Tel: +30 26610 76964
Email: vivliouxora@gmail.com
Facebook page: https://www.facebook.com/vivliouxora
USEFUL LINKS

This is a fabulous website that will satisfy both common and rare holiday needs! Just head over to www.corfuselections.com and see what they can do for you: accommodation, transfers, wedding photography, high-powered craft rides, mobility scooters and anything else you may need – just send them an email. The people at Corfu Selections are committed to assisting independent travelers and to satisfying any special needs while supporting the local economy.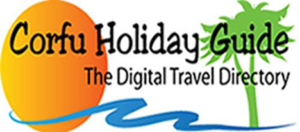 Check out the Corfu Holiday Guide to look up any establishment that interests you around Corfu and of course, all over Moraitika. The map feature will pinpoint their exact location for you and provide contact information and a wealth of photos. Run by web-guru Peter Simpson, it is the ultimate business guide for the island!
Are you an avid reader? A list of holiday reads set on Corfu (including my book The Ebb that's set in 1980s Moraitika) will soon be added on this site so make sure to bookmark it for later!

.

Visit http://the-green-island.co.uk/ for all info on the island re accommodation, sightseeing, culture, nature, and lots more. It even lists a few books set on Corfu!
IMPORTANT NOTE: I have created this guide to give you insider tips on how to enjoy your stay in my beloved Moraitika to the max! I do not receive commission from anyone, and I am only showcasing them here as to help family and friends. All these lovely people will be thrilled to hear you came to Moraitika and met them because of this website, so please ensure to mention 'Frosso' sent you!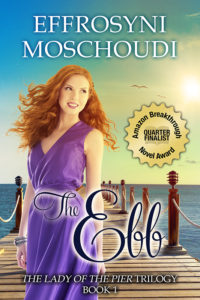 My award-winning romance, The Ebb, is partly set in Moraitika and Messonghi in the 1980s. Go here to get a FREE copy now. My gift to you today for visiting my guide! Thank you!

Do you prefer paperbacks? You can order all my books on Amazon, at your nearest bookstore or at your local library.
Thank you for your visit!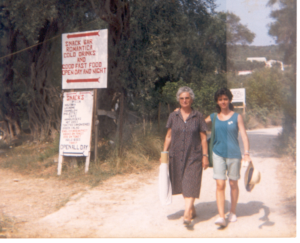 Check out these posts where I share memories from the 80s in Moraitika!
TWEET TO SPREAD THE WORD:
What's the best place to stay in Corfu? #Corfu #familytravel #travel Click To Tweet