Today, I am pleased to introduce you to The Agiot – a free newsletter from Corfu!
The Agiot newsletter is issued in the village of Agios Ioannis. It contains news from the island, and a plethora of fun stuff.
I discovered it recently when British author Hilary Paipeti offered me a short interview for it. You will find our interview in the December issue along with an introduction to my free novel set in Moraitika, The Ebb.
Hilary lives in Corfu, by the way, and has a couple of sites well worth a visit, such as The Corfu Trail and Corfu Walks. Both of them celebrate the island's natural beauty, and are a must for those interested to explore Corfu on foot 🙂 For a full listing of Hilary's sites, visit my free guide to south Corfu here.

Below you will find the contents page in the December issue of The Agiot. I hope you will agree so much of this sounds really intriguing!
You can read it online, but if you prefer to read it at your leisure, just click at the down arrow on the top right of the newsletter to download it to your device. Either way, it's FREE!

Enjoy!
Note: Visit the ARCHIVES to access all the past issues of The Agiot.
SPREAD THE WORD WITH A TWEET:
A FREE and fun newsletter about the #Greek #island of #Corfu
Click To Tweet

Did you enjoy this post? Type your email in the 'follow this blog' window on the right sidebar and get to see all our future posts!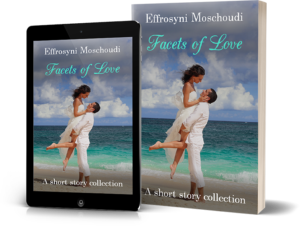 To grab "Facets of Love" for FREE, go here! Planning to visit Greece? Check out our FREE guide to Corfu! For delicious Greek recipes, go here. Are you an author? Check out our FREE promo tips & resources here.