Today, I thought I'd share a couple of photos that my author friend Stephanie Wood sent to me recently. One day, Stephanie saw one of my posts about Moraitika, Corfu and the name rang a bell. Next, she was going through old photo albums and found evidence that confirmed her suspicions: she'd spent a holiday there back in the 80s but, over the years, had forgotten the name of the Corfiot village she stayed at. When she wrote to let me know, and to send the photos she found, I felt delighted. If I could re-acquaint her with such a blissful part of her past and, what's more, stir in her the desire to return there one day, I felt my work was done.
It's been a year now that I've been shouting it out from the rooftops of Twitter and Facebook that I am mad about Moraitika and Messonghi, the villages I set my romance trilogy in, and called them Vassilaki and Messi respectively in the books. It gives me great pleasure when people write to me to say they've been there in the past and that my posts caused them to start dreaming about them again, spurring them on to return!
So, to keep the fire inside your hearts kindling, this post is for all of you who, like me, adore these two quaint, heavenly corners of the world. Those among you who've been visiting since the 80s may enjoy remembering how these villages looked back then. You'll need to forgive the low resolution, of course. These are grainy, as they should be, otherwise they wouldn't be so precious, right?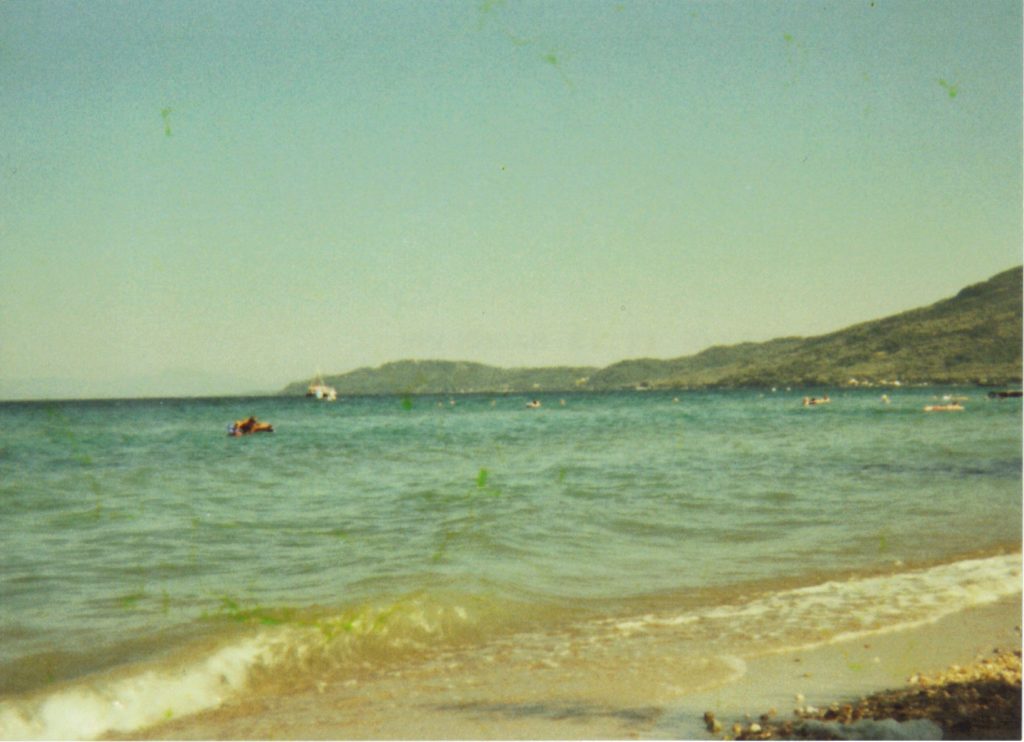 This picture from Stephanie was easy to identify as a picture of Moraitika beach.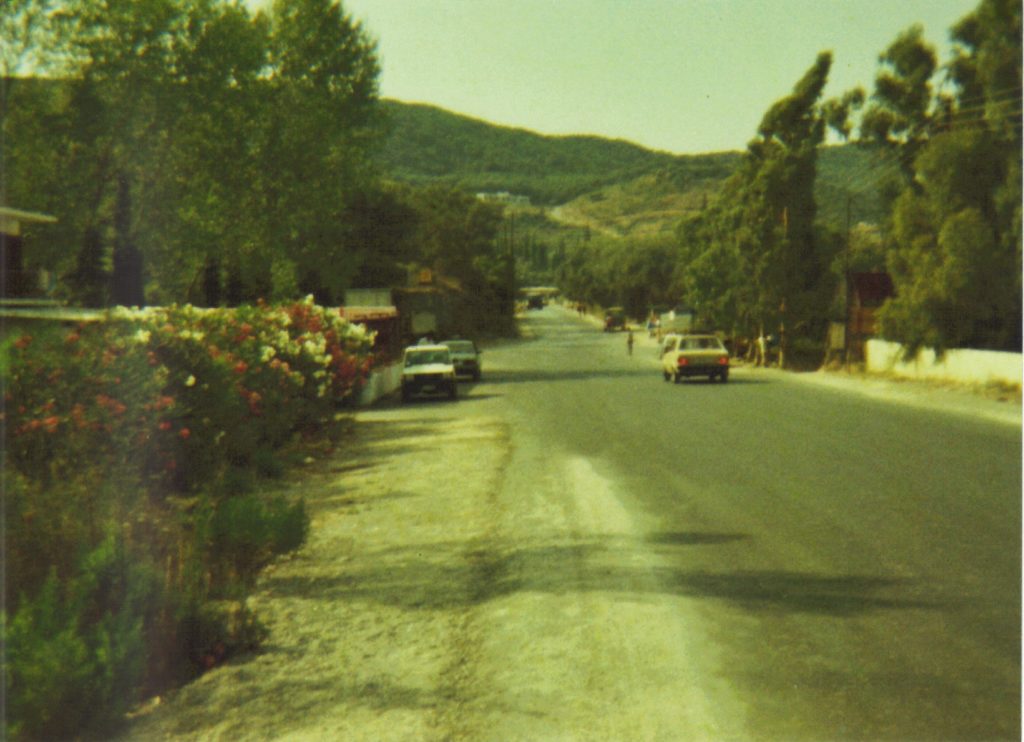 Now, this one gave me a hard time. It took me a while to identify the place and finally I realized it's the road heading towards Moraitika as you come from the river bridge. Actually, this spot is very close to the bridge but it's missing the big roundabout that's in the middle of this road today. Back then, there was no roundabout and, depending on when in the 80s this photo was taken, there's a chance the Messonghi river bridge wasn't even built yet!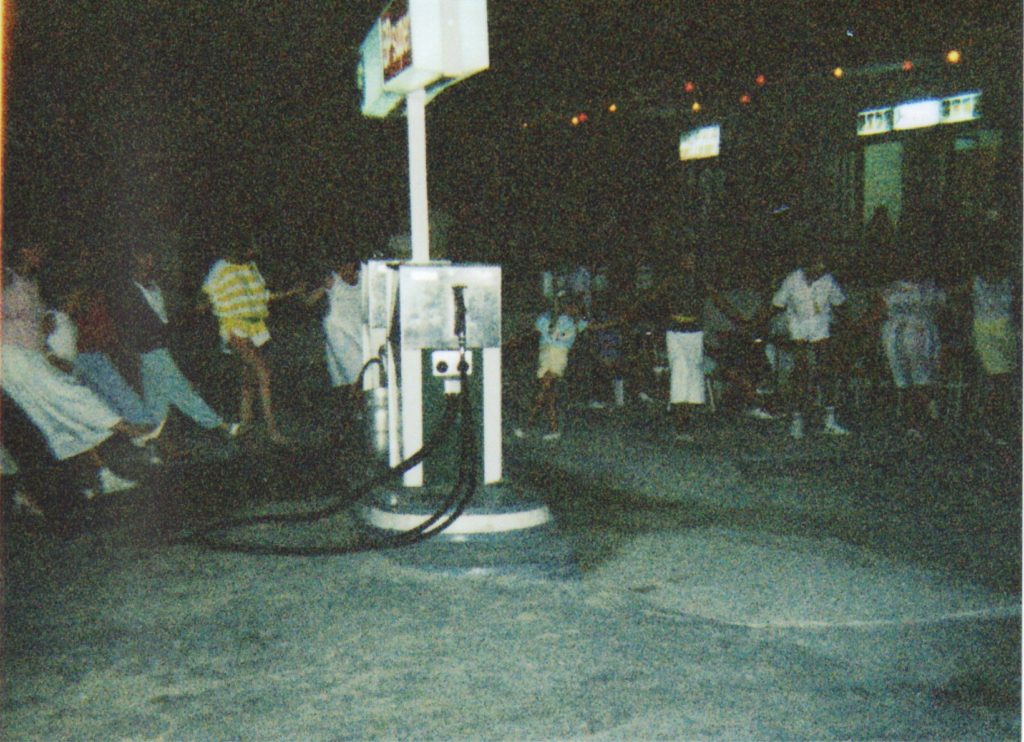 Throughout the 80s, there were many restaurants offering live syrtaki dancing every night in Moraitika but only one had its dance floor by petrol pumps! And that was Paizanos petrol station on the main road (a petrol station still operates there today, and it's situated near the bookshop/post office).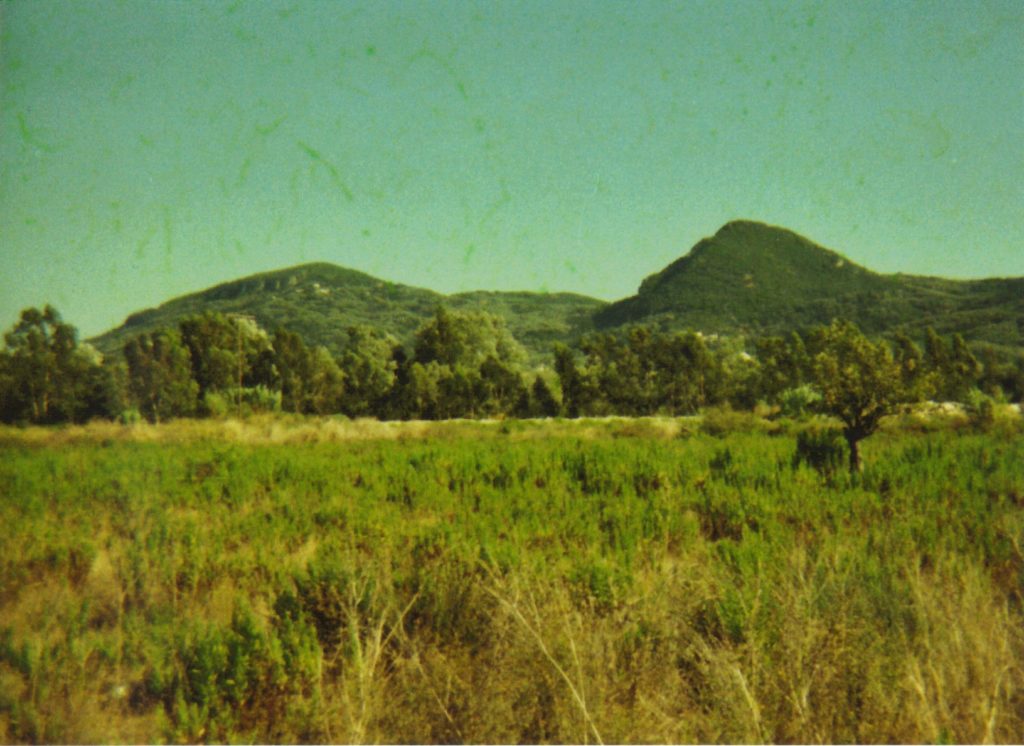 This one is the last of Stephanie's snaps and it's my favourite, simply because it's a picture of Martaouna, the pyramid-shaped mountain on the right that I can't get enough of marveling at when  in Moraitika or Messonghi. Visible from both the villages, it houses the village of Spilio. Next to it, the Chlomos mountain is missing the two tall masts that are visible on the top today.
You can see a similar view of these mountains from the 80s in another picture courtesy of another Messonghi lover, my friend, Julie Reeves: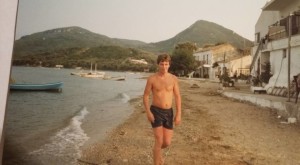 This was an utter delight for me when I first laid eyes on it. At the time, there were few touristic businesses in Messonghi and this photo reflects this. I used to stay at my aunt Rini's house (aunt Rini was the sister of my grandfather, Spyros Vassilakis) for a few days at the time back then and would spend the whole day with my cousins Rini and Sofi Tsatsani. The house was just behind the building in the foreground. Seeing this photo caused a myriad of precious childhood memories to flood into my head.
Thank you Julie Reeves and Stephanie Wood for bringing back these memories!
I hope you've also enjoyed this short trip down memory lane. If you have similar old photos that show how these villages used to be in the 70s or 80s feel free to contact me as I'd love to see them. If I have a nice selection, I'd love to post a similar post in future again.
Before I go, to let you know that the terrific site Tripfiction asked me to contribute to their blog and, you know me, I came up with an article about my favorite place in the world – Corfu. Read it here and find out, among other things, what is the best time in the year to visit Corfu town and where on the island you'll find freezing cold waters even in the summer! Ok, so I'll spoil the surprise on the second one because I feel compelled to share the below pictures! Just look at these gorgeous views of the bay at Paleokastritsa that Julie Reeves took the other day:

In case you haven't heard of Tripfiction before: If you search for your favorite locations in the world on this site, it will show you books set there! Nifty, huh!
Have you holidayed in Moraitika, Messonghi, or anywhere else in Corfu? Leave a comment and tell us all about it!

TWEET TO SPREAD THE WORD:
Old photos from the 80s at #Moraitika #Messonghi #Corfu
Click To Tweet

Do you love Greece? Check out our guide to Corfu! For delicious Greek recipes, go here.

Sign up

to the

newsletter

for Effrosyni's news and special offers (sparse emails)

NEW:

To read Effrosyni's books for FREE (yes, free!), sign up to her team of loyal readers here. It's free to join!

NEW!

Are you an author? Check out my FREE author promo tips & resources here!