Last week, I blogged about Yonndr, a site where readers can search for books set in their travel destinations – or for books set in their favorite places in general! The post was a hit and many among my author friends went on the site to submit their books. I did too, goes without saying. Yonndr have been wonderful and listed my books quickly and impeccably. Today I am back to inform you about Tripfiction, another site that's based on this awesome concept.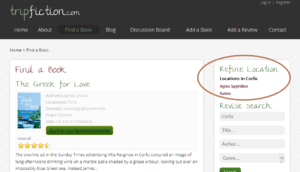 Tripfiction allows refined searches, for example for the Greek island of Corfu, you can refine the search for the village of Kavos. This site also provides the option to add a review!

Anyway, I'm busy today creating new artwork to promote my Corfu-based romance, The Ebb. So I'll leave you with this little sample that makes me chuckle. Why? The smiling Brit floating in the sparkling Ionian waters is my hubby, Andy. Ah – happy times, and I really can't wait for my next Corfu holiday.


The process of making the images today is making me all dreamy about Corfu, so I'd better run before I bore you! I expect you have things to do, anyway, like submit (or look for) books on

Tripfiction

!
Have a wonderful, prosperous day!
Search for books by location on Tripfiction #ASMSG #bookworm #booklovers
Click To Tweet

Do you love Greece? Check out our guide to Corfu! For delicious Greek recipes, go here.

Sign up

to the

newsletter

for Effrosyni's news and special offers (sparse emails)

NEW:

To read Effrosyni's books for FREE (yes, free!), sign up to her team of loyal readers here. It's free to join!