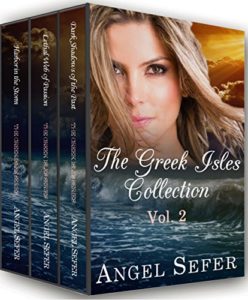 I loved this boxset and believe it's really good value for money as it contains no less than three novels – and they were so amazing I couldn't pick a favorite! Sefer surely can spin a yarn, taking her readers on a wonderful ride. The common characteristics in these novels are guilty secrets, lust, danger and heartache as well as the stunning Greek locations where the stories unfold. Having said that, each novel stands out in memory uniquely and is equal in merit. I am really amazed at Sefer's seemingly inexhaustible capacity to create stories that are simply unputdownable! I recommend this boxset to anyone who misses Greece since their last holiday there. It will certainly transport them there in no time. If you love lustful romance that conquers all and is fraught with danger, look no further!
My rating:
5 stars
Exhilarating and unputdownable!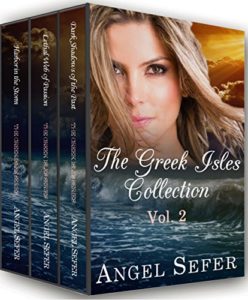 Do you enjoy Greek island romances? Stories of dark secrets and love that's fraught with danger? Give this fabulous boxset a try – chances are you'll love it!
VISIT AMAZON  US   UK
TWEET TO SPREAD THE WORD:
5 stars for The Greek Isles Collection by @AngelSefer #ASMSG #review #romance
Click To Tweet

Planning to visit Greece? Check out our insider's guide to Corfu! For delicious Greek recipes, go here. For free books & exclusive giveaways join our newsletter! Are you an author? Check out our FREE promo tips & resources here.