About the Book
Book trailer created with Microsoft Photo Story. Music track: Guitar-and-ukelele from www.audioblocks.com

The Amulet is a romantic comedy of angel magic and tantalizing descriptions of Greek food. Read it at your own peril; it'll make you feel ravenous (not to mention all loved-up!)
When Katie loses her Athens office job, a gypsy woman hands her an amulet for good luck. Next, she gets hired as hotel receptionist on the Greek island of Sifnos and everything seems perfect, except for the overbearing hotel owner, Mrs. Matina. One of the guests, heart-stoppingly handsome Aggelos, keeps saving the day whenever Katie needs help. As she falls in love, she grows all the more intrigued by him and his quirky friends, including a little girl who keeps turning up on her own. Add a psychic, half-mad elderly woman into the mix and you're in for a few laughs. Things are not what they seem in this small, family hotel and get even more complicated when the gypsy woman shows up again. Will Katie ever work out that Aggelos is a guardian angel that came with the amulet? And if she does, will she be able to keep him? It may take a miracle. But on an island as magical as Sifnos, anything is possible!
Praise for The Amulet:
"Soul-soothing… a book that will warm your hearts and tantalize your senses."
~MM Jaye, romance author of Fate Captured
"One of the things I love about Moschoudi's works is her endings; full of hope and salvation even in the direst of circumstances."
~Nicholas C. Rossis, author of the Pearseus scifi series
"Her descriptions are so vivid that you can feel the wind in your hair, the sunshine on your face, and the sand beneath your feet. I felt as if I walked into a painting that came alive."
~Rita E. Watson, Amazon reviewer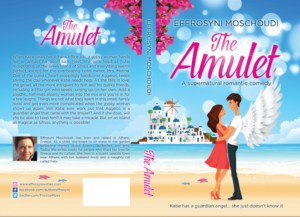 Effrosyni's short story of sweet romance, An Old Promise, is also set in Sifnos and you're most welcome to download it here. It's included in the FREE book, Poetry from The Lady of the Pier.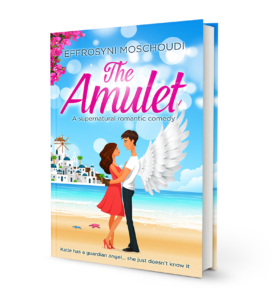 Available formats: kindle & paperback
Did you know?
You don't have to use a kindle device to read kindle books. You can read them on any portable device. Simply download a kindle app from your app store (for Android, iPad, etc).
The paperback is available near you!
Just order ISBN 1539742873 at your local bookstore or ask at the library.

In Greece, customers can order it from Public and other major stores.
TWEET TO SPREAD THE WORD:
The Amulet: Angel magic on a Greek island #kindlelovers #mustread
Click To Tweet
Disclosure of Material Connection: Some of the links in the page above are "affiliate links." This means if you click on the link and purchase the item, I will receive an affiliate commission. I am disclosing this in accordance with the Federal Trade Commission's
16 CFR, Part 255
: "Guides Concerning the Use of Endorsements and Testimonials in Advertising."