Just look at this stunning cover! Still can't believe how lucky I was getting all these fabulous authors to work with me on this event. A Cornish Christmas is the 10th of 12 Christmas reads to be won in my giveaway.  See instructions at the bottom of the post on how to enter. But hurry – it ends soon!
Nestled in the Cornish village of Cloudsea, sits Sea Cottage – the perfect place for some Christmas magic …
At last Ivy is looking forward to Christmas. She and her husband Stuart have moved to their perfect little cottage by the sea – a haven alongside the rugged cliffs that look out to the Atlantic Ocean. She's pregnant with their much-longed for first baby and for the first time, since the death of her beloved mother, Ivy feels like things are going to be alright.
But there is trouble ahead. It soon emerges that Stuart has been keeping secrets from Ivy, and suddenly she misses her mum more than ever. When Ivy stumbles across a letter from her mother hidden in an old writing desk, secrets from the past come hurtling into the present. But could her mother's words help Ivy in her time of need? Ivy is about to discover that the future is full of unexpected surprises and Christmas at Sea Cottage promises to be one to remember.
This Christmas warm your heart and escape to the Cornish coast for an uplifting story of love, secrets and new beginnings that you will remember for many Christmases to come.
'A lovely, curl up in front of a roaring fire, drinking hot chocolate, kind of book. 5 stars' The Reading Shed
VISIT AMAZON  US   UK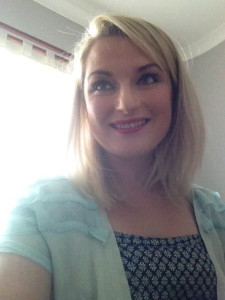 Lily grew up in dusty Johannesburg, which gave her a longing for the sea that has never quite gone away; so much so that sometimes she'll find sand grouting the teaspoons, and an ocean in a teacup. She lives now in the English countryside with her husband and her sweet, slobbering bulldog, Fudge, and brings her love for the sea and country-living to her fiction. Her first two novels were Amazon bestsellers, and have since been re-published by Bookouture, with The Summer Escape (previously published as An Invincible Summer) and A Cornish Christmas (previously published as The Postcard) out now. She is currently working on her third novel.
Wonder what Fudge looks like? Would you like to see Lily's paintings? Check out my interview with Lily Graham on this blog!
TWEET TO SPREAD THE WORD
How would you like a chance to read this book for FREE? A Cornish Christmas is up for grabs in Effrosyni's 12-kindle book Christmas giveaway.
Join Team Effrosyni today to receive the exclusive giveaway link on your screen within seconds! The giveaway closes on December 19 and only team members get to enter. 28 winners will be picked and it's all FREE! Join the fun now!