I'm pleased to introduce to you today Lily Graham and her delightful novella, The Postcard. I am in the middle of reading it and I'm finding it deliciously whimsical, much like the books of Cecilia Ahern – an author I adore for her similarly magical, quirky stories. I hope you will enjoy finding out all about this new author who, as you will see, is extremely talented in other ways too!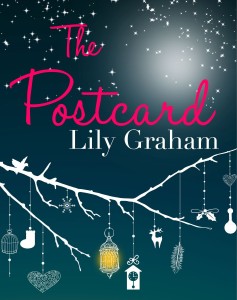 For fans of Sarah Addison Allen and Alice Hoffman. The Postcard is a novella of hope, second chances and the power of love.
An empty postcard, a mother's last promise. At three a.m. anything is possible, even magic.
When Ivy Everton, a children's book illustrator, moves to Cornwall to start a new life with her husband Stuart, she's given her mother's old writing desk, a bittersweet token from a mother who made childhood magical. When she clears it, she finds that the desk holds an unexpected surprise; one she wishes, in a way, that she hadn't found, as hidden inside is a blank, faded postcard addressed to her, in her mother's hand. At first, the postcard serves only to haunt her; as she can't help but wonder what unwritten secret lies unsaid. Yet, as the days pass mysterious things begin to happen, odd items go missing from her studio, only to reappear, ethereally transformed in the seemingly empty desk. Soon Ivy realizes that the postcard was never really blank, it was simply waiting … waiting for her to find it.
Part ghost story, part romantic Christmas tale, The Postcard is about finding hope, even in the darkest times, and about the kind of love that transcends time and space to heal.
Hello Lilly and welcome to my blog!
Hi, Fros! Thank you so much for inviting me.
What has inspired you to write the postcard?

I never meant to write The Postcard. A month or so before I finally finished my first novel An Invincible Summer, NaNoWriMo rolled around and I (very unlike me) had plotted out the outline for a very different book complete with the ending. When November arrived however, I just couldn't write that story. Four days rolled by and then on the way to work the idea of a postcard from beyond just popped into my brain. I couldn't shake it. After phoning my best friend and my mother they gave me great advice which was to just go with it. So I did. I couldn't seem to stop myself. Some days I wrote for twelve hours straight. It was sheer, creative bliss. The Postcard, despite being the quickest thing I have written, is my favorite story to date.
What was the first thing you ever wrote and how old were you then?
I wrote my first poem when I was nine. I sat in my tiny courtyard and tried to describe what I saw there. Then when I couldn't name the plants I made up others. It was purple prose at its worst. I remember very clearly the acute distress I felt at how horrible it was because I felt somewhere in my bones that this was what I was meant to do. I'm not sure why, but perhaps because I was an avid reader I always had this sense that one day I'd try my hand at writing so I was rather appalled at how bad I was. But like any calling I kept at it, graduating to really silly stories and plays. For most of my life I've had an unfinished manuscript clogging up a drawer. It was only last year though that I made a vow to finish one.
What other writing have you done? Anything else published?
I've been a journalist for over ten years and have worked for national newspapers and magazines.
Any hobbies or interests that you enjoy in your spare time?
Travel! That's my number one love. I don't get to do it as much as I'd like but I devour travel memoirs – constantly wishing I could just runaway somewhere like France and start my own vineyard, lol. Here's a pic of me in Venice, Italy.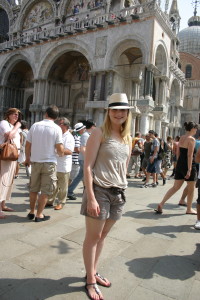 Oh wow, I'm envious, and what a lovely snapshot! Anything else you enjoy doing?
Well, I love baking, or at least the idea of baking. My favorite show is The Great British Bake Off. Every Christmas I get a new cookbook – something I've been lusting over for months and the joy is indescribable, somehow it never occurs to me to buy them for myself. I love nothing better than buying baking supplies though, yet in truth I really only bake once a month if that. But when I bake I always make something new, I love the challenge – although it does increase the likelihood of flops!
I also love painting. For years I went to a Thursday evening art class, until my work schedule conflicted with it, where I'd always have the biggest canvas I could buy, something that didn't fit in my tiny Kia Picanto without the boot being partially open! I took months to finish the painting that I would only do on those two hour sessions every week, but it was immensely satisfying. Also, rather strangely, when it comes to art it's one of the few areas in my life where my perfectionist tendencies are silenced. I just genuinely love it and afterwards think 'ooh that's lovely, I had fun with that.'  As a creative I think you need that outlet where you just let go. Writing can be like that for me, but it's also something I take very seriously so the fear is also there more, so art is a great release for me.
Do you see yourself in any of your characters, or do any of them have traits you wish you had?
Absolutely. Particularly with some of their actions, I think like a lot of authors our characters get to do the type of things we wish we could at some point With my latest novel An Invincible Summer, I have a character who runs away. When I first started it seven years ago, I was in a very horrible job working for a really sadistic woman and all I wanted to do was run away like my character does. Now with The Postcard, my Ivy moves back to Cornwall and it's what I'd love to do one day: have my own smallholding, write, live by the sea . . . spend all day with my snore monster bulldog, Fudge . . .
What are you working on at the moment? Tell us a little about your current project(s).
I'm currently working on my third novel called Dreaming of Elephants, which will be out hopefully before the end of the year, about a man who has had a heart transplant. Only they give him the heart of a woman. It's a story of adventure, magic and living a life on your own terms.
Sounds wonderful, Lily! Describe your workstation. Are there any favorite objects you have there for inspiration?
I have a sign at work that says 'Don't let perfect get in the way of good', as a recovering perfectionist this sign helps to remind me to create art every day. Like Jodi Piccoult said, "you might not write well everyday. You can always edit a bad page, you can't edit a blank page."
So true! Do you listen to music while you write and if so, what kind?
Absolutely. Music helps to keep me focused and drown out other distractions. I tend to listen to a lot of soft rock, and classical music.
Anything else you like to do to get the creative juices flowing?

I drive. I have this horrible long commute which I used to resent the pants off. But it's my best thinking time. I've come up with at least 12 book ideas while driving – including The Postcard. I also have to write first thing in the morning. While I am a complete night owl and don't function until ten in the morning, there's something about waking up early and getting a start on my story – I'm far less resistant then. Unfortunately, I can't wait for inspiration to strike – it may never do so I just need to get words out everyday; it's the only way.
What are the things in your life that you're most grateful for?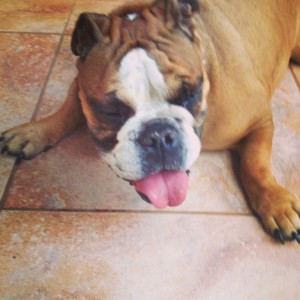 I'm most grateful for my wonderful husband, family, friends and my sweet bulldog, Fudge. My husband was in some ways the inspiration behind Stewart in The Postcard, except Stewart cooks and gardens! My best friend Catherine had her namesake in the postcard too as Ivy's best friend. Like Ivy, Cath and I have marathon wattsapp chats about everything that goes on in my life.  She's also the first person who reads or even hears about my new books – if I've had a new idea I can't wait to share it with her and a secret lasts about an hour.
Thank you, Lily. It's been wonderful to have you here today.
Thank you for this opportunity, Fros.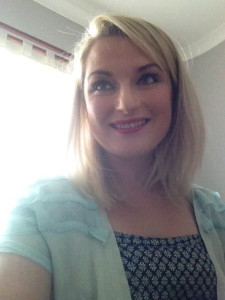 Lily Graham is a wellbeing journalist, who spends far too long dreaming about Cornwall and inventing reasons to run away there with her bulldog, Fudge. She writes women's fiction that feature drama, humour, and sometimes a bit of magic. The Postcard is her debut novella. Her latest novel, An Invincible Summer, will be out soon.
Visit Lily's Amazon page
Visit Lily's Website
Find her on Twitter : https://twitter.com/Lilywritesbooks
And Facebook: https://www.facebook.com/pages/Lily-Graham/510158029113039?ref=hl
Have you enjoyed this post on EffrosyniWrites? Follow us by email or RSS feed (see right sidebar) and miss no more posts! You can also sign up to Effrosyni's newsletter as to keep up to date with her new releases & book promotions (FREE & $0.99)
Interested to read more from this author? Head over to Effrosyni's Blog, where you'll find awesome tips for authors, interviews, book reviews, travel articles and even Greek recipes!