Hello! The entries keep rolling in for the Summer Giveaway and I believe it's time to present to you some of the prizes! Two winners will get a bundle of 12 ebooks each! Dozens more will receive individual ebooks, as well as paperbacks. One lucky reader will get a set of my romantic comedy The Amulet (ebook) and a novelty bookmark.
Today, I am pleased to present to you some photos of the bookmark as well as half of the books on offer. Next week I will blog the remaining prizes in equal detail, so watch this space!
A Handful of Pebbles follows Sarah who travels to the village in Greece for the wedding of her youngest son. But Sarah's own marriage is strained, and now that her children have grown up and left home she finds herself questioning her role of wife and mother.
Meeting up with her best friend Liz, who is also over for the wedding, and whom she has not seen for years, adds a further unsettling dimension. And why does Sarah feel so perturbed in the presence of Nicolaos, the shepherd who she seems to keep bumping into ..?
If you enjoyed 'The Pact' or 'The Story Teller' by Jodi Picoult, 'Necessary Lies' by Diane Chamberlain, 'The Thread' or 'The Island' by Victoria Hislop or 'The Husband's Secret' by Liane Moriarty you'll love this book…
VISIT AMAZON  US   UK
(Both covers are of the same book)
Sara Carson is a 30-something widow with a busy life. Two fun-loving best friends, a caring mom who needs her, and a thriving sweet shop. What more could a woman want? But when the ancient plumbing in her shop springs a leak and a gorgeous, dark-eyed stranger rushes to her rescue, hilarity unfolds—and Sara quickly sees exactly what she's been missing.
Something most peculiar draws Landon Richards to Ocean City, Maryland—and to the lovely Sara. This woman touches his heart like no other, and the two of them explore the heady attraction that pulses between them. But haunting dreams have a way of encroaching on reality, and the strange phenomenon that brings these two together will also threaten to tear them apart.
VISIT AMAZON  US   UK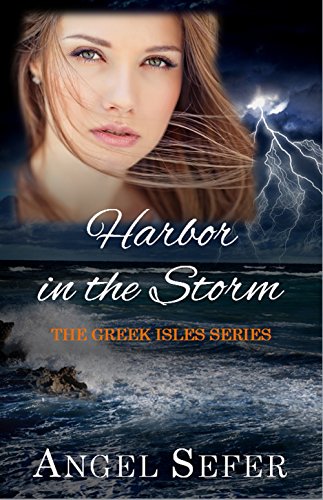 Stunning Natalie Asimakis returns to Atlanta from a trip to find an anonymous letter that tore her peaceful life apart—her husband, reporter James Cassidy, has been kidnapped.
Danger, betrayal and deadly secrets of her husband's now revealed double life place Natalie's life in jeopardy. The only one she can turn to for help is Daniel McKenzie—a prominent attorney with powerful connections. But there is a problem… Natalie and Daniel once had a stormy love affair that left indelible scars on her body and soul.
The non-stop action unfolds in Atlanta, Georgia and on the amazing Greek island of Skiathos—a paradise with lush pine forests and crystal-clear sapphire waters.
VISIT AMAZON US   UK
Alex Argiros looks like he owns the board room, yet he'd trade his bespoke suits for scrubs in the blink of an eye. But he'll be damned if he plays into the hands of his nemesis before securing his late father's legacy. About to seal the deal that will finally set him free, the last thing he needs is a new, fresh-out-of-college PA. Especially one that feeds his associates with home-made pies and his mind with inappropriate thoughts.
Monica Mitchell has come to Athens, Greece, with a single goal: to prove to her childhood crush that her adult self has grown out of the habit of flashing her underwear and looking like a zombie flick castoff…in public.
The catch? She has to hide who she is. Easy as pie. The demure PA looks nothing like the red-haired disaster magnet Alex once knew. Still, their explosive chemistry soon leads to bone-melting passion. But when her family pulls the rug from under Alex's feet again, she knows she has to come clean or face his devastating wrath. She knows but needs just a little longer to savor his searing kisses…
VISIT AMAZON – CLEAN VERSION  US   UK 
VISIT AMAZON – SPICY VERSION  US   UK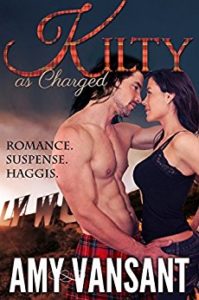 When Catriona spots a plaid posterior passed out on the Hollywood movie lot where she works, she doesn't know her life fixing problems for Hollywood's spoiled elite is about to grow more complicated. She wants to write-off the ridiculously sexy, kilt-wearing Brochan as a con artist, but her adopted father seems strangely comfortable with a man claiming to have no memory of his past or knowledge of the modern world.
A red-bearded thug, an old picture and a three hundred year-old vendetta soon have Catriona worried she could lose everything – including her mysterious time traveling Scotsman.
A Highlander followed her home…Can she keep him?
VISIT AMAZON  US   UK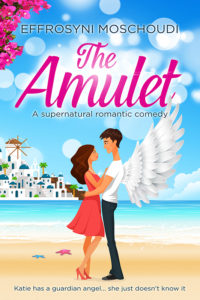 Katie has a guardian angel . . . she just doesn't know it
When Katie loses her Athens office job, a gypsy woman hands her an amulet for good luck. Next, she gets hired as hotel receptionist on the Greek island of Sifnos and everything seems perfect, except for the overbearing hotel owner, Mrs. Matina. One of the guests, heart-stoppingly handsome Aggelos, keeps saving the day whenever Katie needs help. As she falls in love, she grows all the more intrigued by him and his quirky friends, including a little girl who keeps turning up on her own. Add a psychic, half-mad elderly woman into the mix and you're in for a few laughs. Things are not what they seem in this small, family hotel and get even more complicated when the gypsy woman shows up again.
Will Katie ever work out that Aggelos is a guardian angel that came with the amulet? And if she does, will she be able to keep him? It may take a miracle. But on an island as magical as Sifnos, anything is possible!
VISIT AMAZON  US   UK
And that was it for today! Talk again next week when I'll present the 6 remaining ebooks and 1 paperback up for grabs!
UPDATE: See the remaining book prizes HERE

Sign up for my newsletter today to receive the exclusive list for the giveaway! My newsletter subscribers get to receive very sparse emails from me but enjoy awesome benefits! And it's all FREE!
SPREAD THE WORD WITH A TWEET:
Summer #giveaway! Win ebooks & paperbacks #kindlelovers #ASMSG
Click To Tweet

Did you enjoy this post? Type your email in the 'follow this blog' window on the right sidebar and get to see all our future posts!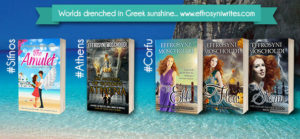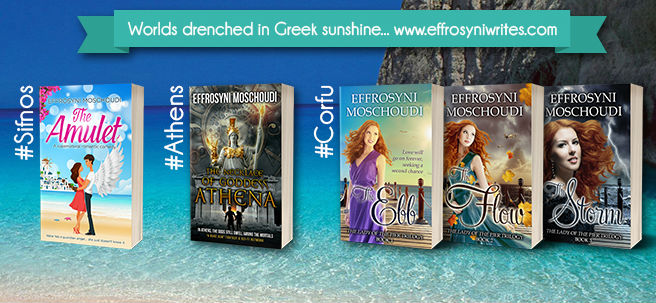 Planning to visit Greece? Check out our FREE guide to Corfu! For delicious Greek recipes, go here. For our news, free books & exclusive giveaways join our newsletter! Sample Effrosyni's work for FREE here! Are you an author? Check out our FREE promo tips & resources here.