Here's the 6th of 12 Christmas kindles up for grabs in the open giveaway. Hope you're getting the Christmas spirit by now, I know I am! See instructions at the bottom of the post on how to enter. Hurry – the giveaway closes in less than a week!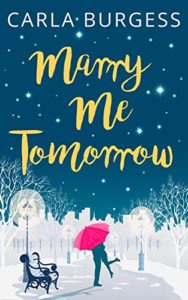 'Perfect for the holiday season!' – Books Are Here For You
Twelve days. Two gold rings. One BIG secret…
Emily needs a husband…fast. It's just a few days until Christmas and to finally put a stop to her nagging mother's matchmaking plans, Emily has convinced her that she's already married!
And when her excited mum announces that she's coming to stay, Emily can think of only one man to play the part: gorgeous ex-soldier, Sam. It's the best part of her day, handing him a coffee every morning – but then, Emily never expected to offer him her hand in marriage, too…
All that's left is for Sam to say 'I do' – it's the perfect plan! So why then, do her 'pretend' feelings for Sam seem far too real?
VISIT AMAZON  US   UK
Carla Burgess was born in Solihull and now lives in Chester, UK, with her husband, three children, dog and bearded dragon. She has a degree in English Literature and Psychology and started her working life as an editor on a trade journal.
TWEET TO SPREAD THE WORD
How would you like a chance to read this book for FREE? Marry Me Tomorrow by Carla Burgess is up for grabs in Effrosyni's 12-kindle book Christmas giveaway.
Join Team Effrosyni today to receive the exclusive giveaway link on your screen within seconds! The giveaway closes on December 19 and only team members get to enter. 28 winners will be picked and it's all FREE! Join the fun now!