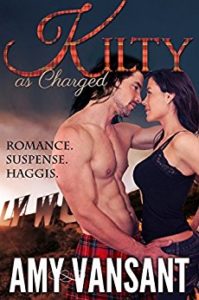 I love the Outlander series as much as the next gal, so when I heard Amy Vansant wrote about a time-traveling highlander I felt compelled to read this book. Having read all her other novels I trusted her wicked humor would guarantee a lot of laughs and, indeed, this book did not disappoint. The romance was tantalizing enough to keep me turning the pages and the fantasy elements were delightful as is always the case with Vansant's stories but, once again, I enjoyed the humor more than anything else. This is where this author truly excels and stands out! The protagonist's Scottish accent had me giggling throughout – so spot on – and I felt compelled to read his lines out loud just to enhance my enjoyment further. His lack of understanding of vehicles and mobile phones had me howling in particular! A highly entertaining story you'll want to read again and again! I highly recommend it!
My rating:
5-stars
A highly entertaining story you'll want to read again and again!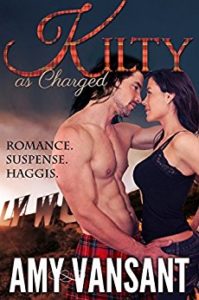 Do you drool over muscly lads in fiction? Do you enjoy time-travel or humorous romance? Look no further! This book was written for you!
VISIT AMAZON  US   UK
TWEET TO SPREAD THE WORD:
Kilty As Charged is like Outlander but hilarious! #romcom by @AmyVansant #ASMSG #chicklit
Click To Tweet

Planning to visit Greece? Check out our insider's guide to Corfu! For delicious Greek recipes, go here.

J

oin Team Effrosyni to read her new books for free & to enter exclusive giveaways! Are you an author? Check out our FREE promo tips & resources here.