Today, I'm pleased to share a wonderful bargain by USA Today bestselling author, Donna Fasano. The Wedding Planner's Son is only 99 cents now and just for a few days, so grab it while you still can. Even though the cover suggests this is part of a series, I assure you that it's an engaging, standalone read with a perfect happily-ever-after, typical of this fabulous author's style!
Tawny McNealy is a driven, high-achiever who fully expects to someday take over and run the family accounting firm. But when an attempt is made to use her as a pawn, Tawny flees to the only place she's ever felt truly free and happy—the beach.
Jack Barclay spends his summer days creating romantic seaside weddings for lovers. His laid-back attitude has served him well over the years. He feels stressing out about work only causes a person to miss the best parts of life.
Jack and Tawny are as different as sea and sky, but the fascination they find in each other's company can't be denied. Can they withstand the crazy twists that fate tosses their way?
Find it here:
SPREAD THE WORD WITH A TWEET:
#99c! Fabulous sweet romance by @DonnaFaz #romance #ASMSG
Click To Tweet

Did you enjoy this post? Type your email in the 'follow this blog' window on the right sidebar and get to see all our future posts!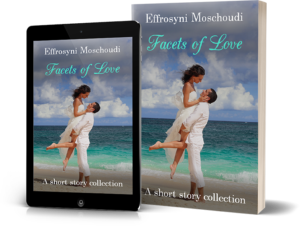 For our news, and to grab "Facets of Love" for FREE, join our newsletter! Planning to visit Greece? Check out our FREE guide to Corfu! For delicious Greek recipes, go here. Are you an author? Check out our FREE promo tips & resources here.