About the Book
#1 Amazon bestseller in:
Greek & Roman Literature, Mystery, Folklore, Fantasy & Supernatural, Mythology
Silver Medal winner in the 2017 book awards of Readers' Favorite
"A stunning masterpiece . . . so well-written that I couldn't put it down."


~Readers' Favorite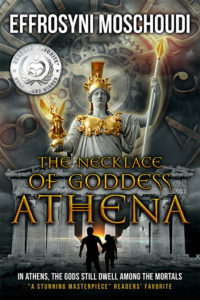 Looking for inspiration? Treat yourself to this highly-praised Greek myth fantasy that will transport you to Greece with its vivid descriptions and intrigue you with its dark secrets. The perfect HEA will leave you feeling on top of the world!
"A rare gem." ~Fantasy & Scifi Network
Phevos, an ancient Greek, remembers very little from his childhood. What's more, his mysterious father never explained how his mother disappeared years ago. When Phevos turns twenty, his father sends him on a time-traveling journey to modern-day Athens without telling him the reason. There, Phevos finds new friends, romantic love, and a trail of clues that lead to shocking revelations. Excited, he continues to unravel his family's mysteries and soon realizes his father has set up an ingenious plan so their family can be whole again. This plan involves two Olympian gods and a war that's been raging between them seemingly forever. One of the gods is out to help Phevos, the other, to destroy him. Will he escape the mortal danger and manage to fulfill his destiny?
The Necklace of Goddess Athena is a fascinating story about the importance of faith when all hope is lost. With its mystery, sweet romance, humor, and touches of drama, this family-friendly fantasy will take you on an unforgettable ride.
Available format: kindle & paperback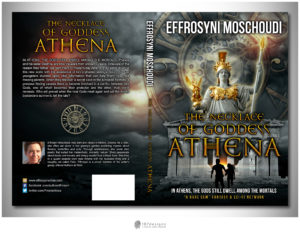 Praise for The Necklace of Goddess Athena:
"I was glued to the pages by the author's vivid descriptions and her beautiful, almost poetic way of writing."
~Angel Sefer, author of The Greek Isles series
"This story is a beautifully crafted, Urban Fantasy adventure. It is refreshing with a quality descriptive writing style that transports the reader to Athens from the first page."
~Amazon customer
"Effrosyni's descriptions create a live sensation i.e. you easily see, hear, and smell. I truly fell under the spell of her apt writing."
~Amazon customer

Available format: kindle & paperback
Did you know?
You don't have to use a kindle device to read kindle books. You can read them on any portable device. Simply download a kindle app from your app store (for Android, iPad, etc).

The paperback is available near you!
Just order ISBN 1517489431 at your local bookstore or ask at the library.

In Greece, customers can order it from Public and other major stores.
Disclosure of Material Connection: Some of the links in the page above are "affiliate links." This means if you click on the link and purchase the item, I will receive an affiliate commission. I am disclosing this in accordance with the Federal Trade Commission's
16 CFR, Part 255
: "Guides Concerning the Use of Endorsements and Testimonials in Advertising."