Hello All and Happy New Year. After a major surgery and a scary month that I like to call The Athens Hospital Tour Under Christmas Lights, I am back and, this time, fixed for good. Mind you, I've never felt more broken than I feel at the moment.
For one, I am suitably shocked still, seeing that I nearly lost my life last month due to severe anemia from my perimenopausal menstrual problems. The doctors at Tzaneio Hospital in Pireas saved me literally in the last minute when I was rushed there one evening with hematocrit 15.5. As they set me down on the operating table for an emergency D&C, I overheard the surgeon say it was a miracle I was alive as it was. When I was brought round afterwards, I heard the nurses discuss how scared they were to see I'd gone 'white like marble' while I was under. These shocking words were etched in my brain for eternity, as you can imagine.
A month later, and after a total hysterectomy, I am home and recuperating slowly. Christmas has been a blur and, despite having planned to visit Athens to see the Christmas lights more than once, I wound up visiting only city  hospitals three times throughout the Holiday Season, twice in an ambulance. Through its back window, and as its siren screamed in my ears the second time, I saw the Christmas lights in Omonia Square and my heart sank. But I knew that day there would be better days and so it happened.

My physical ordeal (and mental angst) ended in exactly one month – from December 7 when I visited the hospital the first time until January 7 when I returned home after the hysterectomy.
But I'm thankful for this gruesome month. For one, it has caused quite a stir in me. You hear this in movies often, when someone escapes death and they say they feel like they've been given a second chance. This is exactly what this feels like to me. I remember the first time I left the hospital, right after the D&C and the blood transfusions. It was sunny that morning. I felt the warm sunlight on my face and it felt like a caress from God Himself.

As gooey as this may sound, it felt like the sunlight was giving me strength, welcoming me back to life. And since that day, I still can't help thinking that every day is a gift now. And do you know what's really scary? The fact that I'd never realized my continuous bouts of iron deficiency anemia involved a mortal risk. My doctors and many older females in my social circle had advised me to just be patient; to take my iron tablets and hope the ordeal will end earlier rather than later. I imagine many women must have done the same and maybe lost their lives, unaware of the risk involved just as I was. But I was lucky. Had I not decided to call a microbiologist to come home that day and check my blood, I'd never have known my hematocrit had dropped to 16 from 37 in just 5 days. Had it not been for her to alert my family to call an ambulance I would have passed away that evening in my bed, thinking it was just another hit of anemia that was causing the migraines, the weakness, and the scary palpitations.
If you're a woman nearing 50 and battling with excessively heavy menstruations and anemia, please, do not sit patiently and suffer it. Seek help now. Take drastic measures. The doctors I'd been seeing never alerted me to the mortal danger involved. I pray yours will and that my experience will serve to help you one day to fix yourself in your own good time.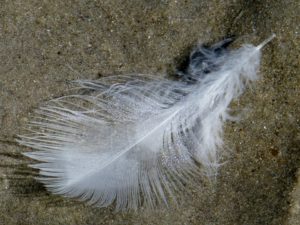 It is not often that I choose to share publicly harrowing experiences of my life. But I made an exception today for two reasons. The first was to warn other women, as I just have. The second was to share, for those among you who believe in angels, a third angel message I received while in hospital before the op.

In my previous post, About Hardship, Angels, and my New Book, I shared two angel messages that were given to me in my tiny office at home. Both messages came just before a major hardship hit my life and they gave me the strength I needed to endure. In a way, it felt like my angels (whom I've always felt by my side) said to me, 'You are not alone. We are here to see you through.'
The third message came in my hospital room and this time I even had a witness. My husband, Andy, was there and he was shocked to see what happened. It was the first day, one day before the op. After sitting around the room for a while waiting for instructions and to get my blood checked, I decided to sit on the bed. As soon as I did, a man walked in whom I knew from my first stay in the hospital. The kindly man rents out flat TVs to the patients for a small fee. After I accepted his offer for one, he left a Post-It-Note-sized piece of paper that advertises his service on top of the a/c temperature control on the wall by my bed and left the room, promising to return soon with the TV.
About thirty seconds later, and while my husband was standing talking to me from the foot of the bed, the note the man had left flew off the a/c temperature control, floated in the air away from the wall and landed on the bed beside me, its blank side up. I remember vividly following it with my eyes as it approached the bed, then landed; it flew ever so slowly as if hanging in mid-air, taking its time. Here I must explain that there was no open window, hence no draft, and that the bed was not near the wall. The distance between them allows a large bedside table to fit in comfortably, so the natural thing would have been for the paper to land on the floor instead.

After both my husband and I had gasped for air, staring at the piece of paper that had landed by me smoothly as if brought there by an invisible hand, my husband said breathlessly: 'It's from your angels, isn't it'?
I only nodded, as I was choking by then, full of trepidation for what awaited me the next day.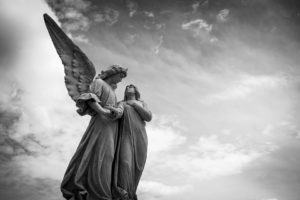 And with that, I will leave you here, wishing you health and joy this new year and always. Personally, I intend to make 2017 the best year I've had in a long time. My happiest thought right now involves the summer swims in store for me, both in Corfu and in my little seaside town. Daily. Without another scary pause. Ever again. Month in. Month out. Freedom from this self-induced prison and fun times at last. Again, if you are going through this too, I beg you – don't suffer it. Do something about it today.
There is a silver lining to every cloud. There is always a rainbow after a rainfall.

God bless you all and thank you for reading. If you've been through a similar situation, had a hysterectomy, or have an angel story/message to share, please add a comment. I'd love to hear from you!

 TWEET TO SPREAD THE WORD
A scary month and an angel message #angels #God #spirituality
Click To Tweet

Planning to visit Greece? Check out our insider's guide to Corfu! For delicious Greek recipes, go here.

J

oin Team Effrosyni to read her future books for free & to enter exclusive giveaways! Are you an author? Check out our FREE promo tips & resources here.