Hello! Today, I am thrilled to share an author interview with Lukas Konandreas – a Greek doctor living in the USA who has published a real-life crime story from rural Greece in the 1950s. Back then, Lukas Konandreas' father had a beloved cousin called Panayota. When he found out her violent and unfaithful husband planned to have her killed, he begged her to leave him, but she refused, not wanting to be stigmatized in the village as a 'divorcee'. Choosing to live with the mortal danger instead, she stayed at home and eventually got murdered. The book tells a gruesome and riveting story of crime and punishment that provides food for thought and highlights the terrible social restraints women suffered in small village communities in the 1950s. I have thoroughly enjoyed reading this true-life gem and will be reviewing it soon. For now, let's meet Lukas and hear about the man himself and what drove him to tell this compelling story.
A romance. A forced marriage. A scandalous affair. A hit-man.
A TRUE STORY.
"Better dead than divorced," responds a young abused wife living in the confines of a traditional and isolated town… to those who urge her to divorce her controlling, manipulative husband.
A village dances, gunshots are heard; the town is divided. The court takes over.
Her cousin, a principled man, fights beyond his modest means to bring her husband, who has influence in the court system, to justice.
VISIT AMAZON  US   UK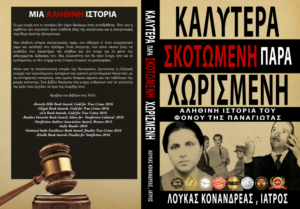 The paperback is also available in Greek. VISIT AMAZON   US   UK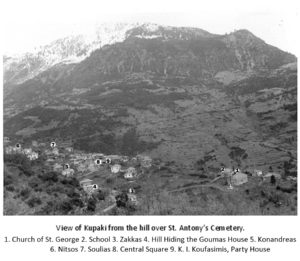 Hello Lukas and welcome to my blog!
Thank you for inviting me, Effrosyni.
What has inspired you to write Better Dead Than Divorced?
I was inspired by many true-to-life insights contained and exemplified mainly by Panayota. Though she was finally murdered for reasons hardly anybody would appreciate today, her dedication and love towards her husband signifies utter commitment and a tragically heroic act, known only in the tragedies of ancient Greece.
I was also inspired by two other people: Thanasis, my father, who persevered against all adversities and odds making sure justice finally prevailed, and Demosthenes Dapontes, the only juror who after nearly 8 hours of deliberations and likely pressures from the other 9 jurors, listened to his honor and conscience and dissented, thus giving the opportunity to justice to hold a second court.
It must feel like a huge accomplishment for you, to have told this harrowing family story so well and after such lengthy and difficult research…
Yes, it's true. And I am very proud of the book, not just for the 8 national awards it's won but also because of the wonderful feedback I receive from readers.
Any hobbies or interests that you enjoy in your spare time?
I am still practicing Medicine and of course I write. Playing some golf, taking care of my garden, flowers, orchard trees and swimming fill up, in fact overfill, my time.
Do you see yourself in any of your characters, or do any of them have traits you wish you had?
I see myself in my father whose tenacity and courage carried him to the end of the legal battle despite all odds. Also I wish I could have the opportunity to do what Demosthenes Dapontes did.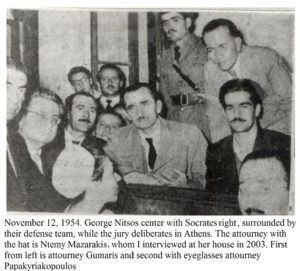 What genres do you read mostly, and what are you reading now?
History. True crime. Autobiography if I feel it is honest. Family stories with true-to-life insights. At present I am finishing "Excellent Daughters" by Katherine Zoepf.
Tell us about your website/blog. What will readers find there?
By going to www.betterdeadthandivorced.com, you will first see a landscape of Greece and flashing key phrases describing the story. What follows is the front cover of "Better Dead Than Divorced," some of the awards my book has won, blog posts with excerpts, my biography, some book reviews and finally photos with captions contained in the book.
If you could have one superpower what would it be?
To bring back the main characters in my story ( Panayota, Thanasis, Dapontes) and interview them OR as a compromise, have the two courts in my story in a video and watch them.
What do you think the qualifications of a good nonfiction author should be?
Sincerity. Patience. Intense research. Honesty. Determination to start the writing process. Also, the ability to ask people whose judgement you trust to critique the writing and express their honest opinion but manage to keep the final decision for yourself. More than anything, to write from the heart.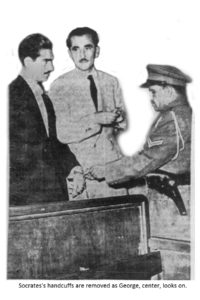 Your book "Better Dead Than Divorced" talks about the position of women many years ago. Yet similar conditions still exist in many parts of the world. Do you think the sacrifice of Panayota, the heroine in your story, could spark a "revolution" among these women?
I would prefer it to become an "Example" instead of a "Revolution."  This is because the media today can create an example with the same effectiveness as a revolution. I have seen in my lifetime many people divorce almost because it was fashionable and for reasons that could have been resolved in the marriage. 
What are the things in your life that you're most grateful for?
My good Health. My solid family. My success in my professional carreer. The fortune to live in the USA, land of opportunity.
How would you like to be remembered?
Optimistic, Resilient, a fearless achiever.
Have you brought any photos to show us today, Lukas?
Oh yes! I've brought four. The first one was taken in the Olympic Stadium during the Opening Ceremony of the 2004 Athens Olympics. The other picture is of my wife and me taken last year.
Lovely! And oh – what do we have here? Cowboys!? I'm intrigued!

*Laughs* Here you can see my family enjoying horseback riding in Wyoming. The last one is of my two sons and me in Yellow Stone National Park USA at a country cook out. 
Great pictures and a lovely family! Thank you for sharing these, Lukas. And many thanks for this chat. It's been wonderful to have you here today.
Thank you for the opportunity to talk about my work, Effrosyni. I really enjoyed myself!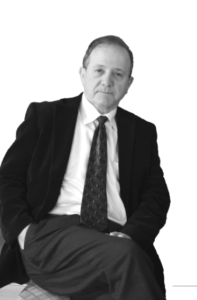 Lukas Konandreas, M.D., one of four children, was born in Kupaki, a small mountain village in central Greece. He finished elementary school there and high school in Athens, Greece.
After graduating from the Medical School of the University of Athens, he migrated to Toronto, Canada, and from there he received medical training in Chicago and Fresno, CA. He practiced Emergency Medicine in Sacramento, CA for 6 years and from there he moved to Connecticut. There he started an Urgent Care Center, which he still directs.
He is married to Georgia, a Doctor of Psychology, and has two sons.
He published his first book, Better Dead Than Divorced, after spending over ten years exhaustively researching the source material. The book won the 2015 Bronze Nonfiction Book Award.
A video about the book on Annita Pania's Greek TV show on channel 'E' that includes an interview with Lukas Konandreas (Greek language):
TWEET TO SPREAD THE WORD:
Riveting! A #realLife #murder story from 1950s' Greece #memoir
Click To Tweet

Planning to visit Greece? Check out our insider's guide to Corfu! For delicious Greek recipes, go here.

J

oin Team Effrosyni to read her future books for free & to enter exclusive giveaways! Are you an author? Check out our FREE promo tips & resources here.