Today I'm pleased to welcome Isabelle Broom, a fabulous author from Britain. Her novel, My Map of You, is set on the stunning Greek island of Zakynthos (Zante). The book is on my TBR list and I can't wait to start reading. Take a look!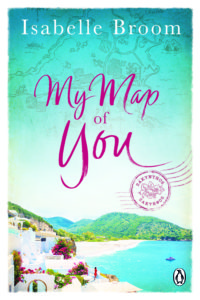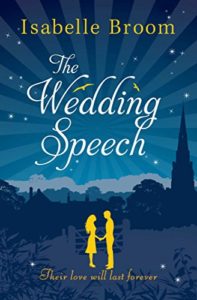 Ed waited until all the eyes in the room were on him before he began. He took a deep breath, inhaling as he did so the sweet scent from the lilies, which were arranged extravagantly in front of him. 'Ladies and gents, I promise to try and keep this short and sweet…'
When Billy asked his best mate Ed to be his best man, Ed knew he would have to make a speech and he was dreading it. But he also knew how important it was to Billy – and to his soul mate and wife-to-be, Amelia. So Ed is determined to do them proud. But little does he know that it will be the most important speech he will ever make, and his toast – 'To Billy and Amelia – together forever' – will mean more than he ever thought.
A beautiful short story to remind you of the importance of love.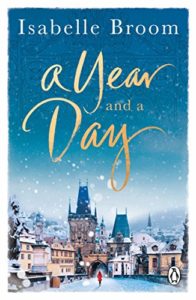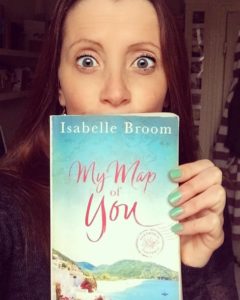 Hello Isabelle and welcome to my blog!
Thank you Fros, it's exciting to be here!
What has inspired you to write My Map Of You?
I've always wanted to be a writer, for pretty much as far back as I can remember, and I've been coming up with stories since I was a child. When it came to a novel, though, I struggled. I wanted to write something with meaning, a book I could be proud of set in a place I loved and about a subject that meant something to me. When I first visited the Greek island of Zakynthos back in 2000, I knew I'd found the place. I fell in love with it immediately, and I've always had such a deep pull to the island. It was this feeling, this sense of being a home, that I wanted to explore in a novel. So, over time and through my own confusion, heartbreak and self-discovery, My Map Of You began to emerge.
I know what you mean. Zakynthos is stunning! What was the first thing you ever wrote and how old were you then?
I used to have this big blue exercise book, and each page had a space for a picture above around ten lines for words. I would draw a picture on the top half of the page, and then write a short story to go with it. They had titles such as "The Magic Rubber", "The Music Box" and "The Very Happy Pencil" – but I was only five or six at the time, so you'll have to forgive me!
LOL! What are you working on at the moment? Tell us a little about your current project(s).
I'm currently wrestling with the edit of my second novel, A Year And A Day, which will be released on 17th November this year. It's another escapist romantic drama, this time set in Prague a few weeks before Christmas. It follows three women, who arrive in the city as strangers but leave with their lives inextricably linked forever. It's a story about the power of love, and being brave enough to put your heart on the line.
Sounds like a heart-warming Christmas read! Choose a male and a female character from your book and tell us which actor and actress you'd cast to play them in a film adaptation.
Oh, I love this question! Let's start with my heroine Holly who, in my mind, has always looked like the actress/author/vlogger/all-round superstar Giovanna Fletcher. She has the same dark curly hair and quiet beauty as my Holly. Aidan would definitely have to be played by Aidan Turner (aka Poldark). He's tall, dark, Irish and absolutely gorgeous, so he's pretty much perfect!
Being an author involves a lot of sitting around. What do you do for exercise?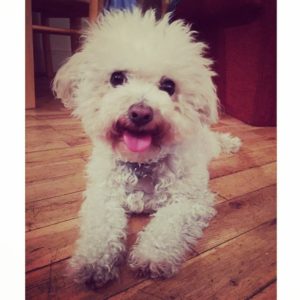 It really does, well, except for the times when you get stuck and need to take a walk to chase around all the thoughts in your head. Walking is what I do a lot of – not least because I have a lovely dog, Max, who would go stir crazy if I didn't take him out. I also run in my lunch hours. I've even gone into the ballot for the London Marathon this year – gulp!
What a cutie Max is! And bravo for running a marathon! Describe your workstation. Are there any favorite objects you have there for inspiration?
Being a writer of escapist fiction means that I often write on the move, in airports, on planes, trains or in bars and hotels at my chosen destination – but my main writing space is my bedroom here in London. I have a nice big desk, and I always decorate the wall with pictures that inspire me. I keep my Once Upon A Time mug that was a gift from my editor close at hand (usually full of tea), and a copy of My Map Of You whenever I need to remind myself what I'm working towards. To be honest, though, once I'm in the zone, I'm rarely that aware of my surroundings.
Oh yes. When in the zone I can't see or hear a thing either, LOL. Is there anything you like to do to get the creative juices flowing when you write?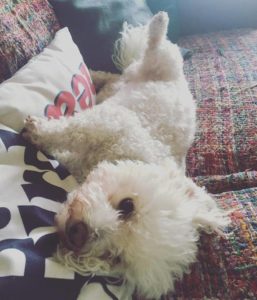 Aside from tramping through the local parks with Max, I find reading aloud from the beginning of whatever chapter I'm working on really helps get me back into the zone. I never sit down to write without a cup of tea, and increasingly I have nuts to snack on, too. Better than chocolate, I suppose, but still not ideal. Max likes to hang out with me when I'm writing, but he's so adorable that it's actually more of a distraction than help!
Hm! Hazelnuts, cashews, walnuts… I can never have enough. But, they're terribly nutritious, aren't they? Surely this is a pro!
(*giggles*) Definitely!
If you could have one superpower what would it be?
Oh, gosh – what a question! This is going to sound weird, but I'm going to choose the ability to sleep. I've been a chronic insomniac for years now, and I think of good sleepers as superheroes. Zakynthos is actually one of the only places on the planet where I find sleeping easy, which is a big reason why it's also my favorite. If I didn't go over there regularly and catch up on all my sleepless nights, I'd probably have passed out at my writing desk long ago.
You poor thing! Wish I could give some of my early morning and post-lunch sleepiness to you!
(*Rolls eyes*) If only, Fros!
What are the things in your life that you're most grateful for?
My family, my health, my sense of humor – I'm also lucky enough to have some of the best friends in the entire world. As I've grown older, I've learned that what really matters most of all is happiness. I always remember that saying: "Because when you stop and look around, this life is pretty amazing." It really is!
Thank you for sharing this motto, I love it! How would you like to be remembered?
As a kind and loyal friend who loved to laugh – someone who made others happy.
How sweet… Thank you for being here with us today, Isabelle. It's been an utter delight for me!
Thank you, Fros. I've really enjoyed our chat too!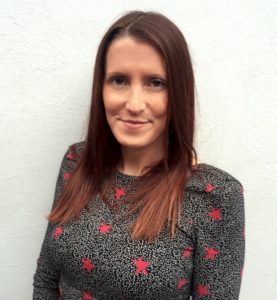 Isabelle Broom was born in Cambridge nine days before the 1980s began and studied Media Arts at the University of West London before starting a career first in local newspapers and then as a sub editor at Heat magazine. Nowadays, when she's not writing novels set in far-flung locations, Isabelle spends her time being the Book Reviews Editor at Heat and walking her beloved dog Max round the parks of north London. Oh, and she does a lot of laughing, too. Her debut novel My Map Of You, published by Penguin Michael Joseph, is out now.
If you like pictures of dogs, chatter about books and very bad jokes, you can follow her on Twitter  or Facebook at:
Twitter: http://www.twitter.com/Isabelle_Broom
Facebook: https://www.facebook.com/isabellebroomauthor/
A chat about insomnia, nuts and #Zante with author @Isabelle_Broom #ASMSG #IAN1
Click To Tweet

Do you love Greece? Check out our guide to Corfu on this site! For delicious Greek recipes, head over to Effrosyni's Blog.

Sign up

to Effrosyni's

newsletter

for her news and special offers (very sparse emails).