Hello! Today, I'm pleased to welcome Ayesha L. Shoulders, an author who loves to incorporate life messages in her contemporary fiction novels.
Mariah Langston has a life many women would envy. She has a great job, a nice house, a luxurious car, and a boyfriend who understands her every need, even when that need is to not get married…for the third time. When he breaks rule number one in their relationship and proposes out of the blue, Mariah must overcome her worst fears. Will she give marriage one more try or is love just knot enough to save her relationship with the man of her dreams?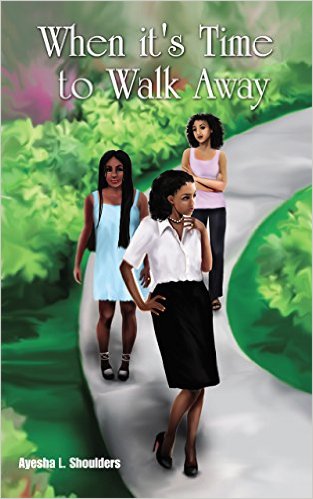 Lies, Betrayal, and Secrets – Can friendship overcome all three?
Shellie Simone's dream job as a Project Manager for an IT company turns into a nightmare when she finds herself the victim of sexual assault in the workplace. When she reports the perpetrator to Human Resources, the VP tries to stop her by bribing her with an increase in her salary. Shellie decides to confide in her friend Standra, who is having some serious problems of her own concerning a mutual friend. Three women will become involved in a whirlwind of major life events. Will their friendship survive the storm or is it Time to Walk Away?
Hello Ayesha and welcome to my blog!
Hello Fros, thank you for the invitation.
Tell us a little about your writing journey. How did you become a writer?
I was inspired to write at a young age after reading series such as The Baby-Sitters Club by Ann M. Martin and Sweet Valley High by Francine Pascal. My love for reading an entertaining, attention-getting book—no matter the genre—definitely contributed to my wanting to publish my own work someday, which I'm happy has come true with two books now published. I self-published When it's Time to Walk Away in May 2011, and When Love's Knot Enough was published by French Press Bookworks in April 2015.
Any hobbies or interests that you enjoy in your spare time?
Lately, I would say sleep is on the top of the list. I know, I know… I can't really use this one since it's something we all have to do, but I love to take a long nap whenever possible to keep up with my ever growing to-do list. In addition, I enjoy serving in my church ministries and as the Vice President of the Northern Virginia Writers Club, shopping for unique and trendy shoes (yes, I'm a big time shoe lover), and spending time with my six-year-old son—I saved the best for last: I'm also a football mom!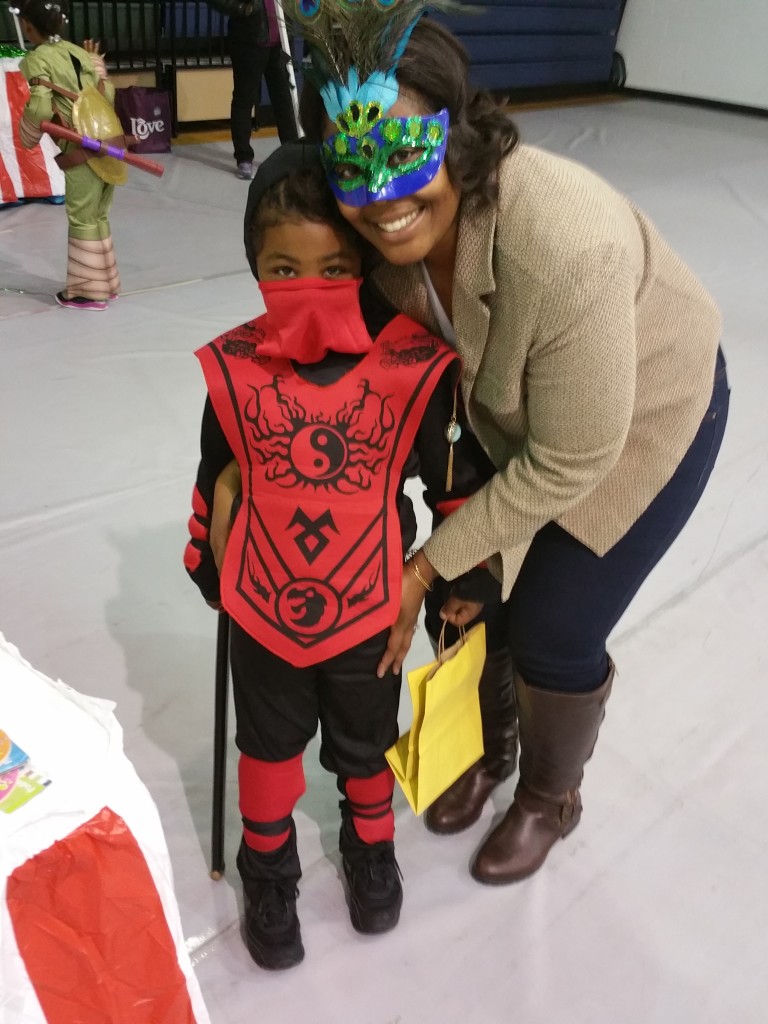 Oh your son is so cute!
Thank you, this photo was taken at a Halloween event, well, obviously! (*laughs*)
Delightful. Thank you for sharing this, Ayesha. Do you see yourself in any of your characters, or do any of them have traits you wish you had?
I see myself in my characters Shellie Simone and Eboni Gilliar from my first book, When it's Time to Walk Away.
Shellie always put her friends' wants, needs, and problems before her own. She was even blindsided when her best friend, Strandra Wilcom, from childhood tried to use her in a plot to steal their friend's husband (you'll have to grab the book to see what happens!). She never thought Standra would do that to her after being such a loyal friend from the beginning. I too encountered those same experiences with others, but as I have matured from life's experiences, my thought process has changed.  I've transitioned into someone more like Eboni's character. Eboni was the strong-willed character in my book. Yes, she faced challenges in her family, but she never allowed them to make her crumble. She also doesn't give into other people's insecurities. She knows who she is as a woman and remains true to those standards regardless of what she has to face. This is why I enjoyed creating Eboni's character. I firmly believe my joy and inner peace do not come from people, so why should I allow them to steal it from me? I refuse to let that happen!
Good for you, I say! What are you working on at the moment? Tell us a little about your current project(s).
Currently, I'm working on starting a new blog focused on Women, Love, and Romance. Readers can join my mailing list from my website to receive email notifications for new entries that I post.  I'm preparing to start posting next month in April.
Good luck, and I hope you get lots of followers! Which are your favorite authors, and what do you love about them?
I would say Emily Griffin. I remember the first time I read her book "baby proof." I thought the storyline was so cute. I enjoyed the book so much that I couldn't put it down. I also love the simplicity of her book covers and how her books focus on topics that readers can relate to and be entertained at the same time.
What genres do you read mostly, and what are you reading now?
I love to read Chick Lit when my schedule allows, but I'm not solely bound to this genre of fiction. I'll read anything that has an intriguing storyline, great characters, and keeps me engaged. I met author Peter G. Pollak last year at a conference and decided to purchase his murder mystery, Making the Grade. I typically don't read murder mysteries, but I decided to read the synopsis on the back of his book because I liked his book cover (book covers play a major part in me picking up a book to read more).  The synopsis sounded interesting, so I decided to give it a try! I'm glad I did.
I recently started reading "Put a Ring on It" by author Beth Kendrick. This is my first time reading literature from this author.
Do you have any advice for other indie authors?
Learn as much as you can about the publishing industry. You have to look at being an author as a business and you're the owner, whether you choose to self-publish or go the traditional route.  It will be your name on the line. This means having a basic understanding of the marketing, financial, sales, and networking elements that are involved in becoming an indie author.
When you take the time to build your brand and learn the ends and outs of the publishing business, you will know when something can be done when someone else says it can't. Most importantly, never give up! When I first started appearing at book signing events, I was so excited. I didn't care if I only sold one book (thankfully, I always walked away selling more than that); I always thought that was one more person who didn't know about Ayesha Shoulders before who now does.
Just remember you're not alone and there are other authors out there who understand the different challenges and victories you'll encounter as an indie author. Consider joining a writers group and attending conferences as well. There's a wealth of information available out there for you, but you won't get it staying at home. If you can learn from another author what works and what doesn't when marketing your book, then this will be a big time and money saver for you in the long run.
Sound advice, Ayesha, thank you. Tell us about your website/blog. What will readers find there?
Readers can find a host of information on my website. I provide access to a list of my books, up-to-date calendar events, posts from my blog, and testimonials from professional reviewers. I also have a Bio that visitors can read to learn about me as an author and a contact page where they can reach out to me. I love to hear from readers and other authors, so I do respond in a reasonable timeframe when I receive an inquiry.
Do you have any other photos to share today?
Yes, two more. I recently discovered my artistic side again at an art studio. I attended a class called Walk in Paris and painted the picture you can see here. In another life, I would have gone to art school instead of college for business and computers!
That looks fantastic, well done, Ayesha! Thank you for this interview and for the lovely photos you shared!
Thank you too, Fros, for the opportunity to present my work.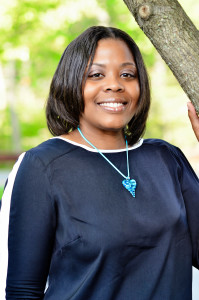 Ayesha L. Shoulders is an ambitious woman who lives life to the fullest. She has a passion for writing jaw-dropping contemporary fiction that is relatable and sprinkled with a life message. Ayesha self-published her first novel, When it's Time to Walk Away, in May 2011. Her second novel, When Love's Knot Enough, was released by French Press Bookworks in April 2015. Ayesha loves to connect with readers on Facebook and Twitter. She can also be contacted at her website.
Ayesha's Amazon page
Ayesha's website
Facebook: www.facebook.com/ayeshashoulders
Twitter: www.twitter.com/ayeshashoulders
Women's fiction sprinkled with life messages by @ayeshashoulders #ASMSG #booklovers
Click To Tweet

Are you an author? Go here

to see how we can help you spread the word about your books!
Follow the blog

(see right sidebar) to get notified of all future posts. Sign up

to Effrosyni's

newsletter to receive her news and special offers (very sparse emails). Head over to Effrosyni's Blog,

where you'll find delicious Greek recipes!