Pure white like a sundrenched pebble, and full of delights waiting to be found in every corner, the Cycladic island of Sifnos has the power to capture your heart and keep it forever. Then, you simply have no choice but to return again and again, retracing your steps to the same magnificent vistas, alluring beaches of fine sand, and the quaint white-washed yards that are bound to enchant you wherever you go. The same happened to me the first time I visited this island in my early twenties, and today, even though I've returned there several times over the years, its pull on me remains simply irresistible.
But don't just take my word for it: walk with me today and see the beauty of Sifnos through my eyes: I promise you will be amazed, but make no mistake:  Sifnos is neither Mykonos nor Santorini. If Greek islands were women, Sifnos wouldn't be a cosmopolitan chick, and not much of a socialite either. Sifnos would be shy and demure, yet drop dead gorgeous, an excellent cook, highly religious, and would dabble with pottery as a hobby. Hooked? Righ-y-o! Let the journey begin!
As soon as the ferry docks, you're already in love. Kamares has a ragged beauty that renders you breathless from the ferry's deck, before you even set foot on the island. White-washed buildings perch on dark rocky soil on the side of the hill, a quaint seafront is lined with tavernas, a golden beach of fine sand stretches beyond and, above all that, an imposing mountain with a church on its very top completes the magnificent vista. The idyllic sight makes you feel small, like you have just shrunk to nothing, which is why I can never arrive at Sifnos and escape that familiar sense of awe that always catches in my throat.
For me, Kamares is the ideal place to stay on Sifnos. You can swim straight after breakfast, then have a leisurely walk around the shops. Shops, tavernas and bars will be just a stone's throw away from your room. And even a beautiful pottery lab or two to browse through. Don't miss the chance to visit at least one of many pottery workshops all over the island – seeing it's an old tradition here and the artifacts are exquisite.

Rent a car or scooter, or take a bus or taxi, and explore the rest of the island from Kamares.
The island capital, Apollonia, takes its name from God Apollo and I find it suitable seeing that Apollo is the God of light and this town is simply dazzling! Apollonia is a pleasure to lose yourself in. Its whitewashed lanes and quaint edifices shine in the sunlight. The splashes of vibrant color, mainly from window shutters and flowers in the yards will find you using your camera fervently.
A short visit to the beautiful, whitewashed Monastery of Panayia Chrysopigi is a must as you drive from the capital towards the beach of Platis Yalos. Legend has it that when the Saracen pirates attempted to invade it, the Virgin Mary made a massive chunk of rock under their feet break away and plummet into the sea, taking them down with it.
A word of warning: Wandering around here in beachwear/shorts is fine but if you plan to go indoors to see the miraculous, ancient icon of the Virgin Mary, have a long skirt handy (for women) or long trousers (for men) as well as a shirt/top that covers your shoulders, otherwise you won't be allowed entry. This is a strict rule observed in monasteries all over Greece, sometimes in churches too.
If you drive to Platis Yalos afterwards, it will start to reward you for your preference before you even get there – the stunning vista of the bay as you approach will take your breath away. Take your time to enjoy the beach. It has everything you need. Sparkling waters, fine sand, a good selection of tavernas and even more pottery on display if you feel up to it. Regarding the food: the meals you will sample in Sifnos will be exquisite no matter where you go. This is no surprise seeing that the very first famous Greek chef came from this island. His name was Tselemendes and his book, the first comprehensive cookery book that was ever published in Greece, became such a hit when it came out in the 1930s that, to this day, the word 'tselemendes' remains a synonym in Greek for 'cookery book'.
Make sure to visit Kastro in the late afternoon and stay till the sunset as this can be a stunning spectacle from here. Besides, the light at this hour is ideal for taking photographs and, believe me, when you get there you'll want to use a camera!
Kastro is a fortified cluster of ancient houses that takes you back in time and enchants you with every step you take. It was built high above the sea with walls and archways so the locals could fight off the Saracen pirates back in the day (9th century A.D.)
Make sure to scroll down to the bottom to watch a short video of me showing you around Kastro!
Below Kastro, at sea level, the whitewashed church of The Seven Martyrs (Epta Martyron) with its sky-blue dome is perched on the dark rock, a jewel to behold from above. A quaint stone stairway winds itself down to it, the view from the top so enchanting it always makes my heart stop.
At a close distance From Kastro, you will find the village of Artemonas. Drive uphill to the old windmill (O Mylos tou Spitha). The view from up here is just as spectacular.
If you have several days to explore, other beautiful beaches worth visiting beside Platis Yalos are Faros and Heronissos and the one at Kastro.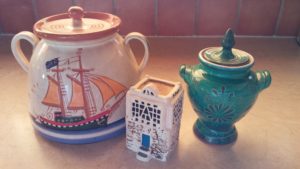 I've already mentioned the pottery, which is a traditional profession on the island. If you visit any pottery workshops you'll probably feel compelled to get a little souvenir. Go for a tiny quaint vase with a lid, or a proper cooking pot, if only for making the fabulous chickpea soup the Sifnos way (Revithada). It is a notorious dish in Greece, not just for being extremely tasty, but also for the unusual way in which it is cooked: The people of Sifnos make it in wood ovens, cooking the meal overnight in a ceramic pot that's been sealed with dough around its lid. Of course, urban housewives all over Greece make it in their ovens in a similar way, baking it for about 3-4 hours only – and it does get the consistency right. Get the recipe

HERE
Other than pottery, there are many other types of local produce you can buy, such as: local cheeses, sweets & pastries, organic thyme honey, capers, wine, herbs, handmade jewellery, and hand-woven blankets and rugs that are made on traditional looms. 
Sifnos is a small island, which means a stay of 3-4 days is enough to adequately explore all the places of interest mentioned here. Wander around, as far and wide as you wish, and you will be rewarded with enchanting beauty in every corner. For one, everywhere you look, the hedges glint under the sunlight thanks to a stone from the local quarries used heavily for building purposes here. It is this endearing sight of the sparkling stone that has caused me to pick the name 'Asimi' (silver) for the fictitious Sifnos village where I set my romance,

The Amulet

.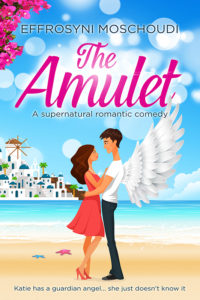 Another endearing sight around the island involves the traditional pigeon houses that are stunning to behold and can be found everywhere, sometimes standing on their own in the middle of fields. See here for more info:
Before you go: Watch the below short video and let my hubby, Andy, and me show you around Kastro (well, down one lane mostly, but it's a super-pretty one!)
Excuse the evident sunburn on my back – it's owed to the long bike rides I had on the island that time sans suntan lotion! Yeah, I know. Live and learn 😛

For further travel info & hotel bookings on Sifnos, visit:
SPREAD THE WORD WITH A TWEET:
#Sifnos The sparkling gem of the Aegean #Greek #travel
Click To Tweet

Did you enjoy this post? Type your email in the 'follow this blog' window on the right sidebar and get to see all our future posts!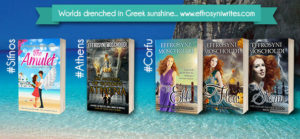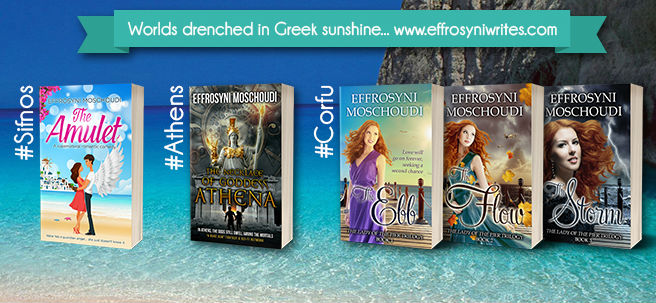 Planning to visit Greece? Check out our FREE guide to Corfu! For delicious Greek recipes, go here. For our news, free books & exclusive giveaways join our newsletter! Sample Effrosyni's work for FREE here! Are you an author? Check out our FREE promo tips & resources here.