About the Book
Book trailer created with Animoto. Theme: Autumn. Music: A Mother's Love by Jonathan Elias, Sarah Trevino.
Two worlds. One haunting…

BRIGHTON 1988
Sofia does her best to get over Danny, but The Lady won't leave her in peace. The spirit guides her to meet more people who knew Laura, and now begins to haunt Danny as well. What will happen when he wears Christian's scarf? And who is the third person being haunted, and why?
BRIGHTON 1940
Laura is relieved to hear about Christian's narrow escape from Dunkirk, despite his serious injury. Things at home are as harrowing as ever, but she holds on to a glimmer of hope. When he discovers an old secret, Christian returns to Brighton. Will the old sweethearts find happiness at last or will Charles never allow it?
The Storm is the concluding part of the trilogy where the two stories of Sofia and Laura merge into one and redemption seems finally possible.

The author recommends to start reading from book 1 – The Ebb.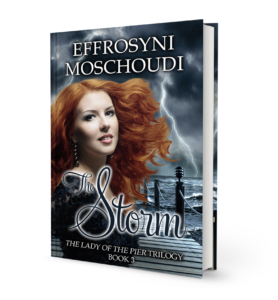 Visit Amazon now
Praise for The Storm
"Written in Moschoudi's expert style, The Storm kept sending goosebumps up and down my spine as I was reading."
~Nicholas Rossis, author of The Pearseus scifi series
"Read in one sitting, I couldn't put it down."
~Lisa Richards, reviewer on Amazon.co.uk
"Both eras (early 40s and late 80s) are portrayed vividly and accurately, branding this trilogy as heartwarmingly nostalgic."
~MariaM, reviewer on Amazon.co.uk
What is The Lady of the Pier trilogy about?
The Lady of the Pier trilogy tells the stories of Sofia and Laura – two girls from two different worlds who have a mysterious connection. In book 1, although similar in some ways, the two stories are seemingly unrelated. In book 2, they begin to merge and in the concluding volume, The Storm, they become one story. The author recommends to start reading from book 1 – The Ebb.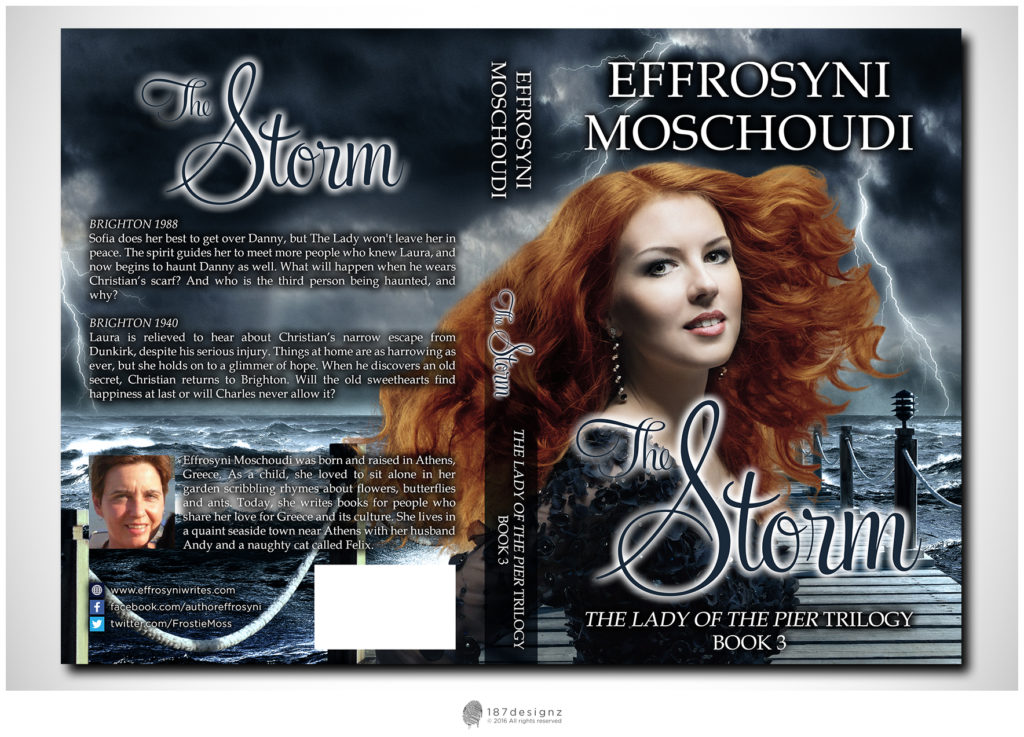 Available formats: kindle and paperback
Did you know?
You don't have to use a kindle device to read kindle books. You can read them on any portable device. Simply download a kindle app from your app store (for Android, iPad, etc).
Note: The paperback is available near you!
Just order ISBN 1540410099 at your local bookstore or ask at the library. I

n Greece, customers can order it from Public and other major stores.
Other Books in "The Lady of the Pier"
Disclosure of Material Connection: Some of the links in the page above are "affiliate links." This means if you click on the link and purchase the item, I will receive an affiliate commission. I am disclosing this in accordance with the Federal Trade Commission's
16 CFR, Part 255
: "Guides Concerning the Use of Endorsements and Testimonials in Advertising."