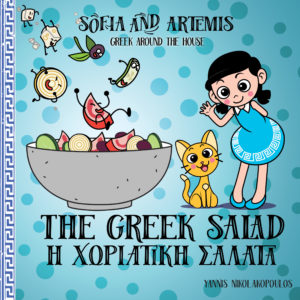 The Greek salad is a delightful book that teaches Greek in a unique way; not only does it teach a host of useful words and phrases, but it also introduces the reader to many facets of the Greek culture. For one, this book in the Grammatakia series is all about the infamous food culture that is immense in Greece. Sofia is celebrating her name day and is preparing a typical Greek salad for her guests, but the ingredients are not exactly cooperating. Instead, they are busying themselves with various Olympic games! The illustrations are a joy to behold, especially the ones featuring Sofia's cousins; they are a truly delightful bunch! There is also a sheet of stickers inside the book that I'm sure will delight students of Greek of all ages. I can't wait to see what the rest of the series will bring. I recommend this to anyone who loves my country and would like to learn a bit of Greek without worrying about its (admittedly) painfully difficult grammar! (I received a free copy of the book in return for my honest review.)
My rating:
5-stars
Delightful!

Looking for a short book that will teach you a little Greek and entertain? And I don't mean just the kids! Look no further  – check out this brightly colored delight on Amazon now! (Available only as a hardback)
Alternatively, visit the Grammatakia website and shop from there. The book can be shipped from Australia anywhere in the world!

As soon as you buy the paperback, you will receive an email with a video link where you can read the whole book digitally as well!



Learn Greek the fun way with The Grammatakia series #Greek #Greece #ASMSG
Click To Tweet

Do you love Greece? Check out our guide to Corfu! For delicious Greek recipes, go here.

Sign up

to the

newsletter

for Effrosyni's news and special offers (sparse emails)

NEW:

To read Effrosyni's books for FREE (yes, free!), sign up to her team of loyal readers here. It's free to join!
NEW!

Are you an author? Check out my FREE author promo tips & resources here!