Hello! Thrilled to announce today a new contest where I invite my Facebook friends to post photos of themselves holding my books! Before I get into the juicy details, here is a photo that

my loyal reader, Jean Symonds from the UK, posted

today on Facebook. It made my day!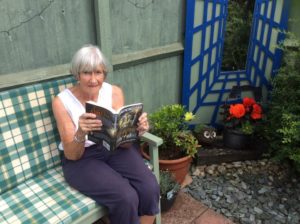 Jean comments in her post:
"Just re-reading The Necklace of the Goddess Athena by Effrosyni Moschoudi. I find it fascinating in its "Greekness" and if it was a film at the cinema I would spend a lot of time on the edge of my seat!!"
As I said, it made my day because this is exactly the kind of thing I had in mind when I created the contest. This feedback is so precious to me!
The idea behind this is to celebrate our connection through the books. I have been thinking for quite some time now that my readers deserve a place on my website too, a place where they can be celebrated for their support and loyalty to my work and me.
After all, it is you who allow me to keep writing, and I really feel the need to tell the world about it – about YOU!
Our connection in the social media give me wings on a daily basis and spur me on despite the hardships – and believe me, there have been a few!
Therefore, to thank you for your support, I am going to post the best pictures permanently on my site in a separate page – a sort of Hall of Fame for my readers, if you will. This page will document who reads my books and where in the world they're at. If you're one of the readers I choose for the permanent display, I will immortalize your contribution and credit you for the photo.
"All that's fine, Frossie," I hear some of you say, "But what's in it for me?"
Well, as you know, I love to play Santa with my readers!
HERE ARE THE PRIZES: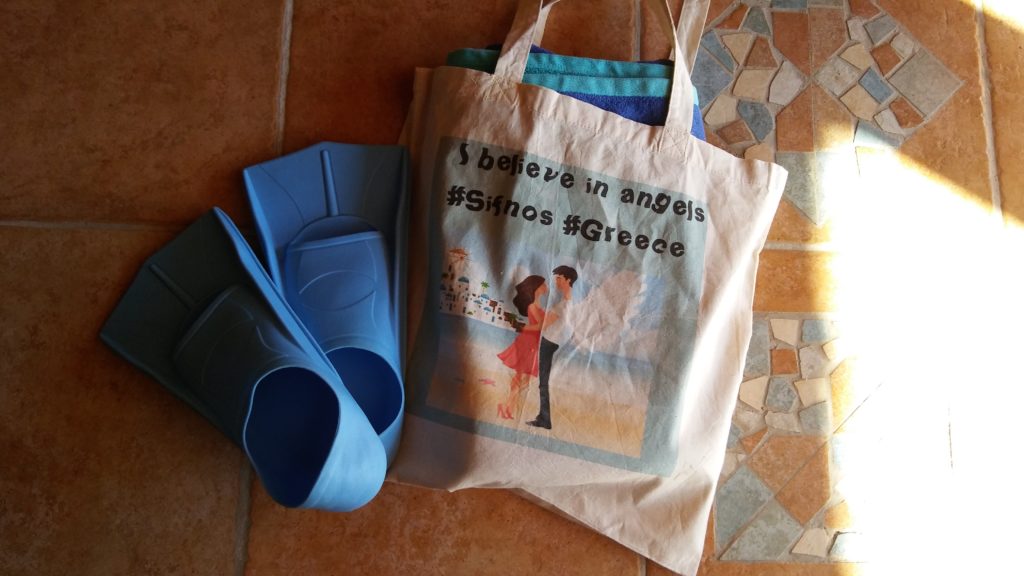 3 readers will win novelty tote bags (random prints).
More winners will win ebooks from my back list (available formats: PDF or MOBI).
Number of ebook winners to be advised. Each winner will choose the title they wish to read.
THE RULES OF THE GAME!
Update 07-24-17: The competition is now open to my Twitter followers too! Post the photo, mention the title, where you're reading it, and tag me to be added to the draw!
Post a picture of you with one of my books (kindle or paperback) on your Facebook page and tag me. I will then enter you in the draw. Your face doesn't need to show in the picture for your entry to be valid for the draw, but I will prefer pictures with readers' faces showing for the permanent display on my website. The same applies if you're at a place in the world I don't really expect!

In your post, mention where you are reading the book, especially if you're on holiday somewhere.
Also, make sure to mention the name of the book.
Remember to tag me so I can enter you in the draw!
The competition is open only to my FB friends.

Friend me first

if you haven't, then post.
Closing date to be advised.
Regardless of who is chosen for the permanent display on my website, all photos will be entered into the draw and all will have an equal chance to win in the giveaway.
Look forward to your photos! Here's to celebrating what we share together!

UPDATE: The contest has ended and the winners are listed

HERE
SPREAD THE WORD WITH A TWEET:
Have you read my books? Here's my thank you! #ASMSG #Greek #bookworm
Click To Tweet

Did you enjoy this post? Type your email in the 'follow this blog' window on the right sidebar and get to see all our future posts!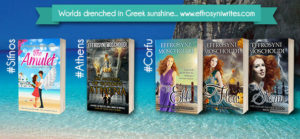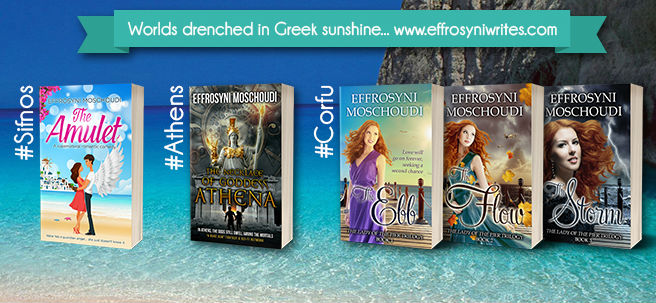 Planning to visit Greece? Check out our FREE guide to Corfu! For delicious Greek recipes, go here. For our news, free books & exclusive giveaways join our newsletter! Sample Effrosyni's work for FREE here! Are you an author? Check out our FREE promo tips & resources here.