Aargh! In the past week Twitter has been rattling my brain like it's playing the maracas. What's wrong with it? Has it gone completely mad? I have lost around 1,200 followers and have been locked out daily. Having asked around, I soon realized I am not the only one either.
Most of the authors I talked to seem to have the impression they have been hacked, but this is not the case – unless, of course, you're one of those who think 'mypassword' or your birth date is the ideal password for your account – in which case you should go here and get yourself a strong password instead.
But this is not a post about hacked accounts. This is to explain why you are being locked out daily out of the blue and how to work towards a solution to retrieve your peace of mind.
For me, it all started last week when, none the wiser one day, I accessed Crowdfire to do my weekly unfollows. Crowdfire informed me that Twitter changed its rules, stopping users from doing too many follows and unfollows in one go. As a result, overnight, Crowdfire diminished its daily allowance of unfollows for free accounts from 100 to just 10!
The first few days were uneventful but then I started getting locked out from Twitter once or twice a day! Then the only way for me to get back in was to key in a code they'd give me on my mobile phone (either by SMS or by calling me to offer it in a recorded message).
I soon realized the problem was the automated tweets I issued via Socialoomph. I used to issue at least 30 tweets a day via this service. Yesterday, I reduced the automated tweets to only 8 per day. I can report that today for a change I haven't been locked out yet and at least 6 tweets have been issued by now. I am monitoring it now, and hope to start increasing the number of automated tweets per day till I find a point where I am happy with the set up (and remain out of Twitter jail).
So, if you use a service for automated tweets, I suggest you do the same.
More advice:
I recommend that you review all your Twitter apps just in case any of them tweet, unfollow, follow or retweet without you knowing! How to do this: Click on your photo on your Twitter page, then Settings, then Apps. Revoke Access for those apps that you do not need or suspect. See these screenshots to help you find your apps page. I marked with red arrows the steps you'll need to take.
For your unfollows, if you've been using Crowdfire, now it allows only 10 a day so switch to UnfollowerStats. That's what I did. It's FREE. The first time you use it it will record your followers. The next time you access it, it will start showing you who unfollowed, and also who doesn't follow you while you follow them. See the image below. I have marked with the red arrows these two places where you will need to click to unfollow. As you can see, because I lost over 1200 in a week, I am in a bit of a pickle right now! It'll take me a long time to clear that unless Twitter gives these followers back to me somehow. Note: Something weird is going on… I doubt 1200 people unfollowed me themselves. I never lose anywhere near so many. And do you know something else that's weird? Yesterday I had 69.895 followers. Today I have 70,001! How can I gain over 100 in 24 hours? And to have a rounded up number too? Coincidence? I hope you will agree Twitter could be messing big time with our accounts right now.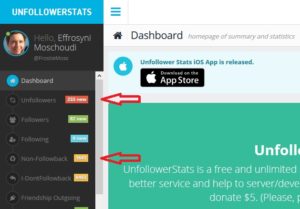 If you've been using Roundteam, I advise you to revoke access, at least for now. It's proven to be unreliable for me. I was using it with a free account and I caught it more than once retweeting things I hadn't set it to do so I lost my trust in it after that. By all means, if it's useful for you, keep using it, but right now, because things with Twitter are crazy, better keep only the apps that won't do more activity than what you set them up to.

Also, re your manual interactions: Make sure to follow a max of 100 people per week. Same goes for your unfollows. Again, while the problem exists, to be safe. Basically, my advice is to lay low and wait for this malarkey to pass.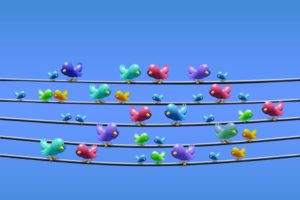 Do you know what I think? I think that hundreds if not thousands of decent folks like you and me are being locked out daily right now. It's only a matter of time till Twitter gets inundated with complaints and realizes what a big booboo they have done. Surely, this cannot continue. Well-meaning, non-spammer marketers are getting in trouble for tweeting books… While undesired practices like pornography, bot activity, foul language and impersonation of celebrities are left to roam the Twitter sphere without a care in the world. And that's not just hugely unfair, it's also quite ridiculous. But Twitter is a clever platform. They didn't get to be so big for nothing, and that's where my optimism stems from. I will give them the benefit of the doubt to realize they've caused a fine mess soon enough and to review their restrictions again.
In the meantime, my fellow tweeps, do as little as possible, both manually and automatically. Remove any apps you don't trust, and let's hope the storm passes soon enough.
And, 'cos I am a gal that has always liked to play it safe, I'll tell you what else I did and you should do too, just in case: go to your security settings and change your password. Here's how to choose a strong one that no one can ever hack.
* UPDATE * RANT *
For me, the worst aspect of this fine mess is the way it hurts relationships. As I lost 1,200 followers in a week, it goes without saying that not all of them will realize I didn't unfollow them myself, which means I am losing friends and supportive tweeps all over the place. Yesterday, one of my tweeps sent me this tweet: "Bye @FrostieMoss. #Block"  I think it's self-explanatory that he misunderstood what happened, got offended, and blocked me.
Another tweep read online about the Twitter problems I am having and told me she'd unfollowed me too, then said she'd follow again now that she realized what happened. 
And this is what makes me mad the most today! Not the time I am wasting… but the relationships it's hurting. Relationships I've been working very hard to build.
Twitter, if you're listening, well done for destroying for your users the very thing you're supposed to be upholding!
Before I go, a word of caution to those who have never been locked out: Don't wait till you get locked out first because it could happen any time, and if you haven't planned ahead you could be in a world of pain. Consider changing your settings today to give Twitter your mobile number. When you are locked out they'll sms you a code to get back in. I believe there's still an option to give Twitter a second email address instead of a mobile number. When you get locked out, you will receive a link on that email to get back in. Look for it in your settings. I can't tell you where it is because I use the mobile option now so the email one is no longer showing. Hope this helps!
SPREAD THE WORD WITH A TWEET:
Why is Twitter locking you out? #author #marketing #ASMSG
Click To Tweet

Did you enjoy this post? Type your email in the 'follow this blog' window on the right sidebar and get to see all our future posts!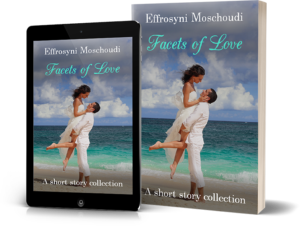 For our news, and to grab "Facets of Love" for FREE, join our newsletter! Planning to visit Greece? Check out our FREE guide to Corfu! For delicious Greek recipes, go here. Are you an author? Check out our FREE promo tips & resources here.