Hello, peeps! Been a while since I last wrote here, I know. Since returning home from my annual 'pilgrimage' to Moraitika in Corfu — fully refreshed and with my sanity suitably restored — I dived head-first to work for a while, and only now I am coming back for air – but I'll come back to that later.
This summer has been incredibly kind to me. After a couple years of little summer fun because of my ongoing health issues (anemia and two frozen shoulders back-to-back), this year I've been blessed with daily swims and plenty of wonderful sunshine that's done wonders for my well-being. In the below pictures you can see me in Corfu town, where I donated copies of The Ebb in three different libraries one morning – including the public library of Corfu (I am pictured outside the Old Fortress where it is housed).
The other pictures are from Messonghi beach in Corfu, as well as my recent visit at Tanagra military airbase for the annual event, Athens Flying week. It was an hour's drive to get there, and I thought I saw a pack of wolves on the way seeing it's in the middle of Attica's wilderness, but I didn't care. I'd have gone to the moon to see Old Blighty's Red Arrows, and they were truly fantastic! Well worth the risk of being devoured by wild creatures, I say 😛

Honestly, the new me is, like, the Duracell bunny's long-lost sister and it surely feels great! When I started swimming 2-3 times a week back in June, my frozen shoulder eased up in no time. First, I noticed I could actually reach the top of my forehead so I could rinse my hair properly with the shower telephone. I also realized I could reach out sideways again, so I checked if I could drive (i.e. reach for the gear stick which, up till then, was out of the question). Guess what? I could! I had been stranded for six whole months so that was quite a big day for me!
Once I got in the driver's seat again, there was no stopping me from hitting the beach daily for that therapeutic swim. Since then I've been getting better and better. Soon, I could type with both hands again. And guess what I did then? Yep, I started writing! You see, I felt the urge to give you, my wonderful readers, something new to read this year. Seeing that there would be no time to finish a novel, I began to write short stories instead. The writing flowed and now, I am able to offer you a collection of short stories exclusively on my website!
Yes, that's right. This new book won't be up for sale anywhere, and you can read it, totally FREE, as a registered reader of my newsletter! Check it out!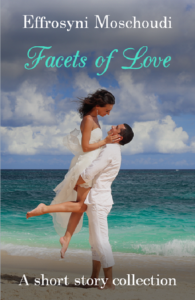 To sign up to my newsletter, go here

If you're already on my mailing list, sit tight. You'll be notified to download the book as soon as it's ready!
The stories vary in genre and are about different kinds of love hence the title, including love for family, country, and even pets! One of my stories is a sweet romance set in Moraitika. Two others are about the Parthenon Marbles and have fantasy elements. And that's all I'll share so I don't spoil all the surprises!
I am still writing and editing like a mad thing… If all goes well, sometime within the next two weeks the book should be out there, and for your eyes only. I hope you will enjoy it!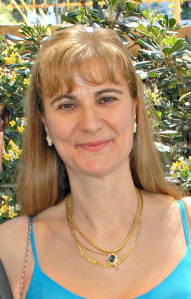 Before I go, to say a big thank you to fellow Greek romance author, Angel Sefer. Not only is she a talented writer, but a kind and giving person as well. She has created the fabulous cover of Facets of Love and given it to me as a present! How wonderful is that?
Angel Sefer is one of five wonderful writers who have given me kind permission to include their short stories (one each) in Facets of Love. The other four talented writers, in no particular order, are: Mimi Barbour, S.R. Mallery, Nicholas Rossis and MM Jaye. They are all favorite authors of mine, and I recommend them highly for your reading enjoyment!
Till next time, keep smiling and taking care of yourselves, okay? A positive outlook is what saw me through… and it's been three years since I last felt healthy and able. So I know what I am talking about here. Remember, whatever it is you're dealing with, you're not alone. I strongly believe there are powers out there that are willing to lend a helping hand and to help us deal what whatever hardships come our way. If only we ask. If only we believe.
I am thinking about all of you affected by Irma and all other calamities hitting the world recently. My prayers are always with you all. Hugs and God bless!
SPREAD THE WORD WITH A TWEET:
My news and a brand new book #ASMSG #newbook #IARTG
Click To Tweet

Did you enjoy this post? Type your email in the 'follow this blog' window on the right sidebar and get to see all our future posts!
For our news, and to grab "Facets of Love" for FREE, join our newsletter! Planning to visit Greece? Check out our FREE guide to Corfu! For delicious Greek recipes, go here. Are you an author? Check out our FREE promo tips & resources here.