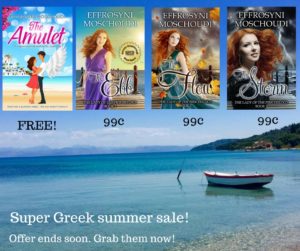 Hello bookworms! I have exciting news to share today about my writing, and I am going to be short and sweet about it. Makes no sense to waste your time here, as this is a don't-blink-or-you'll-miss-it kind of deal!

Are you interested in my novels but haven't had the chance to do it yet? Or have you wound up here while surfing for books set in Greece that you can lose yourself in? If you're looking for vivid descriptions that can transport you to a Greek paradise effortlessly, then you've come to the right place. And that's not all.

Today, you can download four of my novels for a fraction of the normal price!
The Amulet is FREE today, and you can also grab the whole Lady of the Pier trilogy for the price of a cup of coffee!
The FREE offer applies worldwide. The trilogy books are on offer only in the US and the UK.
Carpe Diem, folks! YOLO, and all that jazz. You still here?

Take me to Amazon, James, and don't spare the horses!

No time to waste, folks! The offer expires soon!
SPREAD THE WORD WITH A TWEET:
Unmissable! Greek summer ebook sale #ASMSG #FREE #99c
Click To Tweet

Did you enjoy this post? Type your email in the 'follow this blog' window on the right sidebar and get to see all our future posts!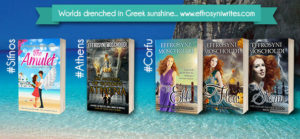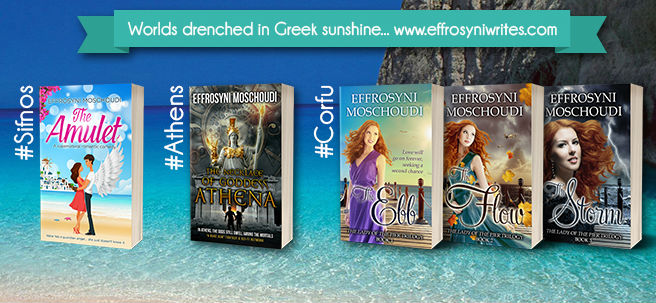 Planning to visit Greece? Check out our FREE guide to Corfu! For delicious Greek recipes, go here. For our news, free books & exclusive giveaways join our newsletter! Sample Effrosyni's work for FREE here! Are you an author? Check out our FREE promo tips & resources here.