Today I'm pleased to welcome Kathryn Gauci, a Brit living in Australia. Kathryn's historical saga, The Embroiderer, takes the reader on a riveting journey through tumultuous historical events from the Asia Minor Catastrophe in 1922 to Greece in the 1970s. Kathryn is a woman of various artistic talents, as you'll find out during our chat today!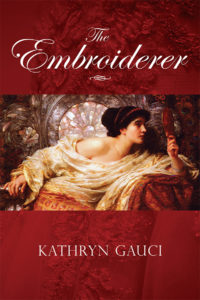 1822: During one of the bloodiest massacres of The Greek War of Independence, a child is born to a woman of legendary beauty in the Byzantine monastery of Nea Moni on the Greek island of Chios. The subsequent decades of bitter struggle between Greeks and Turks simmer to a head when the Greek army invades Turkey in 1919. During this time, Dimitra Lamartine arrives in Smyrna and gains fame and fortune as an embroiderer to the elite of Ottoman society. However it is her grand-daughter, Sophia, who takes the business to great heights only to see their world come crashing down with the outbreak of The Balkan Wars, 1912-13. In 1922, Sophia begins a new life in Athens but the memory of a dire prophecy once told to her grandmother about a girl with flaming red hair begins to haunt her with devastating consequences. 1972: Eleni Stephenson is called to the bedside of her dying aunt in Athens. In a story that rips her world apart, Eleni discovers the chilling truth behind her family's dark past plunging her into the shadowy world of political intrigue, secret societies and espionage where families and friends are torn apart and where a belief in superstition simmers just below the surface.
(A Greek translation will be available in bookstores throughout Greece from September.)
VISIT AMAZON   US   UK
Hello Kathryn and welcome to my blog!
Thank you, Effrosyni. I'm thrilled to be here today.
What has inspired you to write The Embroiderer?
The seeds of The Embroiderer were sown during my years working as a carpet designer in Greece, 1972-78. The company was situated in a suburb of Athens populated by refugees from The Asia Minor Catastrophe, 1922-23. Working among these people, many of the older generation who still conversed in Turkish, I grew to understand the impact of the disaster and the intense yearning these people still held for their lost homelands (once a part of Greece, now in Turkey), the land of their forefathers where they were no longer able to reside in. Significantly they shared a separate sense of identity, so much so that fifty years after the Catastrophe, many of them still referred to themselves as Mikrasiates (Asia Minor people) and still chose to intermarry.
The Asia Minor Catastrophe was a pivotal turning point in Greek/Turkish relations. Friction between the countries had begun a century earlier with the Greek War of Independence. Millions lost their lives in the 1920s and out of the ashes emerged two new nations – the Turkish Republic under the soldier statesman, Ataturk, and the Hellenic Republic – modern Greece.
Today, most of the white-washed prefabricated homes in the refugee neighborhoods in Athens have been replaced by apartment blocks, but the street names still bear testament to their origins: Byzantium Street, Pergamum St, Anatolia St, Bouboulina St, and Misolonghi St. to name just a few. Women no longer spill out of their doorways sitting with their neighbors and chatting while embroidering cloth for their daughters' dowries. There are not many basement shops selling bric-a-brac and musical instruments from the 'old world' any more but, if we look closer, the history and the spirit of these people still resonate in their everyday lives. You'll find them in their music, their food, the plethora of Turkish words and phrases that punctuate the Greek language, and the ancient belief in the evil eye. Most important of all, it is through the time-honored tradition of storytelling that keep their memories alive.
The Embroiderer is as much their story as it is mine.
I can sense your love for these people in your words. It's very moving, Kathryn. The yearning of the Mikrasiates for their lost lands is well recognized still by the average Greek. What was the first thing you ever wrote and how old were you then?
It was a "mini" novel called Adventure in Spain which I wrote in a notebook when I was twelve. Amazingly, I still have it. It's hilarious but it does show that even at that age, I had that yearning for adventure.
Any hobbies or interests that you enjoy in your spare time?
When I gave up textile designing to write, I still wanted to keep my hand in design so I bought a kiln and took classes on glass slumping and flame-worked jewellery. I love the translucency of glass and the way the colors react with each other. From time to time, I still put together ranges which I sell in a glass gallery in Melbourne. I also love to cook and am constantly trying out new recipes.
Oh my goodness! Well done, these are fabulous! What are you working on at the moment?
My current WIP is set in France (with a small section in England) during WWII. It's a suspense story which developed while researching The Embroiderer – spies, clandestine operations of the Resistance, etc., and a fated love affair, of course. After this one, the novels will be set back in Greece and Turkey. I have at least four different themes lined up – different eras and places, although one is speaking to me louder than the others and I am already working on the plot.
It all sounds very intriguing! Who are your favorite authors, and what do you love about them?
Louis de Bernieres, Orhan Pamuk, Giles Morton, Khaled Hosseini, Sebastian Faulks, Rohinton Mistry. Of the older ones, Kazantzakis and D.H.Lawrence. I love their writing style, the settings, the emotions they evoke, and their strong characters. Most of all, I love it when I can immerse myself in another time and place and get swept along in their struggles.
I love Louis De Bernieres! Birds Without Wings, set in Asia Minor, is one of the most astounding and unforgettable books I've ever read. Kathryn, being an author involves a lot of sitting around. What do you do for exercise?
I'm still working on that, Effrosyni! I'm great at making excuses – you know the sort – it's too cold, too hot, not enough time etc., and much prefer to cook or sit in the garden enjoying a glass of wine. Having said that, I have started on my walks again and aim to walk five days a week.
Sounds like a terrific plan! Choose a male and a female character from your book and tell us which actor and actress you'd cast to play them in a film adaptation.
Hard to choose. Perhaps Maria Nafpliou as Sophia, Sissi Hristidou as the red-haired Maria, and for the men, either Theo Theodoridis or Panayiotis Bougiouris for Andreas or Nikolai. I'd also love to see the Turkish actor Yılmaz Erdoğan as Vedat Aksoy.
Describe your workstation. Are there any favorite objects you have there for inspiration?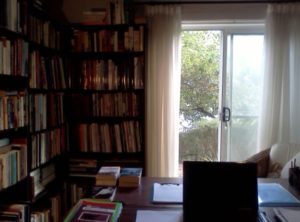 I write in a small room surrounded by books. It opens out onto a patio. I have photographs of my cats on a nearby shelf, especially one who sat with me while I was writing The Embroiderer. I might make notes everywhere else but it's only in this room that I can pull it all together. I rarely listen to music here except when I need to conjure up a particular mood in my writing.
What has been the most important lesson you've learned so far in life the hard way?
Nothing comes easy. You have to work to get what you want.
Tell us about your website/blog. What will readers find there?
I love writing blogs. It hones my writing skills and allows me to indulge in a subject that takes my fancy. Unfortunately I haven't yet mastered the art of the short blog post so I usually do this twice a month. The themes are almost always on Greek or Turkish subjects. They can range from oriental carpets and fashion, to mastic from Chios or the Asia Minor Catastrophe and are usually art and history based. Like yourself, I also do author interviews under the heading A Literary Life. At the moment I interview Greek authors and I am looking forward to doing one with you very soon, especially as you have your new book coming out.
Thank you Kathryn. I hope to publish The Amulet sometime in the next few months and will get back to you on this kind offer in due course. Thank you for being here with us today; it was a treat for me!
And a pleasure for me, Effrosyni. Many thanks!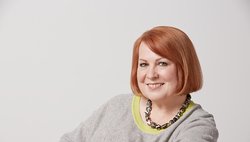 Kathryn Gauci was born in Leicestershire, England, and studied textile design at Loughborough College of Art and later at Kidderminster College of Art and Design where she specialized in carpet design and technology. After graduating, Kathryn spent a year in Vienna, Austria before moving to Greece where she worked as a carpet designer in Athens for six years. There followed another brief period in New Zealand before eventually settling in Melbourne, Australia.
Before turning to writing full-time, Kathryn ran her own textile design studio in Melbourne for over fifteen years, work which she enjoyed tremendously as it allowed her the luxury of traveling worldwide, often taking her off the beaten track and exploring other cultures. The Embroiderer is her first novel; a culmination of those wonderful years of design and travel, and especially of those glorious years in her youth living and working in Greece – a place that she is proud to call her spiritual home.
Website: http://www.kathryngauci.com/
Blog: http://www.kathryngauci.com/blog/
Twitter: http://www.twitter.com/KathrynGauci
Facebook: https://www.facebook.com/profile.php?id=100006545417928
Meet historical author and terrific artist, @KathrynGauci #ASMSG #IAN1 #bookworm
Click To Tweet

Do you love Greece? Check out our guide to Corfu on this site! For delicious Greek recipes, head over to Effrosyni's Blog.

Sign up

to Effrosyni's

newsletter

for her news and special offers (very sparse emails).