Hi peeps! Here, in the outskirts of Athens, the sun is out and I've started enjoying quiet walks on the seafront as well as picking flowers from my garden. Spring's in the air! For me, this is the best news ever as it means my beloved summer is drawing near. I'm forever dreaming of the sea and Corfu beaches in particular, so I thought I'd give you the chance to taste the feeling too by creating this awesome Amazon giveaway where 2 paperbacks of The Ebb (book 1 in The Lady of the Pier trilogy) are up for grabs! It's FREE to enter.
Please note: this particular offer is open to US residents only. But if the book interests you, you may consider downloading it on kindle. It's currently only 99c!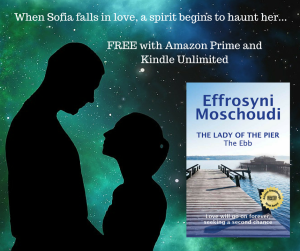 For a chance to win a paperback, enter the giveaway here.
No purchase necessary. The giveaway ends
Good luck!
#AmazonGiveaway Win a paperback of The Ebb! #ASMSG #Booklovers
Click To Tweet