Today I'm pleased to welcome Georgina Troy, or as is her real name, Deborah Carr. Georgina sets her romances on the enchanting island of Jersey, off the coast of France, where she lives.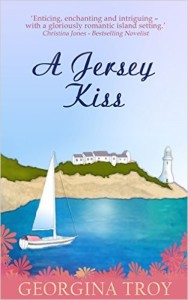 'Enticing, enchanting and intriguing' Christina Jones best-selling author of Tickled Pink.            Book One in The Jersey Scene series by Georgina Troy.
People say that it's hard not to fall in love living in the 'Sunny Isle' of Jersey, but for Bea Philips, still reeling from a divorce and the loss of her beloved godmother, she's not sure she can find the time. Between her soon-to-be-ex husband trying to take away the home she grew up in, surly but attractive builder Luke renovating the house, and her old flame Tom re-appearing at work, she's worn out!
Is life going to give Bea a break for once…and maybe let her fall in love?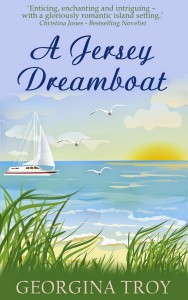 Enticing, enchanting and intriguing' Christina Jones best-selling author of 'Tickled Pink.
Book Three in The Jersey Scene series by Georgina Troy.
Event planners Izzy and Jess are badly let down when a Jersey socialite hires them for the busiest weeks of the season and then cancels at the last minute, leaving the girls with no bookings and no money. Feeling despondent, they try a night out to cheer themselves up, and meet the captivating and aristocratic Ed, who invites the two on a luxury yacht cruise to Nice, together with his two brothers. Romance builds through heady days of blue skies and warm seas, but when a last-minute wedding booking is offered, the girls must return to Jersey, and real life has to begin again … or has it?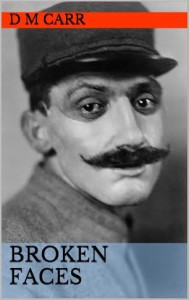 'One to Watch: In Deborah Carr's Downton-esque tale, Broken Faces, a soldier suffers a life-changing injury in the Great War'. GOOD HOUSEKEEPING MAGAZINE
Broken Faces is the story of four friends who have to come to terms with the changes in their lives brought about when one of them, Freddie Chevalier, suffers a life-changing disfigurement in the Great War.
It doesn't take Freddie, his best friend Charles Baldwyn, Charles's fiancée Meredith, and his younger sister Lexi, long to discover that the idyllic life they relished before the war at the Baldwyn's ancestral home in Shropshire has vanished forever. They are forced to take charge of their lives and find a way to live with the consequences of the choices that they and others have made.
Hello Georgina and welcome to my blog!
Thank you Fros, it's great to be here.
What has inspired you to write The Jersey Scene series ?
I was a member of the Romantic Novelists' Association New Writers' Scheme and sent in my book, which was then named Bea Stings, to be critiqued by an anonymous published reader. In her report she asked why I didn't make more of Jersey in my book and it occurred to me that I was missing an opportunity to show readers more of the beautiful island where I live. A writer friend then suggested changing the title to include Jersey in it and from there my Jersey Scene Series was born.
What other writing have you done? Anything else published?
Although I write contemporary romances as Georgina Troy, I also write historical romances as D M Carr, and in December 2015 my first historical romance, Broken Faces, was published. The sequel to the book will be out later in 2016. The idea of this book came from my interest in my great-grandfather, Charles Wood, who was in the 17th 21st Lancers. I've always been a romantic and when I came across photos of men who'd suffered horrendous disfigurements during that time I wondered what it must have felt like for a young man, known for his good looks, to have to cope with losing them in the worst possible way.
Sounds like a very interesting read. What are you working on at the moment? Tell us a little about your current project(s).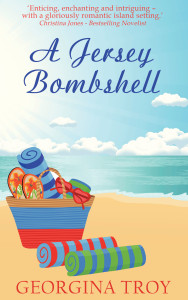 I always have a few projects on the go at once; I'm an empty nester and have more time than I've ever had before to concentrate on my writing. I'll soon be working on final edits for A Jersey Bombshell – book 4 in my Jersey Scene series that's due out in April with Accent Press. I'm also working on the final edits for a psychological thriller, Run For The Shadows, being published by Green Shutter Books under (another) pseudonym, Ella Drummond.
My goodness, you're keeping busy. Well done! Do you have any advice for other indie authors?
I love being able to control everything about a self-published book, but I think the most important things that an indie author has to ensure before publishing their book is that the editing is done well, the book has a professional-looking cover, and that they have a presence on social media – an author page on Facebook, Twitter account, Pinterest account, etc.
Are there any sites or writing tools that you find useful and wish to recommend?
I've been a reviewer/contributor to Novelicious.com for over six years now and it's a brilliant site that includes authors giving their top five writing tips. I've learned a lot from reading these posts. I'm also a member of the Romantic Novelists' Association, as I mentioned before they have a brilliant New Writers' Scheme whereby unpublished writers can send in one manuscript a year to be critiqued. Many well-known authors have taken this route and I was lucky enough to be a member for a few years before being offered my contract with Accent Press.
Excellent recommendations – thank you, Georgina. Being an author involves a lot of sitting around. What do you do for exercise?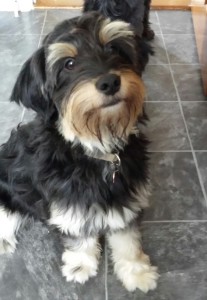 I have three Spanish rescue dogs that I take for walks on one of the two beaches near my home. We were only intending adopting one of these dogs after our Miniature Schnauzer died in October 2014, but we've already adopted three within nine months. That's our limit though… I think.
Oh, they're so cute! What do you enjoy the most as an indie author that you imagine you wouldn't if you were traditionally published? If you had a choice would you still go indie?
I'm both traditionally published and self-published and I love being both. My Jersey Scene books were initially self-published but were taken on by Accent Press, a brilliant indie publisher, who signed me for a four-book deal. I love being with them and having the support of a professional editor, marketing team and being in a group of other supportive authors. However, I also enjoy the control of self-publishing, where everything is up to the author, from choosing the cover of the book, to the price and how it's promoted. You can also see how many books are being sold each day.
Describe your workstation. Are there any favorite objects you have there for inspiration?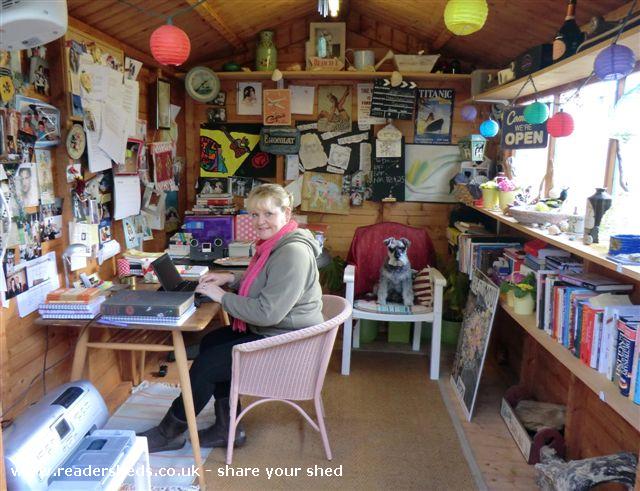 I write in a shed in the garden. It's been featured in Woman's Own magazine a few years ago and was even a category winner in the Shed of the Year competition in 2009. My desk is a 1950s table and I sit on a pink Lloyd Loom chair. The shed is filled with pictures, posters, old birthday cards, discarded manuscripts and is a bit of a mess, but I love it in there and being in the shed always inspires me to write something.
That looks wonderful! It's been a pleasure to have you here today, Georgina, thank you so much for your time.
Thank you too, Fros, I really enjoyed our chat.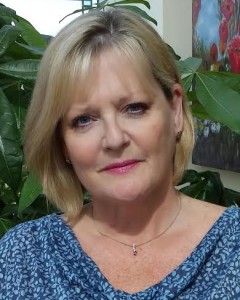 Georgina Troy is the pseudonym of Deborah Carr. She lives in Jersey, an island fifteen miles off the coast of France. Jersey has a great scope for romances, with beautiful wind-swept beaches and intriguing inhabitants and when Georgina realized that no one else wrote romances set on her island home, she decided she had to provide some. Her contemporary romances are published by Accent Press.
Her debut historical novel, Broken Faces by D M Carr, was published in December 2015. Broken Faces was a runner-up in the Good Housekeeping Novel Writing Competition and received a special commendation from the Harry Bowling Prize. Broken Faces is published by Green Shutter Books. This year, a psychological thriller, Run For The Shadows, will be published under a second pseudonym (Ella Drummond).
Visit Georgina's Amazon page  US   UK
Visit Georgina's website
Visit Georgina's blog
Other links for Georgina Troy & DM Carr
https://www.facebook.com/GeorginaTroyAuthor/
https://twitter.com/GeorginaTroy
https://www.pinterest.com/georginatroy/
https://www.facebook.com/D-M-Carr-568839916628666/
https://deborahcarrblog.wordpress.com/
https://debcarrs-daydreams.blogspot.com/
https://www.pinterest.com/deborahcarr/
Meet @GeorginaTroy & her Jersey Scene romances #IARTG #ASMSG Click To Tweet
Have you enjoyed this post? Follow the blog (see right sidebar) to receive email notifications of new posts. Sign up to Effrosyni's exclusive newsletter to be informed first about her news and special offers (very sparse emails). Do you love Greek food? Head over to Effrosyni's Blog, where you'll find a list of mouth-watering recipes!