Good morning peeps! Today I'm pleased to welcome Daphne Kapsali, a Greek from London who fell in love with the forlorn landscape of the Cycladic island of Sifnos. Leaving the mad bustle of London behind, she moved to Sifnos to live there on her own for 100 days writing a memoir. Now, people who seek solitude like this feel like kindred spirits to me so I made sure to connect with her only to appreciate her even more. An eager supporter of indie authors, Daphne is here with us today to tell us all about her writing journey!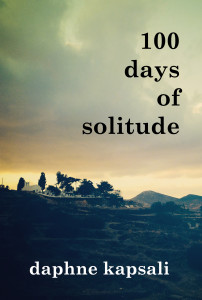 How far do you need to go to find yourself? What do you have to give up?
Daphne didn't go very far. After too many years of living as a writer who didn't write, she gave up her life in London to spend 100 days of solitude on the remote Greek island of Sifnos, off season, and find out, once and for all, who she really was. Her challenge: to write every day.
One hundred days and one hundred entries later, her question had been answered in more ways than she could have imagined, and the things she'd given up never mattered in the first place. This book is her story, as personal as it is universal, of the most obvious and most fundamental quest of all: to be happy; to do what you love.
Part memoir, part fiction, part philosophy and part travel writing, 100 days of solitude is a collection of one hundred stories, all of them connected and each one self-contained. One hundred essays on choosing uncertainty over security, change over convenience, seeing things for what they truly are, and being surprised by yourself; on love, loss, death and donkeys; on reaching for your dreams, finding enlightenment on a rural road, peeing in public, and locking yourself out of the house; on dangerous herbs, friendly farmers, flying Bentleys and existential cats; and on what it feels like to live in a small, isolated island community through the autumn and winter, to live as a writer who actually writes, and to live as your true, authentic self, no matter who that turns out to be. And to write your own story, the way you want it told; to find your voice, and the courage to let it be heard.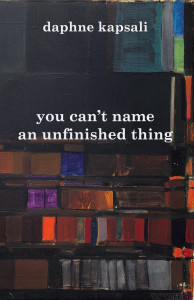 There are certain things that time cannot touch. Very few. Metal it turns to rust and bones to dust and the souls of those we've loved into ghosts and memories. Ancient temples fall to ruin and gods fall from grace, and people fall out of love and forget. Very few things can withstand the passage of time, its ruthless continuity, always moving on, always leaving moments behind, but in Anna's short lifetime there was one thing that did.
Was it hubris to wrench apart what destiny had conspired to unite? Could there be atonement for such a thing?
This story begins at the end of a thing that hasn't ended, and travels in orbit in the space between then and not yet, circling questions unanswered and unasked, alternative endings and futures that never came to pass, looking for a place to land. It is the story of Anna and Jack and it's a love story, because all stories are, essentially, about love and the inexplicable things we do in its name and in its absence, in its pursuit and in its wake.
FREE!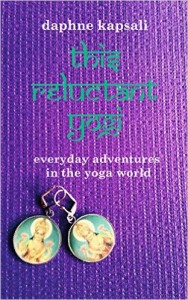 I'm all for spiritual development. I'm all for awareness and mindfulness and loving kindness. Looking after yourself, mind, body and spirit. It would be lovely if we all spoke a little softer, if we took a little longer to think before we act. If we were all a little enlightened. The world would be a better place. Like the tote bag I carry on my shoulder proclaims: Yoga will save the world.

But who will be there to remind us, gently, that we're taking it a bit too far? When our facebook feeds are inundated by inspirational quotes and we've lost the ability to say things in our own words. When gluten is the devil and eating cake is tantamount to suicide. When we boast, daily, of our dietary restrictions and post snapshots of ourselves in the course of a practice that was designed to be personal. When every yoga class is an opportunity to open our hearts, to acknowledge the pain, the frustration, the sadness within, to welcome it, to go with it. When we consult spiritual healers and gurus and medicine men and forget to talk to our friends. When we ostensibly strive for balance, and fail to notice the irony of seeking it in extremes.
I cannot be the only one who's getting a bit tired of this.
(Double check it's FREE before your purchase)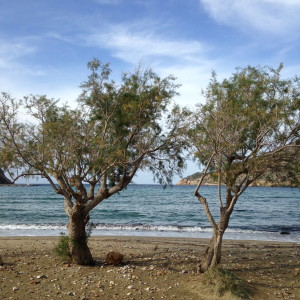 Hello Daphne and welcome to my blog!
Hi Fros, very thrilled to be here!
So, tell us about 100 Days of Solitude. How did this book come about?
100 days of solitude is a strange book, in that it was never meant to be a book at all. It began about 18 months ago, when I quit my job in London and moved to Sifnos, a small Greek island, to spend a few months living alone and writing. The idea was to produce a novel, but I didn't know how to start or how to keep myself motivated to write ever day, so I set up a blog – which I named 100 days of solitude – to give myself a sense of accountability. I wrote one post every day, for 100 consecutive days, just recording thoughts and experiences that came up through this process of rediscovering myself, and this blog that basically began as an exercise in self-discipline ended up being the book I wrote.
Sounds like a genius method to write a book! What other writing have you done? Anything else published?
Actually, I did manage to also write a novel while playing the reclusive author on my little island. It's called you can't name an unfinished thing, and it was published this summer.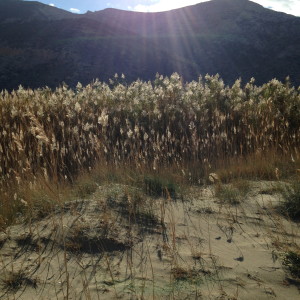 What are you working on at the moment? Tell us a little about your current project(s).
What I'm mostly spending my time on at the moment is promoting my published books, and trying to navigate my way through the world of social media marketing and do the best I can to get myself and my work out there, without losing touch with who I am and why I'm doing this. It's tough, and it's exhausting, but it's also very interesting and I'm learning a lot. I don't do anywhere near as much writing as I'd like, but I have a few projects going round and round in my head, and I manage to produce a little piece every now and again, and that keeps me going. This is a phase, and I've come to accept it's almost as big a part of being an author as the writing itself. Not quite as rewarding, but just as important, if you want your books to be read.
Well said! Do you have any advice for other indie authors?
Be yourself. Be genuine. Be a little bit crazy. It's a crazy thing that we're trying to do, so do it fully and joyfully and with as much confidence and obstinacy as you can muster. Have fun with it, no matter what the outcome.
Excellent advice! What do you enjoy the most as an indie author that you imagine you wouldn't if you were traditionally published? If you had a choice would you still go indie?
I've really enjoyed being involved in every single part of the process, from the writing itself, to editing, typesetting, cover design and publishing, and all the way through to marketing and promotion. Though it's a lot for one person to take on, and it really does take over your life, there's something very rewarding in knowing that you've made this thing yourself, all of it; that it's 100% you and that, for all of its flaws, you can stand by it proudly, because you've put the best of yourself into it. As for whether I'd choose to go indie over a traditional publisher: I don't know. Yes, for all the reasons above. No, because perhaps a traditional publisher could help my books reach more readers than I can, and that's ultimately what a writer wants: for their work to be read.
Being an author involves a lot of sitting around. What do you do for exercise?
In theory, yoga. In practice, I am a self-confessed reluctant yogi, which means that even though I love yoga and I know it's unequivocally good for me, physically, mentally and spiritually, I am sometimes very reluctant to actually do it. But I'm still a big believer in yoga, and I think there's something about it that's very complementary to writing. Another thing I do, when the crazy in me builds up to dangerous levels, is play really loud music and dance like an idiot. Again, it's an excellent physical and mental exercise for writers: all that pent up energy we collect needs to be released somehow, and it's amazing how quickly moving your body in that way gets it all out.
LOL, I know what you mean, Daphne. I do both yoga and 'crazy dancing' at home! What has been the most important lesson you've learned so far in life the hard way?
That you can do anything you want; that you can choose to be happy. That it really is as simple as that, and everything else is just fears and excuses in various disguises. But I have to confess: it wasn't hard. Taking my life apart in order to write full-time was terrifying to begin with, and a hard decision to make, but once you start doing what's right for you, it's easy. Everything works out, somehow.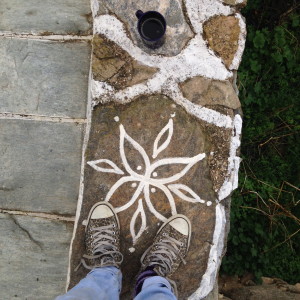 How right you are. Again, I agree 100%. Fear, and the ego making excuses are the only obstacles in one's way. What are the things in your life that you're most grateful for?
People. All the incredibly kind, generous and supportive people I am lucky enough to have in my life. And also for the fact that I'm able to see all the possibilities that are available to me, and recognise, every day, how much there is to be grateful for.
An exceptional answer, Daphne, love it. How would you like to be remembered?
As someone who made a few people's lives a little bit happier. If people think of me after I'm gone, I'd like them to smile. Or laugh. That's all.
I love your answers. Actually, I'd love to keep you in my pocket and carry you around with me! I'd never have another frown on my face, that's for sure. Who is your favorite poet? Quote a couple of lines from your favorite poem.
That's a very tough question, but I'm going to say Philip Larkin. And the final lines from The Mower: "we should be careful of each other. We should be kind, while there is still time."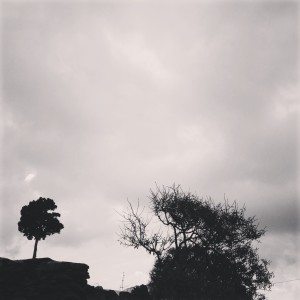 Daphne, I'm so pleased you could be here with us today! Thank you!

Thank you too, Fros, it's been a pleasure.
FELLOW AUTHORS: Daphne Kapsali supports indies on INDIE BOOKS ROCK.
Head over there and submit your books! All she asks in return is a share on the social media and to spread the word a little. Everybody wins!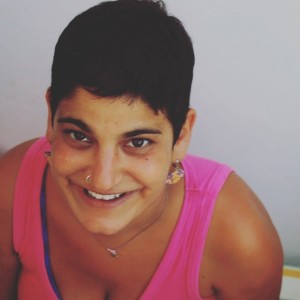 Daphne Kapsali is a writer, reluctant yogi, pathological optimist and probably one of the luckiest people alive. In May 2014, she gave up her life in London to spend the autumn and winter writing on a remote Greek island; the result is a book entitled 100 days of solitude – 100 separate and interconnected stories on claiming the time and space to live as your true self and do what you love – published in March 2015. She has since published another two books: a novel entitled you can't name an unfinished thing, also produced during her stint as a reclusive author, and This Reluctant Yogi: everyday adventures in the yoga world. All three are available on Amazon.
Daphne is a big fan of the law of attraction, the universe, and all things positive, and hopes her story will keep inspiring others to overcome their fears and limiting beliefs, and live the life they want.
Visit Daphne's Amazon page  US   UK
Visit Daphne's website
Visit Daphne's blog
Social media links:
Facebook: https://www.facebook.com/daphnewrites
Twitter: https://twitter.com/dafiniduck
Goodreads: https://www.goodreads.com/author/show/13837460.Daphne_Kapsali
Have you enjoyed this post? Follow the blog (see right sidebar) and miss no more posts! Sign up to Effrosyni's newsletter to keep up to date with her news and special offers (very sparse emails). Interested to read more? Head over to Effrosyni's Blog, where you'll find her earlier interviews, book reviews, author tips, travel articles and even Greek recipes!